4321 by Paul Auster
Faber & Faber $32.99 pb, 866 pp, 9780571324637
Fiction
4321
by Paul Auster
The American critic Adam Gopnik writes: 'Nothing is more American than our will to make the enormous do the work of the excellent. We have googly eyes for gargantuan statements.' Paul Auster's long-awaited novel, 4321, is a gargantuan statement. At almost 900 pages, the sheer physical heft of it is impossible to ignore. When a novel is as thick as it is tall, size is assumed to be a corollary for ambition. The question is whether 4321, seven years in the making, is excellent or simply enormous.
In the administrative fluster of Ellis Island, a Russian Jew is comically renamed in the immigration queue. His grandson, known simply as Ferguson, is born into a postwar America ripe with possibility, so ripe that a single lifetime will not suffice. Rather, Ferguson will live out four parallel lives – a quartet of Bildungsromans: 'Four different boys with the same parents, the same bodies, and the same genetic material, but each one living in a different house in a different town with his own set of circumstances.' As Auster's title menacingly hints, only one will survive to adulthood, but which boy, and why?
With this fractured conceit, Auster joins a rich literary tradition of repeating lives (a close structural analogue is Lionel Shriver's The Post Birthday World [2007]), but Auster distinguishes himself by largely avoiding cataclysm. 4321 is not a book of wildly divergent aftermaths, there is no single 'big event that rips through the heart of things'. Rather, each Ferguson is the quiet product of everyday life – a broken leg, an alchemic friendship, a failing business – played out against the grand tumult of the 1960s and 1970s.
Accordingly, Ferguson's lives echo one another – the orbits are different, but the galaxy is the same. In every life, Ferguson inches towards adulthood in the suburbs of New Jersey and cacophonic New York. His mother adores him, and his father's success (or failure) reverbeates. In every life he loves, and is loved by, the effulgent Amy Schneiderman, in turn lover, stepsister, and cousin. In every life he is compelled to write, but will it be fiction, journalism, or criticism?
How 4321 is experienced will largely depend on a reader's appetite for minutiae, for the engine of this novel is detail. Auster, once a notably spare writer, is keenly aware of the kind of book he has written, and uses Ferguson's literary preferences to explain: 'He tells and tells and doesn't show much, which everyone says is the wrong way to go about it, but I like the way his stories charge forward.'
Every chapter proffers an exhaustive catalogue of dates, names, places, historical detritus, and elaborate back-stories; we know the scores of every basketball game, the shape of every woman (or man) Ferguson wants, the punchline to every joke. The novel delights in nostalgic digression: the comic virtues of Laurel and Hardy, or the poetry of baseball. Languid sentences abound, two or three pages long. An entire section is dedicated to retelling a short story about a pair of talking shoes called Hank and Frank. There is a distinctly Dickensian sensibility to this enterprise, one that Auster slyly acknowledges. 'Ferguson's sole ambition for the future was, as his number one author had put it, to become "the hero of his own life". Ferguson had read his second Dickens novel by then, all 814 pages of that long circuitous slog through the fictional life of the author's favorite child.'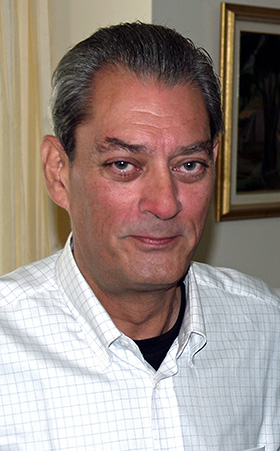 Paul Auster (photograph by David Shankbone, Wikimedia Commons)A circuitous slog demands a compelling hero. While each chapter of 4321 is divided into four numbered sections corresponding with each version of Ferguson, the detail is so unrelenting, and the pubescent longings so prolonged (the novel ends with Ferguson having barely scraped into his early twenties), that it is hard work to tell them apart. As death comes, there is guilty relief that the reader has one less Ferguson to track.
It does not help that all of the Fergusons are insufferably perfect – not only morally sound (Ferguson's liberal politics are flawless in their moderate rationality) but aesthetically impeccable. He reads the right books, sees the right French films, and listens to the right music (only classical and jazz, of course). He struggles against the 'guileless sort of ignorance that seemed to have been injected into his classmates at birth'. Well-endowed foreign women are impressed that Ferguson knows 'ten times more than any ten of these idiot Americans put together'. The smartest professors are impressed by his smarts. The edgiest publishers are impressed by his edginess.
Ferguson's brilliance, combined with his improbable good fortune, reads as alienating and a missed opportunity. Fans of Auster's work may enjoy playing autobiographical bingo (the precision of Ferguson's birthday, for example, is no accident), but 4321 feels too enamoured by the author's passions for Ferguson to function as a convincing everyman.
Auster is an accomplished puzzle builder, and 4321 has the whiff of riddle about it, as every Ferguson seems uncannily aware of the novel's premise: 'the torment of being alive in a single body was that at any given moment you had to be on one road only, even though you could have been on another, travelling toward an altogether different place'.
In the final pages of the novel this awareness is explained, but the purpose of 4321 remains frustratingly opaque. Is the novel a simple parable, or an elaborate joke? For all of its prolixity, it does not seem that 4321 has all that much to say.