Politics
The Making of Donald Trump
by David Cay Johnston
This is an angry book. David Cay Johnston has been doing investigative reporting on Donald Trump's business practices for nearly three decades, and this book is a compilation of his findings. Most of the information in the book has come out before, but Johnston sees an urgent need to put it all in one place for the world to see. How has the United States come so close to electing this con artist as president? The answer that comes out of these pages is clear: Trump has a lifelong talent for degrading every institution he touches, often to the point of implosion.
For decades, the Republican Party has pushed the idea that government is 'the problem, not the solution', to paraphrase Ronald Reagan. Trump has spent those same decades touting his extraordinary success in business, and this year Republicans embraced the profane billionaire as a vacation from political and social norms. Every presidential candidate claims to be an 'outsider',  but Trump was the real deal. With every insult and slur, Trump showed he was unbound by political decorum, and ready to do the job that generations of useless politicians had failed to do.
Trump's supporters admire the way he 'tells it like it is', but this book shows that his purported success in business is based on doing exactly the opposite. In 2005 the author of another book, TrumpNation, alleged Trump was only worth $150 million, rather than the $6 billion he claimed (sometimes he has claimed as high as $12 billion). Trump sued for libel, but failed to provide an account of his real net worth in terms of assets and liabilities. Instead, he testified that his net worth fluctuates 'with markets and with attitudes and with feelings, even my own feelings'. When pressed by an incredulous lawyer about exactly what he based his statements of his net worth on, Trump replied, 'I would say it's my general attitude at the time that the question may be asked. And as I say, it varies.'
Court documents are an important source of information for Johnston, because lawsuits are central to Trump's business model. He routinely underpays labourers and suppliers, or doesn't pay them at all. This often lands him in court, where his strategy involves dragging out proceedings for as long as possible to exhaust plaintiffs who don't have the money or will to fight on. He protects his reputation by threatening to sue anyone who writes something about him that he doesn't like. Today, Trump boasts of his mastery of debt and bankruptcy, intimating that he knows how to get away with paying far less than he owes, and could get a much better deal on America's trillions in debt. But in the early 1990s he only escaped total ruin thanks to the favouritism of the New Jersey Casino Control Commission, which let him short-change his creditors by $1.5 billion while keeping his casino license. Local political connections have saved Trump more than once. When Florida's Attorney General Pam Bondi announced she was considering investigating Trump University as a possible fraud in 2013, her election campaign organisation immediately received a $25,000 cheque from the Donald J. Trump Foundation. Less than a week later, she announced her office would not take any action against Trump.
Trump has made his legal battles part of his mystique. He claims he never settles lawsuits, because that would make him a target for more lawsuits. In fact, as Johnston shows, quietly settling lawsuits is a way of life for him. The phrase 'the court sealed the terms of the settlement' appears regularly throughout the book. This allows Trump to deny he has ever lost anything or failed in any way. Most successful business people like to talk about how they learned from their setbacks, which made them what they are today. For Trump, every disaster is in retrospect a roaring success, evidence of his unerring genius at every stage of his life. He cannot describe himself, or allow himself to be described, in anything less than superlatives. He promised Trump University would 'teach you better than the best business schools would teach you, and I went to the best business school'. He planted a quote from Marla Maples in the New York Post holding him responsible for the 'Best Sex I Ever Had'. He even claims he 'reads the Bible more than anyone else'.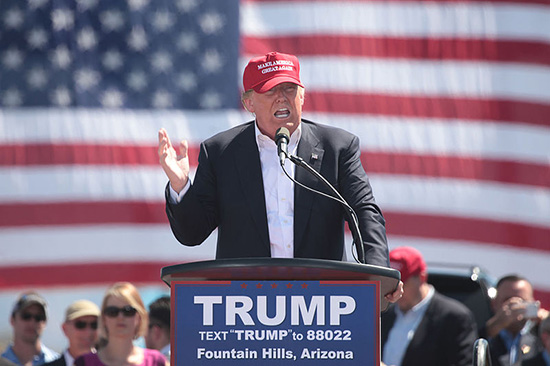 Donald Trump (photograph by Gage Skidmore, Wikimedia Commons)
There are too many unconscionable details in this book to summarise. There is Trump's standard practice of talking up the value of his properties to obscene levels, then telling tax assessors they are worth hardly anything. There are his connections to mob figures and drug traffickers. There are his announcements about lavish charitable donations that rarely materialise. There are the many hospitality awards he has received from an organisation whose trustees consist of Trump, his family members, and an art thief known as 'Joey No Socks'. From the start-up football league he bankrupted, to the buyers of apartments that were never built, to the unfortunate students of  Trump University, there are countless dreams that were destroyed because people made the mistake of trusting him.
The problem with this book is the problem with Trump himself, and the great danger he presents: the outrages overwhelm to the point of anaesthesia. A credibly researched book like this one would sink the aspirations of a normal presidential candidate. A single chapter of this book would endanger a normal career of any kind. But it won't matter for Donald Trump, who exhausted the world's reserves of pique long ago. The book may be intended as an indictment of Trump's offences against decency, but by the end it seems like a terrifying account of the new normal.
Trump's most accurate claim about himself is that he is tireless. Ordinary politicians lie for marginal gain, but can't fully commit themselves to lives of deceit and obfuscation. Maintaining lies in the face of mounting counter-evidence takes a terrible toll on a normal person. Not so Trump, who evidently doesn't believe in the concept of objective truth.
His method of estimating his net worth – whatever he feels like at the time – is the same as his method of determining the number of illegal immigrants in the country, or his standing in the polls, or the role of Ted Cruz's father in the assassination of President Kennedy. His response to any counter-evidence, no matter how strong, is to insist that no one really knows, so you may as well believe him and move on.
In country with extremely low trust in politicians and political institutions, and partisanship that manifests as rabid tribalism, plenty of people are prepared to accept Trump's view of truth and reality. In Johnston's words: 'To disagree with Trump is to be wrong. To portray Trump in a way that does not fit with his image of himself is to be a loser.' Trump has long prized loyalty as the only value that matters, and now he promises to fight for America in the same way he has fought for his family, with no scruples whatsoever. This is a political vision that appeals to plenty of people, maybe enough to get him elected to the most powerful office on earth.
David Cay Johnston has done all he can to prevent that, but it may not be enough. The truth is not enough anymore.