Battleground: Why the Liberal Party Shirtfronted Tony Abbott by Wayne Errington and Peter van Onselen
Melbourne University Press, $29.99 pb, 234 pp, 9780522869712
Politics
Battleground: Why the Liberal Party Shirtfronted Tony Abbott
by Wayne Errington and Peter van Onselen
The Abbott era already seems a far-off time of jihad on the ABC and the Human Rights Commission, death cults, three-word slogans, celebratory cigars, royal knighthoods, raw onions, and helicopter jaunts. To be reminded of it is to relive the 'tawdry nightmare – a male buddy film of singular fatuousness', to borrow Pankaj Mishra's dismissal of the West's post-Cold War political élite. Mishra could have been discussing the deposed captain of Team Australia. Future political historians might debate whether to place Tony Abbott in the fourth or fifth rank of prime ministers; by the end, Billy McMahon was his only serious rival as a prime ministerial figure of fun.
Wayne Errington and Peter van Onselen tell the story of this dismal era in Australian politics well in a compact and entertaining account. It is probably too early to relate this tale as tragedy, and they wisely do not try. In any event, perhaps Abbott will never be a sufficiently sympathetic character to make such a treatment work, such as in the manner of Warren Denning on James Scullin and his ill-fated Depression-era government in Caucus Crisis (1937).
The authors collaborated previously on a biography of John Howard (2007), who haunts this book's every page. Mentor as well as patron, Howard is also, very often, used as the point of comparison that underlines Abbott's failure. For a Rhodes Scholar with such generous opportunities to observe a political master at work, he was certainly a dull learner. Rather, Abbott remained a student politician, seeing in his prime ministership an opportunity to rub the noses of his enemies in the dirt, promote his friends and, as in his juvenile self-pleasuring over knighthoods, enjoy the thrill that comes to a Liberal Club president when he finally gains the keys to the student union.
Leading a government, however, is a more complicated business than getting the better of one's opponents at Sydney University. Prime Minister Abbott, unlike Howard, failed to establish an effective private office. In this, all roads lead to Peta Credlin, Abbott's chief of staff. The prime minister gave this fierce 'political warrior' much credit for getting him into power, but after the 2013 election victory she quickly enraged ministers and backbenchers alike. The problems with the style and substance of her political micro-management were magnified by her husband, Brian Loughnane, the Liberal Party's federal director.
The authors have interviewed a lot of people supposedly 'in the know' in reaching their conclusions about Credlin's critical role in Abbott's downfall, but feelings on this matter remain raw. The passage of time will probably result in the spotlight moving elsewhere. All the same, Abbott and Credlin were undoubtedly naïve in imagining that men and women capable of making it into federal parliament, ministerial office, and the cabinet would long tolerate being bossed by an unelected staffer. The government's declining popularity rapidly lowered their level of tolerance. Just possibly, as Abbott himself claimed publicly, that Credlin was 'Peta' and not 'Peter' added an edge to the resentment felt by some, but gender was not the whole story.
In one of the most thoughtful of the book's chapters, the authors point out that Abbott – notorious for a string of embarrassingly public comments over the years – generally managed to avoid casual sexism while prime minister. His confidence was shaken by the famous Julia Gillard 'misogyny' speech, but more recently he has, with a few exceptions, maintained an impressive personal discipline in refraining from permitting his mouth to run riot. They rather accuse Abbott of an 'unconscious bias' in matters of gender; a tendency to define merit in a way that necessarily marginalised women.
Here, the authors are perhaps bending a little too far in their efforts to be fair to their subject. There was nothing especially disciplined or restrained in the disgraceful aggression with which he attacked Gillian Triggs for doing her job, all carried out with a rhetorical violence that was unreconstructed male through and through, and debased the office of prime minister. Abbott's failure to register how this looked to voters, and especially women, speaks volumes about the quality of his judgement.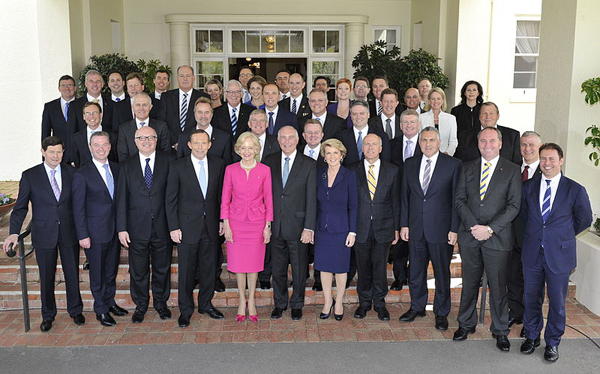 Quentin Bryce with the newly sworn in Abbott Ministry, 18 September 2013 (Department of Foreign Affairs and Trade, via Wikimedia Commons)

Nor was there anything truly 'unconscious' about Abbott creating a cabinet with just one female member, or his willingness to reward proven mediocrity when it wore a suit and made noises of which he approved. There is a difference, too obvious to bother wasting words over although this never seemed to worry Abbott, between having independently minded women in your family, and appointing women to cabinet. But there is also a distinction to be made between a (female) staff member, such as Credlin, and a (male) minister of state. The former acts as a symbolic extension of the self; she exercises power in the name of a male authority. A minister's authority works differently; it is not mediated in the same way. To suggest that such distinctions are, for practical purposes, unreal, is to ignore the symbolic dimensions of politics. And one thing we do know about Abbott is that he was a man who took very seriously both formal hierarchy and the choreography of power. Remember all those flags? The knighthoods?
But if in explaining these kinds of matters we need to go back to a time long before Abbott ever entered parliament: for others we need to look more squarely at his period in opposition. It is hard to think of a federal leader who came to the prime ministership with as little recognisable constructive policy as Abbott did. This is why I seriously doubt the authors' contention that Abbott might one day be regarded by historians as the country's 'best ever opposition leader'. Opposition leaders need to do more than drag a government down; they also need to prepare themselves for office by developing good policy that expresses a coherent and attractive vision.
Abbott, the eternal oppositionist, with the help of a mainly co-operative media, was very effective in getting out a message that Labor was unfit to govern because of its dishonesty, incompetence, and (from 2010) minority status. But such rhetoric came back to haunt him when he brazenly broke his own promises and soon appeared dishonest and incompetent himself. And it eventually became clear that the quest that had earlier sent him in the direction of a political career, the defence of Western civilisation against an assortment of enemies that included Marxism, feminism, and homosexuality, could not easily be adapted to include Vladimir Putin, Islamic State, and Gillian Triggs.
Still, it looks like Abbott might remain with us for some time yet. He has recently turned his attention to whether a statue of Cecil Rhodes should be allowed to remain outside Oriel College, Oxford. And it is hard to think of anyone better suited, by experience and conviction, to lead the 'no' campaign in a referendum on same-sex marriage.