Fiction
A Few Days in the Country and Other Stories
by Elizabeth Harrower
It is gratifying to witness the renewal of interest in Elizabeth Harrower's fiction. Last year, In Certain Circles, Harrower's fifth novel, written in 1971, was finally published. Now, for the first time, a collection of her short fiction is available. Earlier versions of five of the twelve stories from A Few Days in the Country and Other Stories, were published during the 1960s and 1970s in Australian magazines and anthologies. Two stories, 'The Fun of the Fair' and 'The City at Night' are previously unpublished. Other entries have appeared this year in journals at home and abroad. The diverse publication history attests to the quality, power, and reach of Harrower's writing.
For the most part, these stories are set in an old-fashioned world where characters nurse acute memories of the Depression, ocean liners transport Australians back to the 'Old Country', and Sydney is 'two million strong'. Yet each and every story remains vitally relevant for contemporary readers around the globe. Harrower explores eternal themes such as loneliness, bereavement, cruelty, and depression. The penultimate story, 'It Is Margaret' (ABR, October 2015), articulates the central question investigated by this collection. Clelia, whose mother has been bullied into the grave by her husband, Theo, is perplexed by Theo's apparent vulnerability in grief: 'Here it was again – the mystery that pursued her through life in one form, in another, returning and returning, presenting itself relentlessly for her solution: how should human beings treat each other?'
The collection opens with 'The Fun of the Fair'. It is vintage Harrower. Janet is a motherless ten-year-old, unwanted, misunderstood, fragile. The story is told from her perspective as she undergoes a series of trials at the fair with Uncle Hector and his girlfriend. When she is conscripted into a stage show between a giant and a dwarf, the final threads of her childhood innocence unravel. She recognises the 'empty yet completely familiar' look they exchange and knows irrevocably that she is unloved and unseen.
The need to be seen informs this collection. Characters, whether young girls, adolescents, professional women, wives, or middle-aged men, hanker for some kind of recognition, something that suggests they are known and valued. In 'Lance Harper, His Story', the young protagonist is melancholy: 'one of the facts of Lance's life was that it had never contained a soul who had dreamed of observing him.' The teenagers in 'The City at Night' fare better. When they let down their guard and admit to loneliness, a friendship is born: 'The strange silent world of adolescence had exploded, the eggshell walls had collapsed, proclaiming, You are not alone.'
Most of Harrower's characters are very much alone, never more so than when they are in relationships. In their solitude they play their internal tapes of guilt and despair over and over again: 'all I was was someone conscious of error', 'nothing about herself, her life, her death, was worth taking seriously', 'everyone, everywhere, all the time. Ambling round till they die.' In several stories characters experience a profound numbness of spirit, 'wanting nothing, feeling nothing, believing nothing'. Repeatedly they wonder about the purpose of life.
'Harrower explores eternal themes such as loneliness, bereavement, cruelty, and depression'
A Few Days in the Country and Other Stories, as may be obvious, is not what one might call a happy read. It is not the kind of collection that asks to be read straight through from cover to cover. Rather, it is a book to dip into. The range of stories and styles demonstrates Harrower's extraordinary literary skill. In 'The Cornucopia', a timeless story of a selfish, wealthy socialite, she is at her cutting, satirical best. In the technically sophisticated 'English Lesson', Laura learns the language of insult. Harrower's edgy narrative pace, clipped phrases, and enigmatic sentences mimic Laura's disorienting intellectual and visceral response to rudeness. Above all, this collection has much to say about two central concerns of our life and times: domestic abuse and depression. Harrower, writing decades ago, knows about both, and because she cares for her characters she develops our understanding of the destructive power relations, and emotional paralysis, they experience.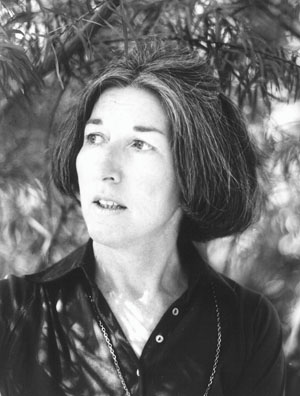 Elizabeth Harrower
Some stories share a close resonance with Harrower's novels. 'The Beautiful Climate' packs all the terrifying claustrophobia and menace of The Watch Tower (1966). The cruel, domineering husband and father even shares the same surname as Felix Shaw from that novel. 'Alice' is reminiscent of Emily's desperate need for parental love and concern in The Long Prospect (1958). The title story can be read as a companion piece to In Certain Circles. In that novel, Anna attempts to explain to her friends that she was 'chosen' by suicide and that it 'had seductive arguments'. She knows her explanation 'sounds confused'. In 'A Few Days in the Country', Harrower maps a convincing dialogue between suicide and the depressed Sophie. In a sense, the story answers what readers were expected to surmise about Anna's change of heart.
In 'The Beautiful Climate', the teenage Del reads psychology books in an attempt to 'find out why people were so peculiar', and to 'come across a formula for survival'. A Few Days in the Country and Other Stories offers no sure-fire formulas, but through its interrogation of characters' psychological motivations it affords a deeper understanding of human behaviour.
'Some stories share a close resonance with Harrower's novels'
Despite her unremitting focus on the pain of existence, Harrower affirms, through the act of writing, that there is hope and that she has faith in the human spirit. The collection opens with the arresting image of lightning and a blackout: 'And then ... the lights ... went out.' Its closing sentence reads: 'She had learned.' In various ways, these stories chart a path through darkness to arrive, often, at moments of empowering self-awareness.