Film
Peter Kenneally reviews 'The Dressmaker'
I'm back, you bastards.' Jocelyn Moorhouse announces her return to the screen after eighteen years as vehemently as does her lead character, Tilly Dunnage, when she arrives in the one-horse outback town of Dungatar. The bus moves through a brown sea of wheat beautifully and cinematically, and when Tilly (Kate Winslet) steps down from the bus, she may carry a sewing machine instead of a six-shooter, but the intent is clear: she has brought Hollywood with her.
'Unforgiven with a sewing machine' is how Moorhouse sums up her adaptation of Rosalie Ham's novel (2000), and she has given us a version of it that mostly conveys this notion (it is really High Plains Drifter, but that is a small quibble). The set-up is simple. Tilly, exiled as a child from the town for murky reasons involving the death of a classmate, has spent years in Paris becoming an haute couture dressmaker and is now back to seek truth and justice, and to make irresistible outfits for the townswomen as a way of unravelling the town's secrets. The secrets don't end up being all that interesting, but that hardly matters.
As played with considerable panache by Winslet, Tilly is a stylish and irresistible Amazon, clad in one gorgeous outfit after another, cigarette always in hand, and brooking no opposition. She immediately begins to set the town to rights, starting with her mother (Judy Davis). Tilly is two parts Clint Eastwood, and eight parts Flora Poste; for all the spaghetti western overlay in the set design, music, and photography, Cold Comfort Farm constantly peeks through. There are dozens of woodsheds, and they all have something nasty in them.
The town, rendered with blinding artificiality, is an amalgam: the house on the hill, the dusty main street, the hillbilly hovel, all bathed in a glowering gold. It is more Ealing Studios than Australian Gothic (instead of the local policeman being a terrifying Chips Rafferty, we have a whimsical and cross-dressing Hugo Weaving), but it is full of unbridled insanity. The scene where a rival gunslinger/seamstress played by Sacha Horler arrives, spurs jingling, to find the main street full of women wearing haute couture frocks, is one of many delightfully surreal moments.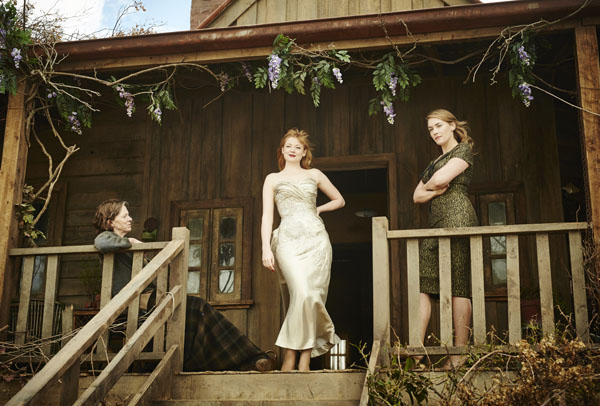 Judy Davis, Sarah Snook, and Kate Winslet in The Dressmaker (photograph by Ben King)
'Much of the energy in the film comes from the fact that most of the Australian actors in it are mugging with passionate intensity'
Much of the energy in the film comes from the fact that most of the Australian actors in it are mugging with passionate intensity. In some cases, this is merely a matter of ramping up their standard performance a notch or two, but some go several extra miles, most notably Barry Otto as the hunchbacked, malevolent chemist. He plays the role like an enthusiastic drama student who has been asked to imagine himself as a Galapagos turtle, and at one point seems actually about to explode.
Tilly's first order of business is to rehabilitate, and reconcile with, her mother, a wheelchair-bound, alcoholic, slovenly harridan who affects not to remember who Tilly is, or the terrible event that led to her expulsion. It is hard to imagine anyone enjoying themselves more in a role than Judy Davis does here. She goes from demented harpy to mischievous old lady to loving mother without ever crashing the gears, in contrast to Winslet, who moves through the film calmly Acting, as if it were a normal drama. There is one revelatory moment where the two exchange a glance, with Judy Davis's eyes saying 'Look, we're the class in this movie, let's face it, so let's show them how it's done!' Sarah Snook gives them a run for their money, transforming from downtrodden skivvy to weird matron, but there is no other real competition.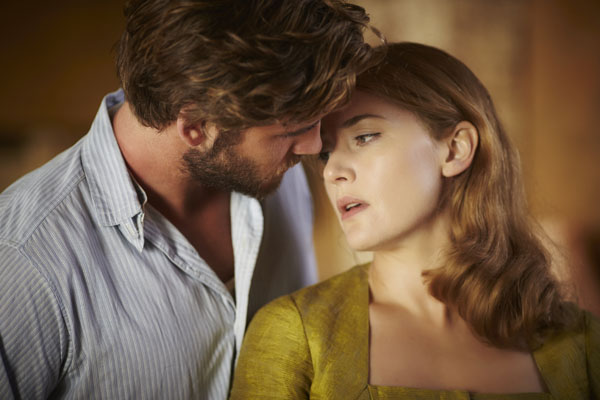 Liam Hemsworth and Kate Winslet (photograph by Ben King)
'The secrets don't end up being all that interesting, but that hardly matters'
There is mystery, revelation, and reconciliation: oh, and romance, but these elements are really just mannequins to hang the acting and photography on. The love interest (Liam Hemsworth) lives in a shotgun shack nearby (imagine a Ma and Pa Kettle movie in which their son was Victor Mature), and is also, for a supposed schoolmate of Winslet, suspiciously young. Moorhouse isn't bothered by such trifling inconsistencies, and even makes a joke of it by taking them off to the cinema to watch Gloria Swanson and William Holden in Sunset Boulevard, and taking Judy Davis along, who promptly enjoys herself all over again in a scene that is worth the price of admission on its own.
The love scenes are surprisingly dull: Hemsworth's character is hardly there, and really serves a Mr Exposition function, helping to solve the 'mystery', such as it is. Moorhouse is obviously quite bored with the whole narrative premise, and brutally unsentimental too: once characters have served their purpose they get the chop (in variously lurid ways), leaving our heroine emotionally unattached for the fabulous finale.
Like the film as a whole, it looks stunning, it is shamelessly appropriated, it finishes with a laconic one-liner, and, if you just look and don't think, it works perfectly.
The Dressmaker (M), directed by Jocelyn Moorhouse, based on the novel by Rosalie Ham, distributed in Australia by Universal Pictures. In cinemas from 29 October 2015.
Arts Update is generously supported by The Ian Potter Foundation.