Lucky Shirley Temple! Film star biographies are usually made up of a chronology laced with doubtful studio publicity and salacious gossip. But The Little Girl Who Fought the Great Depression is written by a reigning scholar of American culture, John F. Kasson. A professor of History and American Studies at the University of North Carolina at Chapel Hill, Kasson takes entertainment seriously. For more than forty years, beginning with Amusing the Million: Coney Island at the Turn of the Century (1971), he has uncovered the cultural significance of popular leisure-time activities, places, and personalities in a style that is both scholarly and entertaining. His Houdini, Tarzan and the Perfect Man: The White Male Body and the Challenge of Modernity in America (2001) used three mini-biographies to explore the 'masculinity crisis' of the early twentieth century. In The Little Girl, he focuses on one icon to help us see how Americans survived the Great Depression.
Shirley Temple was three years old in 1931 when she began her movie career in the Baby Burlesks, which used child actors to spoof well-known movies; but her celebrity began in 1934 at age six, when she appeared in the Twentieth Century Fox movie Stand Up and Cheer! Her career was short but crowded. She made twenty-two feature films for Fox over the next six years, and was the most popular box office star in the United States and overseas for four of those years. 'Washed up' in 1940, when she was twelve years old, her career spiralled downward until she took what seemed the only way out, and made a short-lived marriage and had a child when she was sixteen. Unlike most former child actors, Temple made a successful second marriage to a man – who, incredibly, had never heard of her – and, even more incredibly, she ended her working life as the US Ambassador to Ghana and Czechoslovakia.
This is not a full biography, although Kasson traces her life impeccably from her birth in 1928 to her second marriage in 1950, when she was twenty-two. He is more interested in the context of her extraordinary career as a child actor and the impact she had on her audience. His main thesis is that the little tot's smile – which is illustrated engagingly on the cover and in the book's many photos – was an important morale booster during the tough times of the Depression and part of the country's emotional healing. This smile was exploited by her employers, Twentieth Century Fox, and especially by the wily Darryl Zanuck, to establish that studio when many others were going under. And it was exploited by politicians such as President Franklin D. Roosevelt, whose much-publicised meeting with the ten-year-old in 1938 brought together the two most famous smiles in the world.
'[Kasson's] main thesis is that the little tot's smile ... was an important morale booster during the tough times of the Depression and part of the country's emotional healing'
Temple's popularity was, indeed, a worldwide phenomenon, which continued long after her demise as a child star. Shirley Temple dolls were sold all over the world. There were contests for 'the Japanese Shirley Temple' and 'la Shirley Temple Cubana'. Her cult even penetrated the Frank family's secret annex in Amsterdam, where Anne's restricted young life was cheered by her idol's photograph. It also crossed class and colour lines. Oprah Winfrey, born into poverty in rural Mississippi in the 1950s, longed for Shirley Temple curls and slept with a peg on her nose in an attempt to gain the Shirley Temple turned-up nose.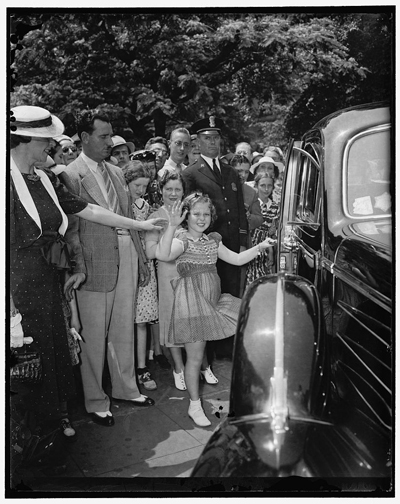 Shirley Temple leaves the White House after visiting President Roosevelt, 1938 (Library of Congress Prints and Photographs Division Washington, D.C. 20540 USA)
Kasson analyses this phenomenon in six insightful and authoritative chapters. He brings the politics of the Depression years to life in contrasting the gloomy technocrat, Herbert Hoover, with the charismatic Franklin Roosevelt, whose mastery of the media paralleled that of Shirley Temple's studio. He takes us inside the world of Hollywood studios in the movie industry's Golden Age, when studio bosses and their publicity machines created and controlled the personas of their wealth-producing stars. He illuminates the precarious path the family of a child star and the studio had to negotiate in a time when child labour laws were being introduced to protect young workers. And he asks, in one perceptive chapter, what it meant to have a 'private life' when you were a ten-year-old movie star.
One of the most interesting questions that Kasson's book brings up for readers today is the degree to which this child star's sexuality was exploited. Temple's screen persona relied on her cuteness (that smile, those curls) and her flirtatiousness (that huggable little body). As Kasson points out, 'It is a striking measure of shifts in cultural attitudes that such flamboyant cuddling between Shirley and the fathers and father-figures in her films, deeply suggestive of paedophilia and incest to many critics today, clearly delighted Depression audiences.' Yet the only critic to comment on her films' sublimated erotic appeal was Graham Greene, who invited readers of the weekly Night and Day (a British equivalent of the New Yorker that he edited) to 'Watch the way she measures a man with agile studio eyes, with dimpled depravity'; and to note how her admirers are able to 'respond to her dubious coquetry, to the sight of her well-shaped and desirable little body … only because the safety curtain of story and dialogue drops between their intelligence and their desire.' This truth-telling cost Greene a libel suit and his magazine.
Kasson does not explore this aspect of the Shirley Temple phenomenon further. Like any good book, The Little Girl raises as many questions as it answers. Perhaps the next book from the Shirley Temple mill will be Before Marilyn Monroe: Shirley Temple as Sex Object. Meanwhile, read Kasson's book.