I Have a Dog: (an inconvenient dog) by Charlotte Lance
Allen & Unwin, $19.99 hb, 32 pp
Picture Books
Points of difference
Seven unique picture books
In order to appeal to a child audience, picture books often deal with similar subjects or themes. To compete in the marketplace, they therefore need a point of difference – something in the artist's style, the author's approach, the design of the book to set them apart.
The relationship between children and their pets is a popular picture book subject and one that Jackie French explores in Good Dog Hank (Angus & Robertson, $24.99 hb, 32 pp, 97807-32293642), an exuberant tale about a dog who is very much a part of the family. Hank is a Great Dane with chutzpah – a large, likeable pooch with a self-satisfied grin who lollops through the pages of the book creating havoc, but always with the best of intentions. He only eats from the table after everyone has left, and he helps keep the floor clean by catching food as it falls from little fingers. He does not chew socks: he washes them!
French's text is pared back, with usually only one line per page, plus the occasional parenthetical comment. Nina Rycroft's colourful illustrations interpret and embellish French's often ironic observations about canine behaviour. She uses a combination of slapstick and visual humour to explore the pivotal role of the family dog.
I Have a Dog (An Inconvenient Dog) (Allen & Unwin, $19.99 hb, 32 pp, 9781743317815) by Charlotte Lance is similar in concept to Good Dog Hank. The first half of the book examines the negatives of dog ownership, such as sock-chewing and muddy paws, while the second shows the positives, including companionship. However, while the concept is similar, the approach is quite different. I Have a Dog is a physically smaller and more intimate book, with a muted palette and a distinct drawing style.
Lance's somewhat scruffy, loose-lined illustrations do not have the immediate visual appeal of Rycroft's – her dog looks like an uncoordinated, overenthusiastic sheep – but the humour underpinning the illustrations rewards closer perusal. Lance's understated approach to the topic should appeal to a slightly older audience of dog lovers than Good Dog Hank.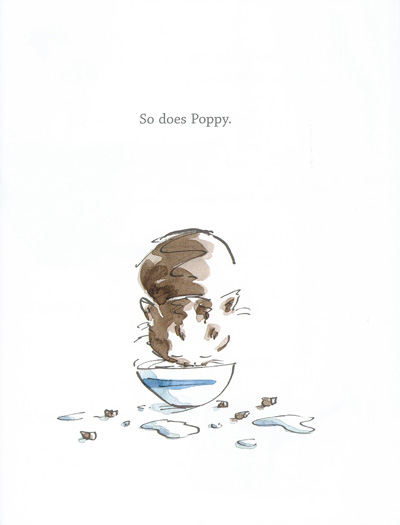 A page from Poppy Cat
In Poppy Cat (Scholastic, $24.99 hb, 24 pp, 9781743620168), Sara Acton explores the daily interactions between a child and her pet with a simple text and uncluttered watercolour images. She deals sensitively with the little things that are important to pre-schoolers: getting dressed by themselves, tying their shoelaces, pouring milk from a bottle, generally fitting into the world around them.
Acton's minimalist illustrations, presented on a white background, are carefully composed to draw the reader's eye from left to right, thus encouraging the development of pre-reading skills, as children follow the intertwined verbal and visual narratives. This is a pleasant book to peruse and share, and it will hold particular appeal for young cat lovers.
Stephen Michael King also explores interspecies friendships in the charming Snail and Turtle Are Friends (Scholastic, $24.99 hb, 32 pp, 9781743620236). With gentle humour and infectious enthusiasm, he shows how friends can have a close bond, even when they have quite different interests. The duo enjoys doing things together: walking, reading, listening, hiding. But they also have points of difference: one likes the dry, one likes the wet; one likes leaves, one likes flowers; one likes swirls, one likes blobs. But each respects and appreciates the other's individualism.
King creates comical, expressive images using distinctive patterning, saturated autumnal colours, and fluid line-work. Snail and Turtle are distinct individual characters, whose personalities are imparted through carefully crafted body language. And their leafy world forms a decorative framework around each image, adding visual interest and pops of colour. In Snail and Turtle Are Friends, King has created a reassuring and entertaining tale that will engage the reader's imagination.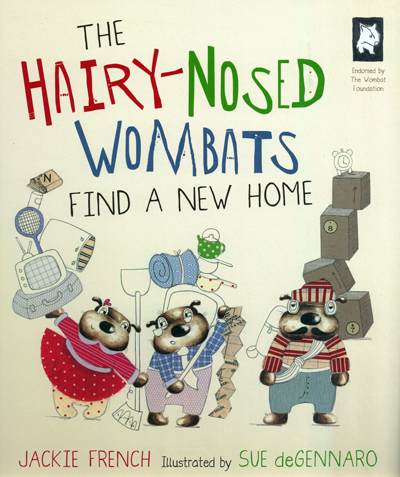 Jackie French's latest wombat-infested title, The Hairy-Nosed Wombats Find a New Home (Angus & Robertson, $24.99 hb, 32 pp, 9780732295486) champions an endangered Australian native species that is now rarer than the Giant Panda. French explains how, with only 176 hairy-nosed wombats left, they decide to find a new home where the conditions will be just right for them to breed and thrive. An advance party is sent out to explore new options, and the rest soon follow. The result is a 'wiggly, wobbly, wonderful wombat' baby, and the hope that there will be more to come.
Sue deGennaro illustrates the tale with distinctive cartoon-style watercolour and collage images featuring anthropomorphised wombats with dog-like visages that live in comfortably furnished burrows. When they realise that they need to leave their threatened home, they bring out maps – including one of New York – to plan their great escape. Finding a new home and moving there is carried out with gusto.
While deGennaro's fictionalised approach helps to make a difficult subject more palatable for young children, there is a disconcerting gap between her often tongue-in-cheek urbanised depiction of the wombats with their domestic accoutrements and the reality faced by these endangered animals. Obviously aware of this, the publishers have included a section entitled 'The True History of the Hairy-Noses'. Fittingly, proceeds from the sale of this book will go to the Wombat Foundation.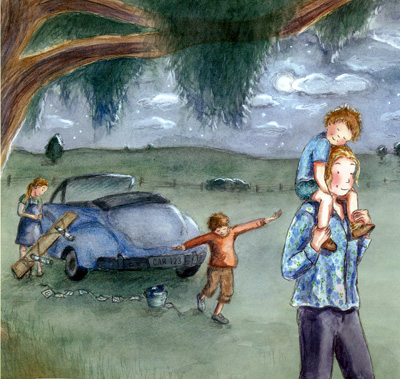 A page from That Car!
Imaginative journeys are also at the heart of That Car! (Allen & Unwin, $24.99 hb, 32 pp, 9781743310953) by Cate Kennedy and Carla Zapel. The child narrator tells how she and her siblings find an old car on the farm that their parents have bought from an elderly lady called Mrs Crosbie. Their father moves the car out under the peppercorn tree, and the children spend hours playing in it, heading off wherever their imaginations take them – for tea with the Queen, up Mount Everest, on safari, and even into space.
When Mrs Crosbie returns for a visit, the children discover the nostalgic connection between the farm's previous owner, who had lived there for sixty years, and the car. Zapel's watercolour illustrations have a naïve appeal, and there are plenty of interesting details in her double-page landscapes of the places the children 'travel' to. This is a warm and engaging tale about the power of the imagination and the things that bind people to a place.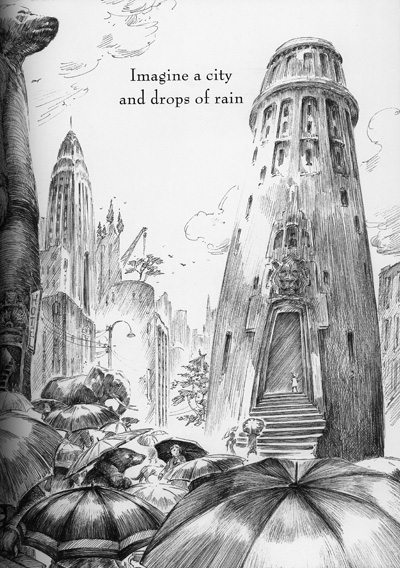 A page from Imagine a City
Imaginative journeys and nostalgic images also feature in Elise Hurst's impressive Imagine a City (Scholastic, $24.99 hb, 32 pp, 9781742990095). This book has an appealing old-fashioned look, with a red linen cover and accompanying embossed sepia image, red-ink clouds swirling across the endpapers, and cream pages featuring crosshatched black-ink sketches.
Hurst's minimalist text is poetic and evocative, but it is the illustrations that carry the story, taking the reader on an exhilarating ride through a dreamlike urban landscape. In this eclectic imaginary world inhabited by anthropomorphised creatures, a plethora of characters from childhood fantasies interact with a mother and her two children. Blimp-like fish carry people through the air, while others fly using open umbrellas, à la Mary Poppins, and in the museum, paintings break their frames and come to life. Outside, gargoyles sip tea and bears ride bicycles.
Hurst's sketches have an otherworldly, nostalgic ambience, reminiscent of watching black-and-white television or leafing through a children's book from the 1940s, and the lack of colour heightens their dramatic impact. Hurst's detailed illustrations contain visual references to everything from Peter Pan to Alice in Wonderland, Harry Potter to Shakespeare. In Imagine a City, Hurst has created a fascinating and enticing world. She demonstrates how finding a point of difference from other picture books – the majority of which rely on full-colour images – can lead to the creation of something quite special.