U nder the Skin is adapted from Michael Faber's eponymous speculative fiction novel (2000) in which an alien disguised as an attractive woman hunts hitchhikers in the Scottish highlands. Once she has determined that a man is appropriate prey, she drugs him and delivers him to a subterranean abattoir hidden beneath a farm where, in a disturbing allegorisation of factory farming, he is castrated, fattened up like foie gras, and prepared for shipment back to the alien home planet where human flesh is an expensive delicacy. This adaptation of Faber's novel is the long-anticipated third feature film from director Jonathan Glazer.
It has been a decade since his last, Birth (2004), an abstruse psycho-spiritual melodrama in which Nicole Kidman played a woman who comes to believe her late husband has been reincarnated as a young boy. Though working with recognisable sci-fi, thriller, and horror tropes, Glazer's latest film, with Scarlett Johansson as the extraterrestrial serial killer, has the pulses and textures of something else, something cinematically alien. Under the Skin, like Birth, radically holds back on exposition and reinvents genre in a manner that will both fascinate and frustrate audiences.
The film begins with an origins sequence in which the perfect female replica is 'born' from the flesh of another identical woman. A human? Another alien? Her predecessor? Even those familiar with Faber's novel will remain uncertain, and this is only the first of innumerable mysteries the film dispenses. Her eyes and voice appear as if created from nothing, and these then become the denaturalising frame through which the world – our world – is encountered. Through alien eyes, the mundane streets and shopping malls of Glasgow become strange. Although we know Johansson is not of this earth, the first half of Under the Skin proceeds like a puzzle: why is this woman driving around looking for unremarkable young men, and what is happening to them? From this enigma proceed at least three fascinating conceits.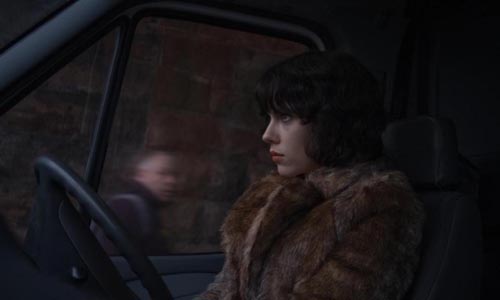 Scarlett Johansson (source: aceshowbiz)
The first is the astonishing casting of Scarlett Johansson. She is a far cry from Faber's alien, who wears glasses with lenses so thick that her eyes look 'twice normal size' and who is encumbered with onerous prosthetic breasts designed to entice human meat. Johansson is iconically beautiful, though slightly dowdier here with brown hair and cheap red lipstick. She's a townie femme fatale with a very credible English accent that helps lure the prey. There is a curious, sinister effect to casting one of the world's most beautiful women in the role ofalien flytrap. Johansson's capacity to radiate erotic charisma itself feels otherworldly, and here it's exploited uncannily alongside her ability to project inhuman affectlessness. She herself seems entirely alien driving a white transit van, alone, around the streets of Glasgow.
A second titillation is that these predation scenes were created using hidden video cameras installed inside the vehicle. The men lured inside were bona-fide strangers, non-actors who, during at least part of their performance, were being filmed unawares. This candid camera approach has an unnerving effect. None of the men used in the final edit recognised the famous actress, although they are clearly beguiled by her.
'There is a curious, sinister effect to casting one of the world's most beautiful women in the role ofalien flytrap.'
Thirdly, what happens to these men is so surreal, erotic and chilling it cannot be unremembered. Back at her house (lair? portal to another universe? processing factory?), they disrobe, as if sex were imminent. She leads him across a black, reflective surface. He sinks under the surface into an oleaginous black liquid. She doesn't. Different rules of physics apply here. The men seem tranquilised and unperturbed, as if drugged. The image is so weird and so ravishing – upsetting and wonderful all at once. The repetition of these scenes sustains the first half of the film, with more revealed about what happens to these poor souls after each collection.
Faber's novel has been described as 'original', 'troubling', 'wildly imaginative', 'bizarre', and 'insidious' .It is all of those things and so is Glazer's film, though fans hoping for the book's more elaborate intergalactic economics will not be satiated. The later is more pointedly science fiction in its overt exploration of social themes – dehumanisation, gendered violence, environmental degradation, and so forth. Glazer has birthed an altogether different but in many ways sexier beast.
More of a narrative consciousness takes over in the second half, which is where some may feel the ellipses become frustrating. Johansson's alien is evidently on a trajectory toward the potential for human empathy, though we still have very sparse information about her and her sinister job. If Birth was stripped back, this film is skinned. Without the alien machinations of the novel, Under the Skin becomes almost pure metaphor. What emerges, however, are the same fundamentally humanist philosophical questions about power, mercy, and empathy. This decision to reserve explanation is a very good one. Under the Skin is hypnotic, poetic without being pretentious, and makes human life appear strange indeed.
Under the Skin (MA 15+), directed by Jonathan Glazer, written by Jonathan Glazer and Walter Campbell, based on the novel by Michael Faber. 108 minutes. Released in Australia on May 29.