Theatre
'Strictly Ballroom'
When culture worships youth, what does an ageing artist make of his myth?
Most viewers of Strictly Ballroom: The Musical will enjoy themselves to a certain extent and for a certain duration. While my own misgivings were frequent, the large audience received the show warmly and rose, albeit half-heartedly, at the curtain call. The show rests on the shapely spray-tanned shoulders of a large and scantily clad ensemble singing and dancing in unison. Whatever the cost to clarity, the effect is impressive and, occasionally, even hypnotic. That said, Strictly Ballroom: The Musical is mostly pretty awful.
The lead performances from Thomas Lacey and Phoebe Panaretos are underwhelming. While Lacey's Scott is dynamic, he lacks the charisma and humour of Paul Mercurio's portrayal in Baz Luhrmann's film Strictly Ballroom (1992). Panaretos fares better; she retains some sense of character throughout the giddy medley that comprises the drama. Her portrayal of Fran cracks when forced, by poor dramaturgy, into a rendition of Doris Day's sultry 'Perhaps, Perhaps', preceded and succeeded by her habitually timid dialogue.
The supporting cast is solid. Fernando Mira and Natalie Gamsu lend the piece a fleeting dignity as Rico and Abuela, and Robert Grubb's Barry Fife, pitched somewhere between Stalin and Dad and Dave, menaces and diverts.
It is competently staged, the first act featuring a bravura visual soliloquy in which Scott dances to the accompaniment of mirror-wielding doppelgängers. As the images do not build a coherent visual world, however, their effect dissipates in transition. Serving neither character nor story, they are spectacle without substance.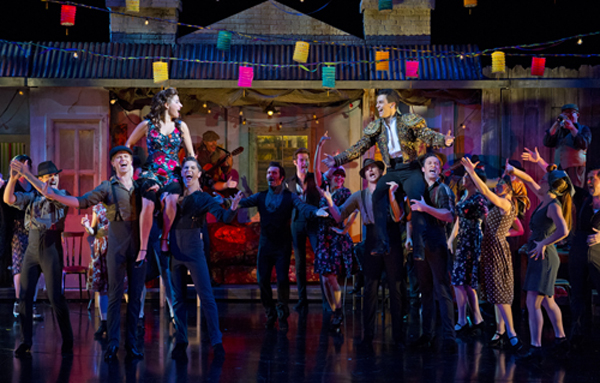 A scene from Lurhmann's Strictly Ballroom: The Musical
(photograph supplied)
The publicity campaign heavily emphasised audience participation,but inclusive theatre is notoriously difficult to pull off. It is best when working towards a clear social end, within an intimate community, as exemplified by Augusto Boal's 'Theatre of the Oppressed'. The yawning Lyric is far from intimate, and 'Randwick's as close as you get to the beach', a line from the saccharine number 'Everyone Is Beautiful When They Dance', demonstrates the extent of our oppression.After curtain, a handful of the ensemble – short straws presumably – lead those so inclined on stage to dance. Some fifty to a hundred rise and sway, the rest of us eye the exits and realise that whatever the song says, most aren't. Strictly Ballroom aims for euphoria, but trades on a sadder Greek word. For an equal portion of nostalgia, a deal more irony, and cheaper drinks, I recommend a Cold Chisel tribute at your local.
This is broad art, but recognisably human characters and a coherent progression of emotional stakes augmented by music and light – in short, theatre – are not the prerogative of Puccini. Les Misérables has it, Gilbert and Sullivan have it, West Side Story has it, and Luhrmann's earlier films have it in abundance. Strictly Ballroom: The Musical does not, and for $145 an adult ticket one can do a great deal better.
'Success has done Luhrmann few favours.'
Success has done Luhrmann few favours. Director and essayist Anne Bogart emphasises the importance of what she calls resistance. At all levels of negotiation – producer with director, director with actor, and actor with audience – resistance and difficulty, both in production and in the work, stand in for the knowledge of death against which we judge art, particularly live performance. In fantastic works like Luhrmann's, a natural tension between the quotidian self and the freedom of performance should foreground resistance, but over the last decade his art has shown precious little.
Strictly Ballroom was filmed on a shoestring, and the humility of its mise en scène is a virtue. The pathos of Fran and Scott's rooftop dance is inseparable from the threadbare clothes that dangle from the Hills Hoist above them. The later Red Curtain films were lavish, but their opulence served the dreams of actors and lovers, and the dream was seen to end.
The Wall Street Journal's Joe Morgenstern describes Luhrmann's The Great Gatsby (2013) as 'a spectacle in search of a soul', and the film exemplifies the director's tendency of late to aestheticise – and thereby trivialise – pain. Gatsby's death, shot through the heart with an absurd 'Daisy' on his lips, has more nostalgia in it than pity. DiCaprio falls backward into a perfectly circular pool. Floating cruciform against a liquid sun, the years fall from his face. The image recalls Romeo in the pool beneath Juliet's balcony, when DiCaprio was angelically beautiful and Luhrmann made brilliantly innovative films.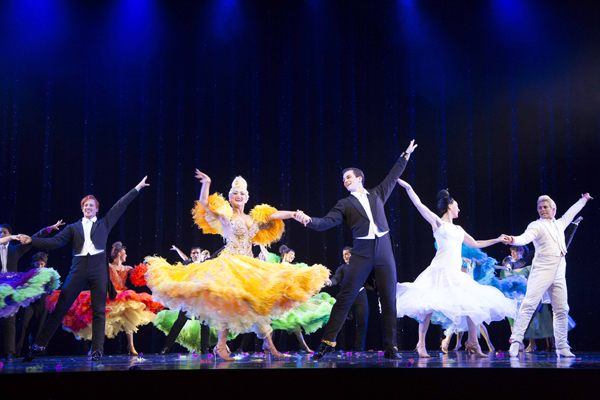 Strictly Ballroom: The Musical
(photograph supplied)
Most of Luhrmann's works feature the artist's face at the foot of the cross. In Strictly Ballroom, a young artist escapes the influence of a domineering mother. Romeo + Juliet (1996) and Moulin Rouge! (2001) centre on poets seduced by images. In Gatsby, a storied millionaire wanders among his own guests, searching for the love of his youth, but more intently for the youth who loved her.
This recreation embodies two facets of its director: an emcee maniacally offering delights like a sequined Mephistopheles, and Doug Hastings, a sad middle-aged man dancing to an empty theatre. If this musical was Luhrmann's attempt to rediscover the gods of his youth, the production attests they have long departed, or grown old.
Strictly Ballroom: The Musical, directed by Baz Luhrmann, now showing at Sydney's Lyric Theatre. Performance attended April 10.