Film
Half of a Yellow Sun
by Jake Wilson
A chronicle of Nigeria in the turbulent 1960s, Chimamanda Ngozi Adichie's novel Half of a Yellow Sun (2006) is, to put it crudely, a page-turner: a story of love, sex, betrayal, horror, heartbreak, and, ultimately, forgiveness. In other words, ideal material for cinema: it is easy to understand why this film adaptation has been described by its star Thandie Newton as a Nigerian Gone with the Wind.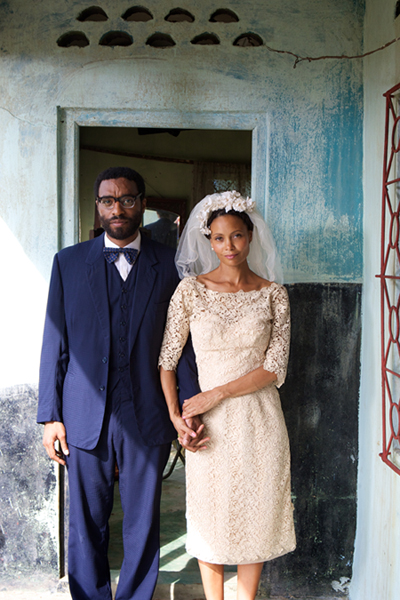 Chiwetel Ejiofor and Thandie Newton
(photograph supplied)
The film marks the feature début of writer–director Biyi Bandele, who is himself known as a novelist as well as for his stage work. Born in Nigeria, Bandele has spent virtually his whole career in the United Kingdom, but this qualifies as a Nigerian film all the same, shot partly on location and with most of the funding provided by local investors. Though the budget is low by blockbuster standards – there are no spectacular battle scenes – it is officially the most expensive Nigerian film yet made, a far cry from the usual rough-and-ready productions of 'Nollywood'.
At the heart of the story are twin sisters from an upper-class Lagos family. The idealistic Olanna is played by Newton, a magnetic actress with a finely drawn face, a musical voice, and the poise of an old-fashioned star. Anika Noni Rose is Kainene, the pragmatist of the pair: a physically contrasting type, with stronger features and a more defiantly haughty manner. Western-educated but loyal to their roots, they might be said to represent the promise of the future, coming of age around the time Nigeria gained its independence from the United Kingdom in 1960. Both are frequently seen preparing for social occasions by looking into mirrors, an emblematic image that hints at allegory: the nation is ready for its close-up.
' ... it is officially the most expensive Nigerian film yet made, a far cry from the usual rough-and-ready productions of 'Nollywood'.'
Olanna and Kainene belong to the Igbo people, a minority ethnic group at odds with the Nigerian government, a tension brought to a head by a series of massacres in the mid-1960s, leading to the founding of the breakaway republic of Biafra and hence to civil war. What divides the sisters, however, is less politics than the men in their lives. Olanna falls for Odenigbo (Chiwetel Ejiofor), a firebrand Igbo intellectual, while Kainene chooses the gentler Richard (Joseph Mawle), a British expatriate and would-be writer.
Like many theatre directors turned film-makers, Bandele has a distinctive approach to film style, often stepping outside the conventional limits of realism. Given the challenge of recreating Nigeria in the 1960s, it is not surprising that much of the film's action occurs indoors: shooting in the country's first ever film studio, Bandele seizes every opportunity to build atmosphere with heightened colours and streaked lighting patterns. It helps that the cinematographer, John de Borman, shoots on 35-millimetre film rather than digitally, nowadays an increasingly rare choice.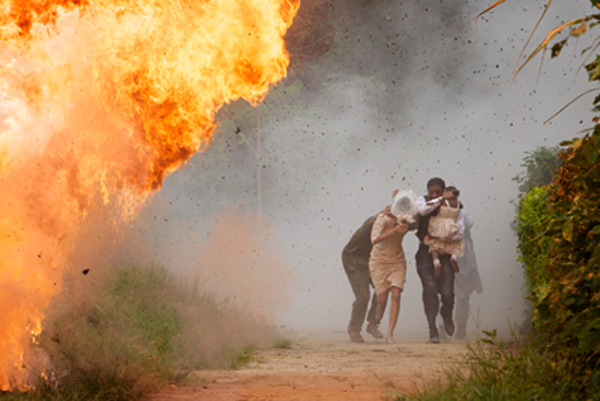 Half of a Yellow Sun
(photograph supplied)
Banyele's stage background is evident in his taste for wide shots that allow him to get full value from his actors' body language. This is especially effective in scenes depicting the fraught private life of Olanna and Odenigbo: Newton has an elegant way of stretching out her slender neck to express rage and anguish, while the equally gifted Ejiofor makes a point of showing how Odenigbo's gestures lose their restraint after a glass of whisky or three.
Effective, too, is the sequence where Richard and Kainene meet at a crowded party and find an instant rapport while weaving around the other guests: their connection is established in a single shot, lasting several minutes without a cut. A later sequence, depicting a massacre at an airport, involves some equally complex blocking but is edited very differently, visually separating Richard from his surroundings and thus accentuating his status as a helpless outsider.
In truth, the film works best as a melodrama about a handful of people, with politics in the distant background; Banyele uses clips from newsreels to fill in some of the gaps, though it is never clear how far this device is intended ironically and how far we are meant to take the comments of the British-accented announcers at face value. As with the great majority of page-to-screen adaptations, the complexities of the source material have been replaced by something simpler and easier to manage: the script straightens out the book's non-linear narrative and omits some of its more confronting scenes, including one in which a largely sympathetic character takes part in a gang rape.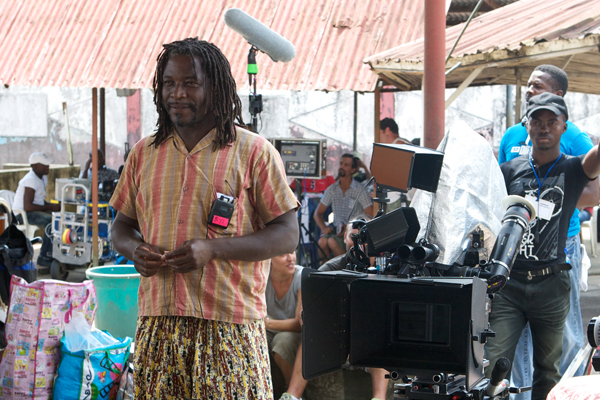 Biyi Bandele
(photograph supplied)
Still, Half of a Yellow Sun succeeds on two fronts: as a picture of Africa unlike any we are used to seeing on screen; and as a throwback to a kind of entertainment that long ago went out of fashion in Hollywood. Viewers curious about Nigerian history may come away with more questions than answers – but then, nobody watches Gone with the Wind to learn about the American Civil War.
Half of a Yellow Sun, written and directed by Biyi Bandele, based on the novel by Chimamanda Ngozi Adichie. 111 minutes.
Released in Australia on March 27.