Biography
Penelope Fitzgerald: A Life
by Hermione Lee
'I'm sorry I'm late, but my house sank.' That's Penelope Fitzgerald, apologising to her students. The leaky, rat-infested barge on which she and her family had been living on the Thames near Chelsea had gone down, taking all their possessions with it.
With such treasures of understated tragicomedy already known to her, Hermione Lee set out to discover the subtle, elusive novelist who was nearly sixty when she began to publish. Lee faced problems quite different from those she encountered in her superb works on Virginia Woolf (1997) and Edith Wharton (2007). Woolf's self-revelations in diaries and letters could have been overwhelming; Wharton's dignified reserve was a barrier. Lee triumphed in both.
Biographers often have trouble with the end of a long life. If the achievements that brought fame are all in the past, and if the record shows only failing health and small personal losses, the last chapter can be hard to write. Lee's challenge in writing the life of Penelope Fitzgerald was not the writer's old age, which was one of extraordinary achievement, but the middle years of obscurity, loss, and seeming defeat. Her task was to find the secret river of creativity in those years.
Penelope Knox was born into a family of winners. Her two grandfathers were bishops. Her father Edmund (Evoe) was the editor of London Punch. Uncle Dillwyn (Dilly), a Cambridge classical scholar, became a code-breaker in the Bletchley Park team. Uncle Ronald (Ronnie) converted to Rome, translated the Old and New Testaments, wrote detective stories, was a friend and biographer of Evelyn Waugh, and moved in Brideshead circles. Penelope might have been daunted by the family legend, and by the fact that her two aunts were of less account, but it didn't show at Oxford. She was 'the blonde bombshell', 'our Penny from heaven'. She graduated with first-class honours in 1938. Her examiners applauded at the end of her viva. She knew that she would write.
With this brilliant start, how could Penelope Knox become an ill-paid teacher and barge-dwelling mother of three, her writing limited to reviews and articles? One answer comes from the war and her marriage. She worked for the BBC during World War II and in 1942, aged twenty-five, she married a handsome officer in the Irish Guards, Desmond Fitzgerald, an Oxford graduate with a career in the law ahead of him.
'Lee's challenge in writing the life of Penelope Fitzgerald was not the writer's old age, which was one of extraordinary achievement, but the middle years of obscurity'
A surprising omission in Lee's account of the Fitzgerald marriage is any discussion of the religious divide. In 1940s England, bishops' granddaughters didn't marry Irish Catholics without causing angst in both families. When Uncle Ronnie became a Catholic priest he was cut out of his father's will. He officiated at the Fitzgerald wedding, before which Penelope had to promise to bring up her children as Catholics. What did that mean to Penelope, who remained a practising Anglican? And what had it meant to be Ronald Knox's niece at Oxford after the hailstorm of his much-publicised conversion? As the chaplain to Catholic undergraduates, he would certainly have known Desmond Fitzgerald. For better or worse, he may have brought the pair together.
The war broke Desmond. He won the Military Cross, came home haunted by his experience, and drank heavily. His legal career ended when he stole cheques from his chambers, endorsed them with forged signatures, and cashed them in pubs. He was spared prison, but his disgrace was made public. He took a lowly job issuing tickets in a travel agency. Penelope stood by him and in late middle age they reached a tranquil companionship.
Lee finds fascinating material in Fitzgerald's teaching years. She worked in three London establishments. The Italia Conti was for aspiring actors. Queen's Gate was a 'deb factory': Camilla Shand, now the wife of Prince Charles, was there; so was Nigella Lawson. At Westminster Tutors, a cramming school, Fitzgerald taught Edward St Aubyn and A.S. Byatt's daughter, Antonia. 'If you used the word "overall", she marked it with a picture of an overall in the margin,' one student remembered.
This 'patron saint of late starters' produced thirteen books within twenty years: nine novels, three biographies, and a collection of short stories. She won the Booker Prize for Offshore in 1979 and had three other Booker shortlistings. Offshore's win brought out the worst in London's literary circles. Certain that V.S. Naipaul's A Bend in the River (1979) was unbeatable, some journalists wrote their reports in advance. No longer free to get drunk at the dinner, they had to write about Offshore's author, and they turned nasty. The BBC's Book Programme was condescending about Fitzgerald. Its critics seemed incapable of focusing on the work which the chairman of the judging panel had described as short, deep, highly crafted, a roman pur. They had made up their minds that Fitzgerald came into the contest as 'everyone's favourite aunt'. Perhaps Fitzgerald invited this treatment by carrying a sponge bag instead of an evening bag to the Booker dinner. The sponge bag suggests a mischievous determination not to let anyone see beyond the public role she had chosen. Julian Barnes later said that Fitzgerald 'comported herself like some harmless jam-making grandmother who scarcely knew her way in the world'.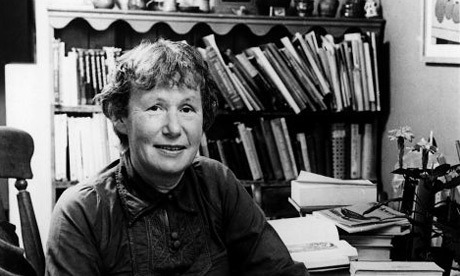 Penelope Fitzgerald
How did such an impressive body of work emerge in such a short time span, and why was it so long delayed? Lee avoids theorising about Fitzgerald's late start. 'But I want to understand it and show it happening as best I can.'
The poverty was real. Life on the barge was squalid; food was often short. The children toasted sandwiches dangerously on a radiator turned upside down. One day they caught their mother eating blackboard chalk: she felt that she needed it. After the barge sank, the family found a more conventional home on a public housing estate; and, for all their privations, the children had an education of the kind their mother took for granted. All three won Oxford places.
The novels began to appear after Desmond's death in 1976, when Penelope had some security. The first four literary novels draw on experience: a Southwold bookselling job in The Bookshop (1978); the barge in Offshore (1979); the BBC years in Human Voices (1980); the child actors of Italia Conti in At Freddie's (1982). There are touches of Barbara Pymish English social comedy, and of Muriel Spark's quirky style, but Fitzgerald has her own voice and vision, splendidly discussed by Lee.
The later novels are quite different in feeling, period, and setting. 'How does she do it?' her readers ask, dazzled by a combination of learning and imagination. As Lee shows, each novel came from an epiphany as well as from immensely wide reading. The first impulse for The Blue Flower (1995) was D.H. Lawrence's 'fatal flower of happiness, which trembles so blue and lovely in a crevice just beyond your grasp'. Fitzgerald wanted to know why Lawrence's flower was blue. Her quest led to the visionary eighteenth-century philosopher Novalis, the central figure in her magical, mysterious last novel, published when she was nearly eighty.
Summing up, Hermione Lee writes: 'There are many things [Fitzgerald] did not want anyone to know about her, and which no one will ever know. I find this frustrating, amusing, seductive and admirable.'
That's how I feel about her biography.