The Academy Award season is so given to hyperbole that it was a relief to read one critic not starry-eyed about Steven Spielberg's Lincoln. Rex Reed, in the New York Observer, criticised the film for having 'too much material, too little revelation and almost nothing of Spielberg's reliable cinematic flair'. I don't agree for a moment, but Reed's comment is an interesting pointer to the prevailing expectations of twenty-first-century American cinema: keep it simple (or simply incoherent), deliver a message, and wrap it all up with lavish cinematography.
What is most engaging about Spielberg's latest foray into American history, warfare, and modes of leadership is that it does none of the above. Or almost none. Lincoln is a compressed, restrained, and profound film, one that repays many viewings. It has the layered enticement of Russian fiction – you are suddenly thrust into a complete and complex world, one which doesn't stop for you. Events press. Characters are unpredictable, edgy. Moral choices are vexed. And in the uncanny performance of Daniel Day-Lewis as Abraham Lincoln you see the embodiment – and the cost – of those choices.
Spielberg's timing was no accident. Lincoln was released in the United States after Barack Obama had won his second presidential term, and was thus not cheapened by any suggestion of political boosting (one can't use 'barracking' in today's America). Nonetheless, the film's complexity ('too much material') is a mirror image, with the political parties' roles reversed, of America's impacted contemporary politics. Nothing comes easy in American democracy, not then, not now.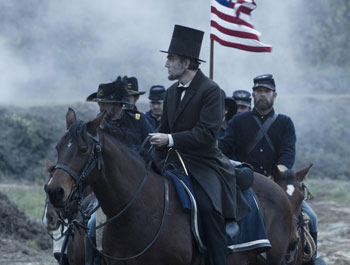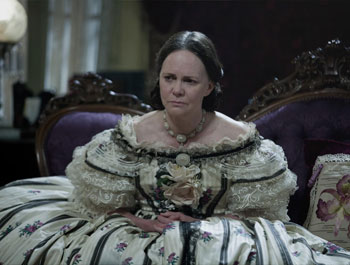 In Lincoln, the messy, compromising business of ensuring the passage of the Thirteenth Amendment, outlawing slavery and involuntary servitude, puts Lincoln in the smoke-filled and conniving back rooms of politics as often as it puts him on an orator's platform. Today's US Congress, ideologically rigid, unproductive, and unprecedentedly unpopular, might take note. The film can also be read as a challenge to the second-term Obama. Lincoln served only one full term and a few months before he was assassinated. In that short period he saw an end to the Civil War, and presided over the abolition of slavery. His successors did much to negate or complicate his achievements, but they could never undo them. Nor could they erase Lincoln's rhetoric, or contain its resonance:
... we here highly resolve that these dead shall not have died in vain, that this nation, under God, shall have a new birth of freedom and that the government of the people, by the people, for the people, shall not perish from the earth.
Obama, more than anyone else in America, must understand and bear the weight of that legacy.
But Lincoln is cinema, not political documentary. Historians will argue about inaccuracies (none fatal), but audiences will remember the way the film patches together the ragged, mysterious components of human leadership, power, and integrity. Spielberg directs with a questioning eye, not a hagiographer's view. And if his palette is subdued, his dramatic instincts are not. Much happens in those smoky rooms, some of it unusual fare for cinema. Tony Kushner's intelligent screenplay gives speech real time. Arguments are played out to their conclusion. Actors are allowed space to enact ambivalence, indecision, or, in Day-Lewis's case, the tortured evolution of decisions, some of which, inevitably, have dreadful consequences. In one of the film's most moving scenes, Lincoln and his general, Ulysses S. Grant (Jared Harris), acknowledge what their decisions and actions have wrought. Spielberg's camera pans across the bloodied dead. Cinematic flair? Yes, and shocking, but to the sombre point. The only tip towards poignant excess comes in the opening sequence, where Spielberg has a black soldier of extraordinary beauty kneel near Lincoln and recite from the Gettysburg Address. Frankly, I don't mind hearing its words at any time. We should all know them by heart. But the moment is oddly high-gloss in an otherwise subtle film.
Spielberg cuts deftly between Congress, political back rooms, the charnel fields of Gettysburg and Petersburg, and the notoriously cramped and ill-serviced Lincoln White House. He sets his characters, Abraham and his wife, Mary, in rich, often fraught contexts, political and domestic. Sally Field is an actor brave and talented enough to convey Mary's hysteria and her savvy, sharp-tongued humanity. Tommy Lee Jones, playing the radical Republican abolitionist Thaddeus Stevens, looks like a candidate for Mount Rushmore, his face carved out conviction. When he cracks, the effect is electrifying.
But it is Day-Lewis's Lincoln who towers over the film, as he must and as Spielberg intended. Everything about the performance, from the pitch of the voice, to the stoop of the long body, awkward and funereal on a horse, is thought made flesh. Art as an antidote to the political banality that oppresses us? Could well be. Go and see for yourself.
Lincoln (M), directed by Steven Spielberg. Based on Doris Kearns Goodwin's Team of Rivals: The Political Genius of Abraham Lincoln (2005). 153 minutes. Released in Australia on 7 February.