Film
Stranger by the Lake
Stranger by the Lake is set entirely within the perimeters of a cruising ground for men by the shores of a lake in France. There unfolds a perfectly simple temporal conceit in which the cruiser, a handsome thirty-something everyman called Franck (Pierre Deladonchamps), arrives each summer day, parks his car, and walks down to the pebbled beach by the lake's edge. That this is a narrative of repetitions becomes clear the third or fourth time we see the sunny establishing shot of the makeshift carpark where Franck parks his Renault. His routine documents almost ethnographically what happens at the cruising ground: he walks down to the beach, greets some acquaintances, takes off his clothes, swims, sunbakes, waits, rummages around in the scrub for sex, then does it all again.
As a meditation on the enactment of desire, these recurring rituals do more than hint at desire's banal repetitions. There is not, however, a single uncompelling moment in this film; writer–director Alain Guiraudie understands that the possibilities that reanimate desire are endlessly renewable, compelling such repetitions again and again. Arrive, park, walk, undress, swim, cruise, fuck, repeat.
The film, in this opening, also achieves something approximating perfection in the creation of setting. The cruising ground by the lake feels partly anthropological and partly folkloric. That is, the geography and rituals of its habitués seem studied, realistic and situated, and it's not surprising that at a Q&A with Guiraudie at the Melbourne International Film Festival, the first question from the audience was whether Stranger depicted a real cruising spot in France. At the same time, the film feels like an ancient myth about desire, set in an idyllic landscape that is both out of sync with, and out of sight from, the rest of the world. It's picturesque but not breathtakingly so.
Franck (Pierre Deladonchamps)
Similarly, the men's bodies and erotic encounters are startlingly realistic and erotic – which has garnered some commentary (but no major controversy, which is noteworthy in itself) – but eschew the dominant conventions of gay beauty and eroticism. One of the film's signature shots is a sand-level view of the flaccid penises and scrotums of supine sunbathers (many of them by no means shapely or handsome).
Franck strikes up an unlikely friendship with a portly middle-aged man, Henri (Patrick d'Assumçao), who sits in the same spot everyday, neither inside nor clearly outside the cruising ground; he observes both the lake and the comings and goings of the men that attend it. The meanderings of their chatter engender a further set of participant observations on the peculiarities of this cloistered world. Henri's claim to have lived mostly a heterosexual life positions him as an unlikely but also mysterious observer. Why does he sit and watch all day without swimming or participating? Is he the 'stranger' of the film's title? Henri's restless observation is another daily compulsion animated by desire, but desire for what?
The third man in this collecte des étrangers is Michel (Cristophe Paou), Franck's object of lust, and also the subject of suspicion in an unfolding suspense narrative. Michel looks like a French Tom Selleck, only handsomer, and more often naked. Part Tom of Finland illustration, part Fire Island fantasy porn-star, the casting of the strapping, mustachioed Christophe Paou is a nod to the endurance and frisson of a particular gay archetype of 1970s clone culture. Michel is a strong swimmer and seems to emerge from the lake itself. If the anxiety animating the homosexual suspense is, as in the female Gothic genre, the likelihood that your lover is a murderer, this anxiety is soon confirmed when Franck witnesses Michel quite casually drowning his previous trick. But the relationship that then evolves between Franck and Michel is what provides the fascinating, edge-of-your-seat suspense and a powerful – if predictably ambivalent – working through of homosexual eros and thanatos. It is tempting to regard Michel as the 'stranger by the lake' of the film's title: the lover as stranger, as unknown and unknowable. But all of these cruisers by the lake are strangers to one another.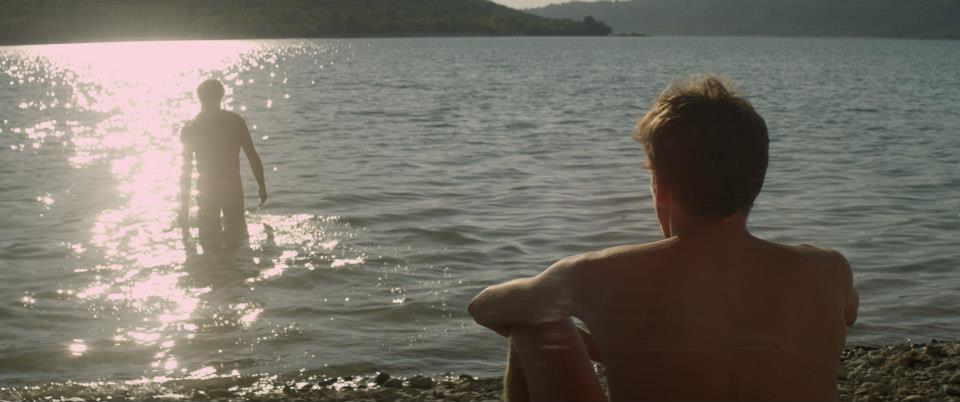 Michel (Christophe Paou) and Franck (Pierre Delaconchamps)
Cruising has been a fascination for writers, film-makers, and their audiences, especially French ones, and Stranger by the Lake is heir to the novels of Guillaume Dustan and Hervé Guibert, Cyril Collard's celebrated and notorious memoir, Les nuits fauves (Savage Nights, 1989), and its film adaptation (1992), as well as the work of American outlaw queers like John Rechy. Predictably, it has been compared to William Friedkin's noir film Cruising (1980), the homosexual psychological suspense/thriller par excellence. But Stranger's appraisal of the culture of cruising is different for two key reasons. First, while Cruising paints an impressionistic portrait of a clandestine, underground sexual world through deeply unpleasant images and the spectacle of gay sex as only partially visible or hinted at – a form of keyhole peeping rendered all the more titillating through its only partially revelatory strategies – Stranger is upfront with its sex. Second, the point of identification in Cruising is the hardboiled law enforcer encountering a seedy underworld firsthand. There is no such outsider gaze in Stranger by the Lake until a queer (in the older sense of the word) detective, Inspecteur Damroder (Jérôme Chappatte), appears on the scene to investigate the murder. By then we are already insiders.
Stranger by the Lake, which won the Queer Palm and Best Director awards at this year's Cannes Film Festival, will nonetheless enter the pantheon of films and novels in which male homosexual eros is considered as an erotics of suicide and murder. Michel becomes even more hypnotic to Franck after he witnesses the casual murder. The ambiguity of Franck's desire makes it hard to assess the politics of gay representation in Stranger, though when Inspecteur Damroder shares his damning impressions of the culture of the men by the lake he ventriloquises the conventional view of cruising as an anti-social practice fuelled by risky desire and gay men's pathological desire to get fucked to death. The risk, of course, is that these conventional homophobias are reinforced for those who wish to believe them. The implications of believing that gay men are inherently homicidal or suicidal are many and varied. Patronising strategies of public health are one of them; garden-variety fear of sex is another. While Stranger is an artful, seductive piece of cinema, I wouldn't want my closeted sixteen-year-old self to have seen it.
Stranger by the Lake, written and directed by Alain Guiraudie. 100 minutes. Released in Australia on 17 October 2013.