Ninety years after 'An Exhibition of Australian Art' was held at Burlington House, London, home of the Royal Academy of Arts, the exhibition Australia opened on 21 September 2013. Touted as the biggest exhibition of Australian art to be staged in the United Kingdom, it is an ambitious undertaking – nothing less than a survey exhibition encapsulating the response of Australian artists to land and landscape over two centuries.
The exhibition includes just over 200 works, about half of them from the National Gallery of Australia's collection, and many others from Australian state galleries. Although the exhibition's curators – Anne Gray, Ron Radford, and Kathleen Soriano – limited themselves mainly to paintings (along with a handful or two of prints, drawings, photographs, videos, and sculptures), the exhibition topic remains somewhat like the continent of Australia itself – suggestive of vastness and diversity. In attempting to address such an unwieldy topic, there was always going to be a risk of fragmentation, even attenuation. The exhibition ranges from Indigenous Australian representations of Dreamtime stories to Fiona Hall's use of cut and moulded sardine tins to depict a garden of earthly delights.
The risk of attenuation was increased by the exhibition's attempt to show the two broad strands of Australian art that address land and landscape: Indigenous Australian artistic traditions; and various European traditions imported to Australia by its British colonisers and later European arrivals. As it turns out, the acknowledgment of the diversity of Australian art is one of the exhibition's strengths. It achieves the difficult task of doing reasonable justice to both Indigenous and European strands of Australian painting. It establishes as one of its major themes the ways in which artists in Australia's early colonies depicted European–Indigenous relationships and how, over recent decades in particular, Indigenous artists have responded to European colonisation by creating their own versions of the stories and consequences of colonisation and its aftermath. The exhibition also subtly illustrates the importance and beauty of Indigenous artists' representations of their spiritual connections to country.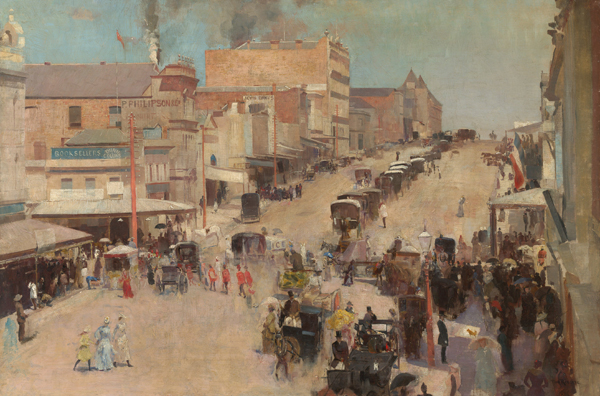 Tom Roberts, Allegro con brio: Bourke Street west c.1885-86, reworked 1890.
Oil on canvas on composition board. National Gallery of Australia, Canberra and the National Library of Australia, Canberra.

It is particularly gratifying to see such works as the delicate nineteenth-century anonymous ochre bark painting, Nadubi Spirit-Woman, with Possum, Magpie Goose and Fish, Bardayal Nadjamerrek's beautifully simplified and expressive The Artists' Country, Liverpool River (1975), and the Martumili Artists' magnificent Ngayarta Kujarra (2009), about the significance of the salt lake (Lake Dora) and its surrounding and sustaining waters. There is also the extraordinary – and extraordinarily complex – Warlugulong (1977) by Clifford Possum Tjapaltjarri.
In the front room, a collection of paintings by Indigenous artists produced between 1977 and 2009 provides a powerful frame for the exhibition as a whole. These works include Emily Kame Kngwarreye's well-known Anwerlarr Anganenty (Big Yam Dreaming) (1995). This is placed prominently above the entrance to the exhibition's presentation of early colonial art, and emphasises that there are a variety of ways of reading the narratives presented in the colonial paintings, and that many of the works in this exhibition tell significant stories about communities and cultures. Striking contemporary Indigenous works are also included later in the exhibition, including selections from Tracey Moffatt's series of lithographs, Up in the Sky (1997). Given this emphasis, it is a shame that the exhibition's captions do little more than nod, sometimes clumsily, towards the realities and complexities of Indigenous–European interaction – although the essay by Wally Caruana and Franchesca Cubillo in the exhibition catalogue addresses this issue in nuanced ways.
The exhibition opens with a video work, Approach to Mundi Mundi, showing artist Shaun Gladwell riding a motorbike with arms periodically outstretched in what appears to be a kind of parody of Christ's crucifixion. This work may aim to suggest that the Australian landscape is sacred, but as a work of art it offers little more than simplistic symbolism. Further, and perhaps unintentionally on the part of the exhibition curators, it seems to suggest that the exhibition it introduces may be a kind of road trip through 200 years of Australian art.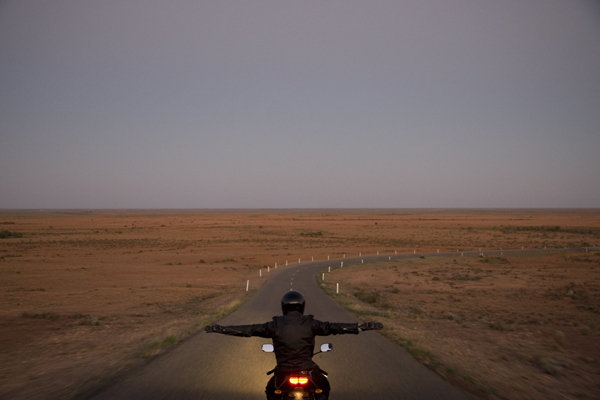 Shaun Gladwell, Approach to Mundi Mundi, 2007.
Production still from two-channel HD video.
Such symbolism does point to the main weakness of the exhibition. Even 200 or so works are insufficient to do full justice to the exhibition topic, and because the curators appear to have attempted to include as many individual artists as possible – 170 of them, including thirty-eight who are still alive – most artists in the show are represented by a single work. But there are notable exceptions. Arthur Streeton and Charles Conder, for example, are represented by five lovely paintings each and there are seven works by Tom Roberts.
Later artists do not generally fare so well. Sidney Nolan has six works – four of them from his Ned Kelly series – but Russell Drysdale has an almost tokenistic two works, including the iconic The Drover's Wife. Grace Cossington Smith has three works, including the superb Eastern Road, Turramurra (c.1926), and Clarice Beckett and Margaret Preston have two and three works, respectively.
There is a magnificent Ian Fairweather, Monsoon (1961–62), but nothing else from his varied and fascinating oeuvre. There is a single, impressive work by Brett Whiteley, and one fine small painting by Lloyd Rees, The Road to Berry (1947). There are three works by Fred Williams, one of Australia's most original and influential landscape painters, and one painting by John Brack. None of the artists who made their careers after World War II is represented by a sufficient number of works to fully establish their visual language or artistic credentials. As a result, there is a general sense that we miss as much as, or more than, we see. Like a road trip, the exhibition covers a great deal of ground but does not always yield a concomitant depth of experience.
This is despite some wonderful moments, such as the telling juxtaposition of Arthur Streeton's Sirius Cove (1895) with Charles Conder's Bronte Beach (1888) and A Holiday at Mentone (1888), and Tom Roberts's Slumbering Sea, Mentone (1887) – works that reveal a great deal about some of the most interesting aspects of late nineteenth-century Australian painting. While there are too few photographs in the exhibition, Nicholas Caire's Fairy Scene at the Landslip, Blacks' Spur, Victoria (1878), Axel Poignant's Swagman on the Road to Wilcannia (1954), and Bill Henson's Untitled (1998–99) are superb examples of the rich tradition of Australian landscape photography.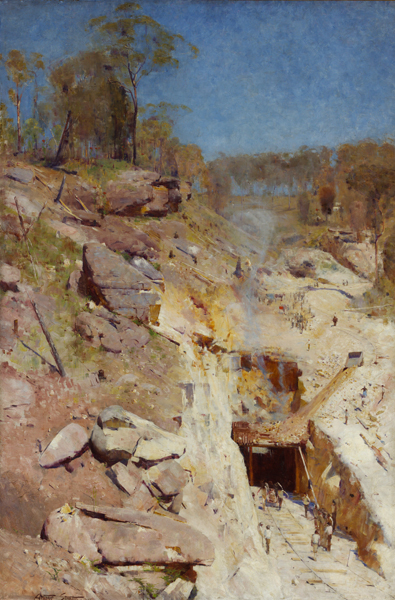 Arthur Streeton, Fire's On, 1891. Oil on canvas.
Art Gallery of New South Wales.
Another significant problem with the exhibition is its failure to come to terms with the achievement of Australian women artists. Everyone knows that masculinist traditions dominated Australian art for a long time and that women artists frequently struggled to achieve the recognition they deserved. In giving less than fifteen per cent of its space to works by women artists, the exhibition perpetuates the notion that most of Australia's best artists are men. Presumably the curators believe that this is the case and they might have made this argument in the exhibition catalogue rather than more or less silently excluding the majority of Australian women artists from their selection.
This exhibition might have been ground-breaking had it presented Londoners with a new thesis or set of propositions about Australia as its artists have imagined and represented it. Or it might have showcased extended selections of the work of significantly fewer painters.As it is, the exhibition is to some extent a victim of its attempt to do so much at once; to be a summary of Australian painting about land and landscape, and to show the works of so many practitioners. It is strongest in the way it represents Indigenous Australian art, and nineteenth- and early twentieth-century Australian painting in general. It lets one see how a great deal of nineteenth-century Australian art developed its own character from colonial models. William Westall's three works from the beginning of the nineteenth century are fascinating in this regard as they try to incorporate observed Australian experience into conventions associated with the picturesque. The exhibition even represents Australia's early and sometimes relatively tedious narrative painting traditions fairly successfully. It is weakest in its attempt to show contemporary Australian art, much of the best of which is not, in any case, about land or landscape.
Overall, it is well worth visiting Australia at the Royal Academy of Art. Despite its shortcomings, the exhibition presents an interesting and at times thought-provoking picture of the development of Australian painting; and it does show a variety of marvellous works. The Fairweather mentioned earlier is superb, Ethel Carrick's Manly Beach–Summer is Here (1913) shines in this context, and Blamire Young's sensuous watercolour Dry Weather (c.1912) is luminous. Clarice Beckett's Passing Trams (c.1931) is quietly powerful, as is Jeffrey Smart's ominous Holiday Resort (1946). John Olsen's exuberant Sydney Sun (1965) is another highlight. And for those who have not seen it at the National Gallery of Australia, Rover Thomas's Roads Meeting (1987), which, given its symbolism, might have opened the show, is almost worth the trip to London alone.