True Crime
Unholy Trinity: The Hunt for the Paedophile Priest Monsignor John Day
by Denis Ryan and Peter Hoysted
Many people have heard of Gerald Ridsdale, defrocked Catholic priest of the diocese of Ballarat and a notorious convicted paedophile. But comparatively few people have heard of Ridsdale's contemporary John Day. A priest in the same diocese, he too preyed upon many hundreds of children who came under his pastoral care. Ridsdale, who for a time served as Day's curate in Sacred Heart parish, Mildura, is in prison; Day, however, officially remained a priest in good standing until his death in 1978 at the age of seventy-four. He was only temporarily removed from active ministry and never faced court for his crimes. This was not because they were never investigated, but because church and state colluded to suppress public knowledge of them.
Unholy Trinity is a by now an all-too-familiar story of bishops concealing the conduct of perpetrators to protect the church's reputation, and a less familiar one of senior police concealing the conduct of corrupt colleagues who also shielded perpetrators. Its narrator, Denis 'Dinny' Ryan, is a former police detective whose struggle to bring Day to justice was not only thwarted by police command and the Victorian government, but also led to the unravelling of his own career and personal life.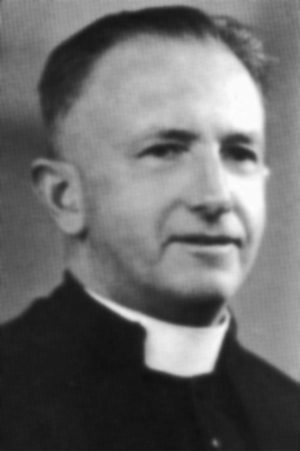 Father John Day. Image courtesy Ballarat Diocese.
Ryan's story, told to his co-writer Peter Hoysted, is marked by less anger and bitterness than might be expected from a man who is, in a sense, himself a victim of the clerical sexual abuse crisis in the Catholic Church. At eighty-one, more than forty years after he quit the force in disgust, Ryan has had time to work through much of the 'anguish and abiding sense of hopelessness' he experienced when he realised that his pursuit of Day was doomed. He has retained the Catholic faith in which he was raised and in which, he insists, he will die. Some might regard that as a miracle in itself. The perspective gained with time has, however, only honed his criticisms of the church, which transcend outrage at the scandalous protection of sexual predators. Ryan professes to have no knowledge of, nor much interest in, theology, but a chapter in this book, 'Confessions', is among other things an astute analysis of why fewer and fewer Catholics now bother to confess their sins to a priest. It will resonate with the experience of many who read it.
In the pre-Vatican II Catholic Church in which Ryan grew to maturity, regular confession was as much a signature practice of adherents as attendance at Mass on Sundays. Unholy Trinity is a window into an age when institutional religion and its culture shaped lives in ways that recent generations might find difficult to imagine. Some civil agencies, including Victoria Police, were riven by a religious divide: the force's internal politics, affecting everything from placements to promotions to whom one might drink with when off-duty, consisted of a subtly shifting balance between Catholics and Freemasons. In that era, young constables like Ryan had to learn to negotiate the labyrinthine byways of sectarian police culture every bit as much as they had to learn how to deal with crims on the streets.
'Unholy Trinity is a window into an age when institutional religion and its culture shaped lives in ways that recent generations might find difficult to imagine.'
Ryan and Hoysted summon up this vanished world from page one, in pithy, unadorned language: 'I collided with Monsignor John Day twice. The first time was on the streets of St Kilda in inner city Melbourne. I was in the company of two fellow uniformed police officers. Day – drunk to the eyeballs, his cock out – was with a couple of well-known prostitutes from the area. That was in 1956. I was barely out of the academy. The second time was in 1971, when I was a detective stationed in Mildura in north-west Victoria on the Murray River. I'd conducted an investigation into Day's paedophilia.'
It is an introduction that might seem culled from a hardboiled crime novel, but Unholy Trinity never feels slick or contrived. The anatomically explicit style is simply how Ryan speaks, though he sometimes rises to language redolent of the poetry of hardboiled crime writers. Savour, for example, this description of Rupert Hamer's decision to move from a Legislative Council seat to the Legislative Assembly: 'from the vegetables to the animals, so to speak.'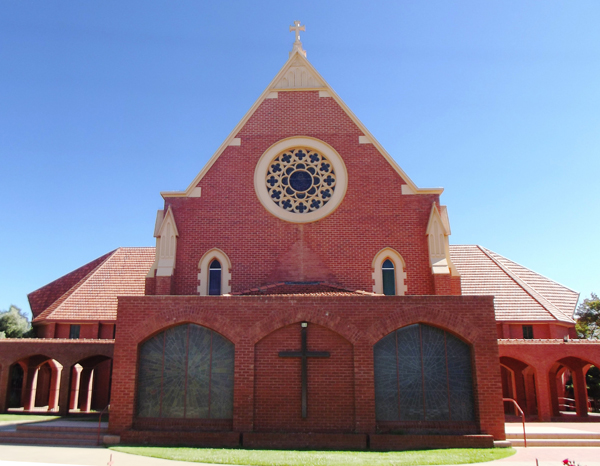 Sacred Heart Peace Memorial Church. Image courtesy Allen & Unwin.Hamer was chief secretary (then the police minister's title) in the cabinet that shelved Ryan's exposure of Day's crimes. But the political calculations of a government intent on keeping the lid on police corruption were the least ignominious, though they were the ultimate, of many obstacles placed in Ryan's path. Far more insidious were the machinations of a shadowy group of Victoria Police officers of whose existence Ryan first became aware, though dimly, when he and his colleagues arrested John Day in St Kilda in 1956. A senior constable decided to release Day uncharged, telling Ryan that there was no point charging a priest with an offence less serious than murder because the evidence would not stick.
The central contention of Unholy Trinity is that for decades there existed within the Victoria Police what Ryan calls a 'Catholic mafia', whose members, conniving with church authorities, kept misconduct by priests out of the courts and therefore out of the media. As a young detective, Ryan declined an invitation from another Catholic officer to join this group. He naïvely thought his colleague was referring to drink-driving or speeding charges; only after being transferred to Mildura did he understand that the Catholic mafia really would wink at any offence a priest might commit other than murder.
The unholy trinity of the book's title are Monsignor John Day, pastor of Sacred Heart parish, Mildura, in the 1960s and early 1970s; Detective Sergeant James Barritt, Ryan's boss in the Mildura CIB and a bigoted Catholic; and the then clerk of courts in the town, Joseph Kearney. All three were corrupt. Kearney, a member of Day's parish finance committee, embezzled Commonwealth funds by creating a fictitious teacher at the parish school, whose salary he pocketed. Barritt extorted 'donations' to Day's church building fund from people he had arrested. Some of this money went to the fund, and some of it allowed Day to live far more lavishly than he could have done on legitimate parish income.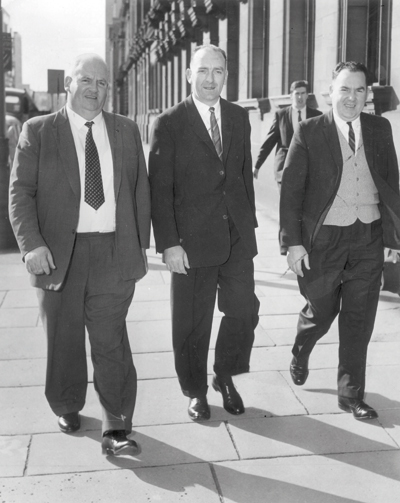 James Barritt (L). Image: News Ltd, courtesy Allen & Unwin.All three men were also sex offenders. Ryan and a CIB colleague found child pornography in a locked drawer in Barritt's desk. It was not labelled as evidence. Kearney raped a divorced woman who had come to his office to collect her maintenance payments. And Day, as Ryan discovered after being asked to intervene by a teacher at Mildura's Catholic secondary school, had sexually assaulted children throughout his tenure as parish priest. Knowing that Barritt would dismiss any allegations against Day, Ryan tried to go over his head. He submitted reports of his investigations to superior officers in Swan Hill and then in Melbourne. The result was that he was taken off the case, which was handed to John 'Baton Jack' O'Connor, a chief superintendent from Melbourne whom Ryan dubs the don of the Catholic mafia.
Police command accepted that Day was a paedophile but did not want to have to admit publicly that the protection of a CIB sergeant had made the priest's depredations possible. Victoria Police advised the government that there was insufficient evidence to lay charges, and Barritt and Kearney were transferred out of town. Day was allowed to leave the country for 'counselling', and when he returned the police acquiesced in Bishop Ronald Mulkearns's decision to appoint him to another parish. As is well attested in the cases of Gerald Ridsdale and other clerical sexual abusers, it was not the only time that Mulkearns and his predecessor, James O'Collins, dealt with the problem by inflicting it on a new set of parishioners and their children.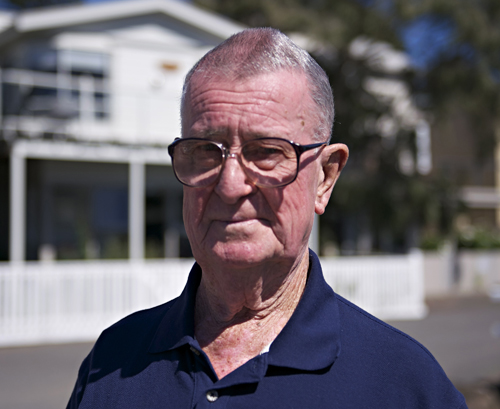 Denis Ryan, 2012. Photo: Sharon Lapkin
And what became of Dinny Ryan, who had angered the powerful in church and state by trying to bring a criminal to justice? He was offered a promotion to detective sergeant, which he regarded as a bribe to buy his silent complicity in the course police command had taken. He chose to resign instead.
Four decades later, and after much turmoil in his personal life, Ryan has spoken. Unholy Trinity is a profoundly disturbing tale that will invite comparison with allegations about the relationship between some Catholic clerics and elements of the NSW police that led to the creation of the Royal Commission into Institutional Responses to Child Sexual Abuse. Perhaps the commission will uncover more such stories; if so, those who have to tell them may find that what Denis Ryan and Peter Hoysted have written will serve as inspiration and a guide.