Open Page
Open Page with John Kinsella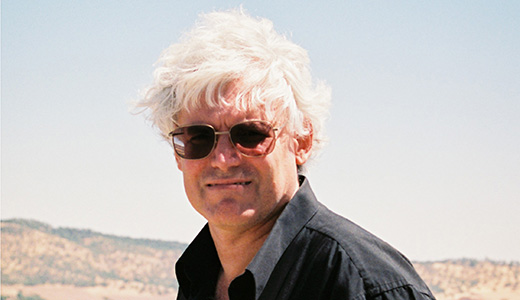 John KinsellaWhy do you write?
Writing can bring change. I think of myself as an activist writer. I try to act as witness, and convey and interpret what I see.
Are you a vivid dreamer?
I used to be able to control my dreams to a fair extent (at least the ones I could later recall). I could also adjust colour and sound and induce dreams by deciding what I wanted to dream before falling sleep. I can do this less now, but I still manage to intervene in my dreams at times. I have always been interested in dream language and in the motif of the dream in poetry.
Where are you happiest?
In the remaining bush of the Western Australian wheat belt; and in the few pieces of restored or residual fenland in Cambridgeshire.
What is your favourite music?
I like a wide range of music. I guess my 'roots' are in classical and punk. I still spend a lot of time listening to Beethoven and Crass. I play music as I work.
Which human quality do you most admire?
Generosity of spirit. I dislike greed in all its manifestations.
What is your favourite book?
I have so many, but if I must be specific I'd nominate J. H. Prynne's Poems and the collected poems of Rimbaud, Emily Brontë, Peter Porter, Judith Wright, and Thomas Hardy; in fiction, Stendhal's The Charterhouse of Parma. A bunch of Zola's, George Eliot's, Tolstoy's, Dostoevsky's, Patrick White's, and Philip K. Dick's novels would be close behind.
Who is your favourite author?
Rimbaud.
And your favourite literary hero and heroine?
Stendhal's Lucien Leuwen and Lamiel. Actually, maybe Zola's Nana.
How old were you when your first book appeared?
Twenty: family and friends published The Frozen Sea (under the pseudonym John Heywood).
What, if anything, impedes your writing?
Gunfire and machinery working for destructive purposes.
How do you regard publishers?
I've been on both sides of this fence. For me, a book is a collaboration between the writer and publisher (even if self-published). If a relationship doesn't work, then it's likely the book won't.
What do you think of the state of criticism?
Good criticism is always there if you want to find it. There are many fine critics writing at any given time. An outstanding critic is someone who is informed and has good reading skills, but who also engages with literature because he or she believes it has a purpose.
If you had your time over again, would you choose to be a writer?
Yes. No choice in this.
What do you think of writers' festivals?
Depends on their raison d'être and how they are funded. If I feel those issues are okay, then they can be good ways of conversing. If they're just 'shows' without any real outcomes, then I don't see a lot of point in them.
Do you feel artists are valued in our society?
As much as ever: greatly and not at all, depending on who wants what from them.
What are you working on now?
I am finishing the second volume of my Jam Tree Gully poetry trilogy: Internal Exile. I am well into a new book of stories. I have just finished an introduction to a book of correspondence between Kathy Acker and Ken Wark.
---
John Kinsella's most recent book of poetry is Armour (Picador, 2011). He is a Professorial Research Fellow at the University of Western Australia and a Fellow of Churchill College, Cambridge. He edited the Penguin Anthology of Australian Poetry (2009).