Politics
Not Dead Yet: Labor's Post-left Future (Quarterly Essay 49)
by Mark Latham
Mark Latham rose to the leadership of the Labor Party unexpectedly, lost the 2004 federal election, retired to sulk from the sidelines, and has done so ever since. Whether he or Graham Richardson has done more damage to the party that nurtured them is a question I leave to the blogosphere. Before Latham became leader in 2003, he published considerably more about his vision for Labor than most parliamentarians have done, though none of his publications was as readable as his post-retirement diaries (2005), in which he displayed a lack of judgement and such scant goodwill to his colleagues that it leaves one astounded that they ever elected him leader. (When Latham ran against Kim Beazley for the leadership, two of the wiser members of caucus, Carmen Lawrence and Lindsay Tanner, counselled me against becoming too enthusiastic. They were clearly correct.)
The latest Quarterly Essay is Latham's attempt to both reclaim his position as a party loyalist and original thinker. He may well achieve the former – the bar is not very high at present – but he fails clearly on the second. Nothing in this essay goes beyond the received wisdom about the changing nature of Australian society and the decline of traditional party organisations that regularly fills the columns of our weekend papers.
Latham recognises that the current structure of the Labor Party is increasingly dysfunctional, that mass membership is unlikely to be regained, and that new ways of managing the party are required. How this is to be done seems to fluctuate between faith in a charismatic leader and support for Sam Dastyari's plans to clean up the New South Wales branch through the partial use of 'primaries' to select ALP candidates. (Latham shows no interest in the situation of the party beyond his own state, New South Wales.) The introduction of primaries is certainly appealing, but in an extended essay one might have expected some reflection on the lessons from the United States, where primaries increasingly favour those with money and ideological rigidity.
But the Latham who seems to want a more democratic party then writes: 'You only need one. One quality leader to emerge with a bundle of policies and know-how derived from hands-on experience in the electorate.' This is reminiscent of Keating's claims to have been the Plácido Domingo of politics. But even Keating worked with a team. Hawke – whom Latham pointedly omits from his list of great Labor leaders – gave his ministers, including John Button, Gareth Evans, Neal Blewett, and Keating himself, much latitude to develop genuinely new policies.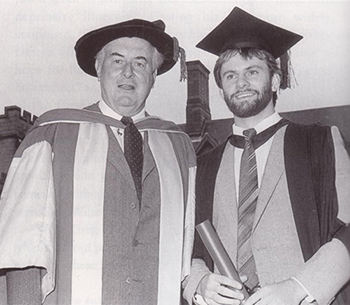 Gough Whitlam with Mark Latham at his graduation ceremony in 1983Even less plausible is the belief that the mild reforms suggested by Dastyari can by themselves reverse the collapse of party membership or lead to new directions for the party. Nor is it plausible that the New South Wales branch will be capable of radically changing the power of union bosses to determine party policy and preselections. Those of us on the left should be careful about the attacks on union influence that some commentators are urging; indeed, it might be argued that one of the key roles of a 'post-left' Labor Party is how to invigorate the union movement as an essential part of the process of rebuilding the party. A more participatory union movement would both protect workers and help democratise Labor.
The essay's title is provocative: if Labor has a 'post-left' future the reader might reasonably expect some explanation of what this phrase means. Yet in various places Latham writes of Labor as a left-wing party, largely in contrast to his insistence that the Liberals, encouraged by sections of the media, are rushing towards the hard right. It is possible that the Liberals in government will adopt a more moderate position; my hunch is they might prove more pragmatic than Latham thinks. This is not to disagree with Latham's criticism of the dishonesty and lack of intellectual rigour that too often surfaces in commercial talkback radio and in the pages of the Murdoch press (which have already been surveyed extensively in other Quarterly Essays). But these attacks would be more convincing were there any sign that Latham could apply the same standards irrespective of party allegiances. Yes, Tony Abbott behaved disgracefully when he accused Gillard of 'criminal offences in the AWU matter', an allegation that has never been substantiated. But Gillard herself has made similarly unsubstantiated accusations against Julian Assange.
Unfortunately, this is not the only example of inconsistency in this essay. Latham seems to want a strange combination of neo-liberalism and social democracy, but has little interest in those countries (predominantly the Nordic states) where something along these lines is being attempted. While he uses the term 'social democratic' at various times, he nowhere defines exactly what this might imply. The closest he comes to setting out his vision for the Labor Party is in the phrase 'liberal solidarity', which is defined in ways that most members of the Liberal Party would find deeply agreeable.
In none of the six points, which are built around the ideas of classical liberalism 'tempered by personal responsibility and an emphasis on the public good', is there anything that suggests the need to reform the factors that perpetuate structural inequality which we would normally expect from a soi-disant social democrat. Most alarming is his second point: 'Positioning multiculturalism as giving Australia the Asian language and business skills needed to maximise economic opportunities in the region.' For someone who represented one of the most ethnically diverse electorates in Australia – the seat long held by Gough Whitlam – the reduction of multiculturalism to a comparative business advantage is reminiscent of the current merging of higher education with trade in a new super ministry. No longer are a multicultural or well-educated society seen as good in themselves; their value apparently rests on their direct contribution to economic growth.
Later in the essay, Latham claims that Labor's role is to 'civilise capitalism' while 'modernising the economy'. That there could be an inconsistency in this, as he who cannot be named pointed out in a long essay in The Monthly (see Kevin Rudd on the global financial crisis, February 2009), does not seem to occur to Latham. 'Modernising the economy' has meant privatisation of a host of crucial services, the rise of extraordinary salaries for executives while many workers are retrenched, a lack of investment in crucial infrastructure, and a taxation system that works increasingly in favour of the wealthy.
Latham claims, in what is probably the strongest section of his essay, that under Keating – the last Labor leader for whom he has a kind word – inequality declined. However, according to his own figures the increase in income for the highest earners has been growing much faster over the past decade than it has for others, and every attempt by the current government to correct this is attacked as 'class warfare' – often from within its own ranks. Recently, former ALP minister and chief whip Joel Fitzgibbon claimed that some families with incomes of a quarter of a million dollars are struggling. Well, yes: if one needs an oversized house, overseas holidays, three cars, and expensive private schools.
This is where Latham runs into the greatest inconsistency in his essay. Global warming, he tells us, is the greatest problem of our time (we have heard this from another Labor leader). To deal with this will require a number of measures: even a casual reader of Quarterly Essay will be familiar with this argument. Most interesting, however, is Latham's acknowledgement that 'the values of a consumerist society, relying on a carbon-based materialism, will be inappropriate for dealing with the disruption'.
Nowhere does he explain how he squares this with his earlier lectures about the post-working-class 'aspirationals' of whom we heard so much during the 2004 campaign. If Latham genuinely believes his rhetoric, he needs to confront the practical politics of persuading Australians to temper their infatuation with McMansions and four-wheel drives. Shouldn't a social democrat confronted with the realities of reducing carbon emissions seriously address the need to improve public transport, rather than fall in behind Gillard's desperate pledge to build yet another major road into Sydney's CBD and the Victorian government's obsession with a cross-city road tunnel at the expense of their own pledge to create a light-rail link to Doncaster?
Latham has contempt for the Greens, but they at least address the two issues which Latham himself acknowledges demand attention: how to reduce carbon emissions and how to address the problems of the long-term unemployed. Those of us who consider ourselves social democrats will find little practical guidance in Latham's essay to help address these issues.
A contemporary social democrat might also have some thoughts about the rapidly changing global political environment and the implications for Australia. As leader, Latham got into trouble by questioning our obeisance to the American alliance – in his usual tempered and thoughtful way he referred to the government's support for the Bush Administration as 'a conga line of suckholes'. Barack Obama is not George W. Bush, but anyone writing about Labor's future should at least question the enthusiasm of the current party for the US alliance, which has been elevated to an article of faith rather than a rational assessment of national interest. One might even hope for some concern for global inequity, and some reflection on the interconnection of domestic and foreign policy.
The great majority of Quarterly Essays are written around two themes: Australian electoral politics and climate change. Some of these have been genuinely groundbreaking, and represent the best in original thinking and analysis. Mark Latham's essay does not.
---