Theatre
A Clockwork Orange
You've got to admire the bolshie great yarbles of young British company Action to the Word. It must have taken much courage and not a little jejune presumption to dream of touring Anthony Burgess's novel A Clockwork Orange (1962) to such capital city main-stage venues as Melbourne's Malthouse Theatre, QPAC in Brisbane, and Canberra's Theatre Centre. Such confidence is difficult to understand. This new production is only marginally more advanced than an average – very average – work of student theatre, or at best a fringe festival experiment.
It is billed as a sort of stripped-back, bare-boards-and-bodies presentation of Burgess's ultra-violent fantasia. Granted, such an approach, putting the theatrical emphasis on the text and its performance, effectively dodging via scenic minimalism Stanley Kubrick's stylistic influence, has a lot to recommend it. Surely the first delight and best advantage of the book is the jangling, jarring melodies of its wordplay, the Nadsat patter of Alex and his droogs. But whatever space Action to the Word's spare design clears for the text is doubly filled up with burlesque antics and undeveloped gestures toward physical theatre.
This is an awful production, a mincing, blaring, sniggering calamity, full of confused choreography and idiotic girning. The violence is played as a kind of slap-and-giggle parody and the dialogue bent completely out of shape with low-camp innuendo.
The large cast is all male and all more or less shirtless. This, again, seems like an interesting decision. As director Alexandra Spencer-Jones points out, it brings to the surface more of Burgess's cod-Shakespearean invention while also zooming in on the narcissism at the root of Alex's violent impulses. But at times this show resembles an all-male revue, a kind of homoerotic fan-fiction. Of course, there is a strong homoerotic element that hangs over the book 'like some very special sort of juicy fruit', but that seems to have been confused here with a more exaggerated and artificial sexuality, such that the parable becomes a strange satire on adolescent male promiscuity, or gay club culture, or the gigolo grotesques of a hen party.
'Drugs, sir, can sap all the strength and goodness out of a malchick,' declares Alex, ostentatiously adjusting himself to indicate the place. Millicents lewdly trail their shiny black truncheons over the not entirely unwilling victim before letting the soft, consoling blows fall. All the female parts are played as leering travesties. Between scenes, Alex's beloved Ninth is set against suggestive club classics by the likes of Frankie Goes to Hollywood. It's far too playful, with none of the menace that might convince us of an honest moral point to the riot of grins.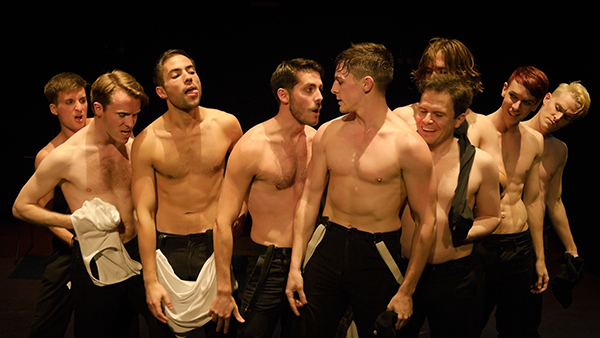 The ensemble cast of A Clockwork Orange. (Photograph by Simon Kane)
There are a few quiet scenes amid the high jinks where we do get a sense that this could all have been otherwise. When he has the chance, Martin McCreadie as Alex De Large shows himself to be a fine actor. Yes, he has vigour and the same hairless swimmer's build as the young Malcolm McDowell (who played Alex in Kubrick's 1971 film version), but he also manages, albeit briefly, a touching portrait of helplessness as he is turned from clockwork violence to clockwork goodness.
Spencer-Jones uses Burgess's own adaptation, written in the 1980s. I'm not sure, from what can be made of it beneath the nonsense on stage, that this is much good anyway. For many years, Kubrick's film was banned in the United Kingdom. This encouraged an interest in seeing the book adapted for the stage, an interest that the prolific Burgess indulged himself. It is possible, however, that Burgess, who often disparaged the book as a failure, was not the right person for that job. The script seems to have wound back the mutinous, messy violence of the language and emphasised instead the rather formal three-act structure (Alex and the droogs; Alex in prison; Alex and the Ludovico technique). But perhaps this is the inevitable consequence of removing the action from Alex's head and placing it on stage, of fishing us from his white-water stream of consciousness and installing us in a position of relative objectivity. This certainly helps to clarify the moral, but does nothing to convince us of it.
Had this production been part of a fringe festival, staged in more modest digs; had it been more spontaneous and unanticipated, it might have been greeted with more tolerance. We might have agreed that 'all it was was that they were young', to paraphrase Alex at the end of the novel. But on the big Merlyn stage at the Malthouse, arriving hot on the heels of summer tours by the Royal Shakespeare Company's Rape of Lucrece, Pat Kinevane's Silent, and Green Street Theatre's production of Simon Stephens's Pornography, the essential callowness of this project has been disastrously exposed.
A Clockwork Orange, directed by Alexandra Spencer-Jones. Sydney: York Theatre Seymour Centre (23 April–5 May); Perth: Subiaco Arts Centre (8–19 May); Canberra; The Playhouse (22–25 May); Brisbane: QPAC Cremorne Theatre (28 May–9 June). Performance attended 9 April, The Malthouse.