By chance, two of the most famous 1950s plays are in the news again. John Osborne's historic rant, Look Back in Anger (1956), has been successfully revived on Broadway, while Terence Rattigan's emotionally taut piece, The Deep Blue Sea (1952), has been filmed by another Terence – Davies, that is. In their day, Osborne railed against the 'porcelain plates [of] the well-set table of British theatre'(John Lahr in the New Yorker), his arrows directed at the likes of Noël Coward and Rattigan, who in their turn were less than excited by Osborne's class-based invective. It's now at least arguable that Rattigan has outlasted Osborne; he has clearly been more frequently revived on stage – and on film and television – than his vituperative contemporary. Who now, I wonder, would rather watch or listen to Look Back than The Winslow Boy?
One of the great women's roles in twentieth-century British theatre is surely that of suicidally inclined Hester Collyer in The Deep Blue Sea. First created in London by Peggy Ashcroft, she was succeeded by Googie Withers, who then played the role unforgettably in Melbourne in 1955, opposite husband John McCallum as Freddie, her emotionally stunted lover. In 1994, film director Karel Reisz guided Penelope Wilton through a stage production, subsequently recorded on television. Hester offers rewarding scope to an actress of intelligence and passion, and Davies has found another such in Rachel Weisz, who brings to the role a depth of pain that eluded Vivien Leigh in the 1955 film version.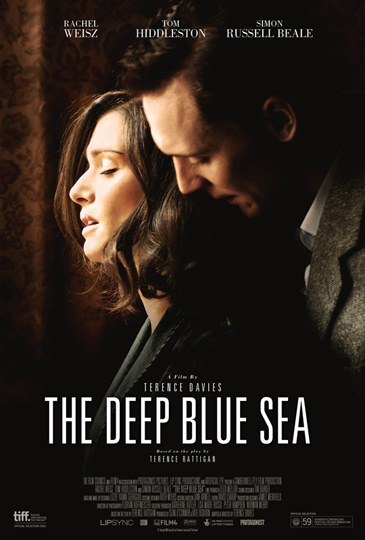 In bringing this lacerating story of a messy relationship to the screen again, Davies has made his first fiction film since the comparably harrowing The House of Mirth (2000), and his finest since Distant Voices, Still Lives (1988). The latter comes to mind here because of the images and prevailing atmosphere of postwar shabbiness in a Britain stumbling towards renewal, but people and their unequal passions don't date, and this is a matter that Rattigan frequently returned to in plays such as The Browning Version (1948) and Separate Tables (1954). In The Deep Blue Sea he reputedly drew on a doomed homosexual relationship of his own.
The new film takes place within the course of one day. It opens with Hester's attempted suicide, gas oozing into her shabby flat, and memories of her fateful meeting with Freddie (Tom Hiddleston) at the Sunningdale Golf Club while married to judge Sir William Collyer (an impeccable Simon Russell Beale). In her seemingly random recollections as she is losing consciousness, filmed in very fluid camera and editing moves, Davies, screenwriter as well as director, establishes economically the contrasts between Hester's meetings with Freddie, with their moments of sexual abandon, and her chaste scenes with Collyer as they sit at table, flanking his formidable mother on one occasion.
Structurally, the film recalls the way The Iron Lady moved between Mrs Thatcher's demented present and memories of a more potent past. Davies has trusted his collaborators, especially his three leading actors, but also his cinematographer and production and costume designers, to create Hester's bleak present and the past in which her unequal marriage to Collyer and unequal affair with Freddie are brought vividly to life. There is a sequence of entwined naked limbs, filmed with sensuous elegance, which would have been unthinkable in the 1955 film. (It has even been suggested that a coupling of this sort would have been unlikely in Britain because of the unavailability of central heating.) The scenes outside the shabby flat where Hester and Freddie have been living together don't come under the usual heading of 'opening up' when the filming of single-set plays is concerned, but are the result of Hester's attempts to summon up those episodes in her life that have brought her to the point of turning on the gas.
For the most part, and as a by-product of these memory inserts, the film avoids the static quality of the play's long dialogue exchanges. In fact, the play now seems curiously flat on the page as one duologue follows another. Because of the film's greater mobility in time and space, the rare occasions when, say, Hester and Collyer or Hester and Freddie try to talk through their situation are accorded real prominence, and Davies allows his camera to stay unfussily on them. Two important additions to the play's cast are those of Collyer's frosty, patronising mother and Hester's father, a benignly conventional vicar. Played by Barbara Jefford and Oliver Ford Davies, these two parents offer insights into the ways in which their offspring have been emotionally imprisoned, just as the experience of the war has left Freddie in a state of raffish and RAFish immaturity.
Sharply evoking place and period (London round 1950), this superbly acted film exerts the power to move even a calloused modern audience with its take on unrequited love.
The Deep Blue Sea (M), written by Terence Rattigan, directed by Terence Davies. 99 minutes. Released in Australia on 12 April.