Features
Geoffrey Lehmann on the making of a poetic anthology
With 1086 pages of poems and critical biographies, Australian Poetry Since 1788 – the third anthology co-edited by Robert Gray and myself – is by far the largest anthology of Australian poetry to date, and at least twice the size of its predecessors. Perhaps controversially, it has fewer poets than many earlier anthologies, with only 174 named poets. But it covers the gamut of Australian poetry, including convict and bush ballads, translations of Aboriginal songs, humorous verse, concrete poetry, and generous selections of Australia's major poets and of the younger contemporary poets. We have tried to be catholic, rigorous, and objective, while listening carefully (with our very subjective ears) to the many different voices from which we had to choose.
The project began four years ago, with a much broader concept. About forty years ago there was an Angus & Robertson backlist of fiction and poetry, which meant that many of Australia's major writers were in print. This was long defunct, and no publisher had assumed the role of keeping in print a possible Australian literary canon – a serious gap in our national culture. I had been greatly impressed by Library of America, which has in print several hundred American classics, both prose and poetry, available in substantial and beautifully printed hardbacks, for about US$30 per volume. Was it possible to set up an Australian equivalent – to have all of Australia's major prose and poetry writers available in affordable volumes, printed on fine, acid-free paper?
One possibility, if a Library of Australia were to come into existence, was to start from scratch: set up a charitable foundation and get tax deductibility. After considering a number of possibilities, Robert Gray and I settled on the idea of doing this in association with a university publisher, as universities have a favourable tax status. We approached UNSW Press. Although Australia had a much smaller domestic market than the United States, we hoped the concept would be viable with the extra revenue from international sales. After enquiries, we discovered that Library of America books sold well in the United States, but not elsewhere. Our proposed Library of Australia was not economic, so we had to drop the idea.
With one exception. As part of Library of Australia, we had intended to produce a two-volume anthology of Australian poetry equivalent to Library of America's multi-volume anthology of American poetry. We realised that, since we were not going to have the momentum of a large Library of Australia backlist, these two volumes would have to be compressed into one.
David Lehman's The Oxford Book of American Poetry (2006), a very readable anthology, has generous selections of major American poets, and excellent critical biographies, spiced with interesting anecdotes, in over a thousand large pages. This book should be our model, we all agreed. It was reassuring that an anthology of this size – no doorstop – was a pleasure to hold and read.
Historically, there are two broad types of Australian poetry anthologies. One, a consensus anthology, covers the field and represents a large number of poets, each with just a few poems. A good example is Les Murray's The New Book of Australian Verse (1986). This has no critical biographies, and there are almost 190 poets (other than those listed as 'Anonymous') in 380 pages. No poet has more than three poems. The overall standard is good, and there are some inspired choices: for example, Harley Matthews's 'Women Are Not Gentlemen', which occupies six and a half pages. While the selection of poets younger than Murray is not comprehensive, there are almost no surprising omissions of poets from his own and previous generations. John Kinsella's The Penguin Anthology of Australian Poetry (2009), with short biographical notes and about 209 named poets represented in over 435 pages, is a similar type of anthology. Most of Kinsella's poets have only one poem. A few major figures have three or four.
A second type of anthology is more rigorous: a canonical anthology that sets out to establish or confirm a supposed canon. It has fewer poets, with more poems per poet. An example is Vincent Buckley's The Faber Book of Modern Australian Verse (1991), with forty-seven poets occupying 257 pages and a twenty-nine-page Introduction. This type of anthology, done well, can be inspirational. My love affair with Australian poetry began at the age of sixteen when I bought a copy of H.M. Green's Modern Australian Poetry (second edition, 1952). This has the poems of fifty-four poets spread over 179 pages, and brief, factual biographies. Green had a few duds – among them three excruciating poems by T. Inglis Moore – but he avoided most of the turgid rubbish that afflicted Australian poetry anthologies of that era. He didn't have the bombastic William Baylebridge, who was later fêted in Judith Wright's A Book of Australian Verse (1956). Green showed remarkable foresight in emphasising the most important 'modern' Australian poets at that time: Christopher Brennan, John Shaw Neilson, Hugh McCrae, Kenneth Slessor, Robert FitzGerald, Judith Wright, James McAuley, Douglas Stewart, Harold Stewart, David Campbell, and A.D. Hope (who was yet to publish a book). Green's judgements have been amply confirmed since then. His only serious omission was Roland Robinson, who had published two books when Green's second edition appeared.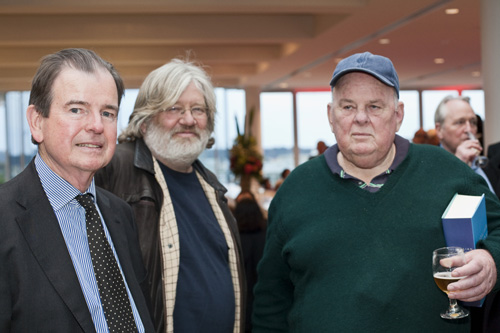 Geoffrey Lehmann (left) with Piers Laverty and Les Murray at the book's launch 5 October, 2011 (photograph by Ernest Fratczak)
There can be a pleasing feeling of democracy about the consensus anthology. Few serious and dedicated poets fall between the cracks. This kind of anthology is useful historically; it features a variety of schools of poetry without bias, and reflects different critical opinions in a non-prescriptive and objective way, without abandoning critical standards.
The risk with a consensus anthology is that a few decades later it may appear dated – cluttered with the names of forgotten poets. An egregious example is George Mackaness's Poets of Australia (1946), whose 205 poets (including H.V. Evatt and Patrick White) occupy 473 pages. Even on its publication, the flaws of this anthology were apparent to a contemporary newspaper reviewer, S.H. O'L, who described it as 'a portmanteau of poetry alphabetically packed with most of the mediocrity and some of the merit of our literary range'.
Robert and I decided on the second type of anthology. Without making inflated claims for Australian poetry, we wanted a book that could stand comparison with the best American and British anthologies, and that would showcase Australian poetry for an international audience. Lehman's anthology belongs to the canonical category: despite its large size (1084 pages), it has only 210 poets, whose birth dates range from 1612 to 1950 – broadly the same number of poets as many of the consensus Australian anthologies. Yet Australia has a population less than one tenth of that of the United States. We did not deliberately set a target for the number of poets, but we knew it should be significantly fewer than Lehman's 210 American poets.
At a personal level, it would have been easier for us to produce a consensus anthology. An anthology equivalent to Murray's OUP anthology, with its 190 poets, would now represent more than 300 poets, given the increased population since 1986. A consensus anthology would not have involved the possibly divisive discriminations we have attempted. But a 1000-page anthology with 300 or more Australian poets would overwhelm the reader with choices. Paradoxically, the larger an anthology is, the more focused it must be. In 1950, four years after Mackaness produced his alphabetical extravaganza of 205 Australian poets, F.O. Matthiesson produced the original precursor of Lehman's American anthology. Matthiesson's The Oxford Book of American Verse represented just fifty-one poetsover 1107 pages.
At the outset we agreed that our emphasis should be on poems rather than on reputations, and hoped to avoid preconceptions. Since mid-2008 I have worked virtually full-time on this project. Several poets were helpful. Judith Beveridge generously prepared a long list of recent poets. Kris Hemensley's Collected Works bookshop in Melbourne was outstanding for books that were in print. Among publishers, Kevin Pearson of Black Pepper was exceptionally generous. We finished up with a library of about 700 books of Australian poetry, including anthologies. I also scoured the Internet. Several poems in the anthology came straight from the Internet, including Frederic Manning's exquisite 'Kore', which Robert later discovered was highly valued by Manning's friend Ezra Pound.
Australia now has a much larger and more diverse population of poets and publication venues (many of them obscure) than in the past. One of our big worries was that we would overlook poets. Rob Riel's Wagtail booklets under the Picaro Press imprint were invaluable. Other sources were the annual anthologies that began in 2003: from Black Inc. and (until 2009) University of Queensland Press. Geoff Page's A Reader's Guide to Contemporary Australian Poetry (1995) was an exhaustive, fair-minded, and objective survey of poetry of that era. We also relied on Martin Duwell's excellent online poetry reviews, and a number of poetry websites.
We prepared critical biographies of poets who had not appeared in our previous anthologies, and updated those that had. At the end of this process we had the equivalent of about 1600 or more printed pages. We then did numerous culls to shrink this to a manageable length. At 1086 pages of poetry and commentary, this was still rather more than our publisher had been expecting.
The process of creating an anthology of this scope is necessarily wasteful. I prepared biographical notes for a number of dead poets whom we did not ultimately include, including Edward Dyson, Will Lawson, 'Dryblower' Murphy, 'Ironbark' Gibson, Kenneth Mackenzie, Max Harris, Ray Mathew, R.A. Simpson, and Margaret Scott. These poets were eliminated, often with great regret, during the numerous culls of our material.
Our selection of Bellerive illustrates what I mean by starting with the poems rather than with the poet. Bellerive (Joseph Tishler), a comical-looking old man who sold variety goods in Melbourne's Victoria Market, was a naïve poet who had never been included in a major anthology (so far as I'm aware). Good naïve poets are a much rarer species than good naïve or primitive painters. I had become a fan of Bellerive, having read hundreds of his poems in the Bulletin's'Answers to Correspondents' column, where contributions from 'bad' poets were sin-binned. Bellerive's most notorious poems were his 'tales of gore'. Douglas Stewart edited a small selection, The Book of Bellerive (1961), after the poet's death, and made the striking statement that 'no other Australian poet covered the life of his period so thoroughly as did the humble Bellerive'. Then, as if slightly embarrassed, Stewart concluded tepidly that the poems were 'memorable and enjoyable' and 'a small achievement'. I like to think that Stewart rated Bellerive more highly than he was prepared to admit.
Bellerive is overdue for a reassessment. 'The Dog Car' had been unsuitable for my comic verse anthology; I found it copied from a 1923 issue of the Bulletin in some forty-year-old notes of mine:
Weekly in our district wafts
A shrill and yelling sound;
There's captures' wails and exits
When the dog-car goes its round.
The council from its revenue
Have motors up to date;
Only frail and mangy dogs
Doth meet a tragic fate;
Feeling men and women dread
The shrill and yelping sound,
Wafting from the captured brutes
In the dog-car on its round.
This poem is full of feeling, and has a masterly concision. 'There's captures' wails and exits' is striking. The 'shrill and yelling sound' in the second line becomes 'a shrill and yelping sound' in the third last; as the dog-car approaches the high-pitched 'yelling' is differentiated into the 'yelping' of the dogs. Bellerive was a sharp and shrewd observer. If we had begun with an a prioriassumption about Bellerive's worth relative to other poets, we might have finished at most with two or three poems, not the fourteen we selected.
Another consequence of emphasising poems rather than poets is that we tried to choose a poet's best poems, even if this did not represent the full range of his or her work. We represented John Blight only by his remarkable sea sonnets. With Rosemary Dobson, we emphasised early poems about paintings, though we did include some later poems. Bruce Beaver is strongest in an ambulatory mode, where he has room to move about. We have none of his short poems, and while we have some of his discursive meditations, we emphasised poems that are straight memoir: three poems about youthful days in the country from one book (As It Was,1979) and 'A Pair' from Charmed Lives (1988). One of my regrets is that Robert and I did not include Beaver in our Heinemann anthology. We have atoned for that error with almost thirteen pages of Beaver in the new anthology. Bruce was a friend, but at a personal level the atonement is not much use; he is no longer with us.
Another of my accumulated regrets is Alan Riddell (pronounced 'Riddle'). Thanks to prompting by Andrew Sant, we have two of Riddell's visionary concrete poems, as well as two conventional poems. I used to drink with Riddell in the late 1960s in Sydney's Newcastle Hotel. He would talk with great enthusiasm about concrete poems and what he called typewriter art. Although Alan and I got along well personally, I had a philistine prejudice against concrete poetry at the time as some form of gimmickry. We have included in his biography an account of how, a few years later Alan died in London, a disconsolate expatriate who did not get the recognition he deserved.
As I mentioned earlier, David Lehman's biographical notes are spiced with significant anecdotes. We did the same in our Heinemann anthology, and have repeated this in Australian Poetry Since 1788. As well as providing a context, we wanted to interest readers in the poets themselves. Some of our biographies are quite long. Australian poetry is not a familiar terrain for many international readers, so we have provided more, rather than less, information. Many of the references in Dorothy Hewett's lengthy poem 'Secret Journey' may be incomprehensible to readers born after the Cold War; we have included detailed notes on the many Russian literary figures referred to in her great poem.
Robert and I knew many of the poets in the book personally. We could mention a dinner party where Judith Wright served reheated meat pies (I was one of the dinner guests) and the occasion when Oodgeroo Noonuccal (Kath Walker) arrived at Wright's house with a chilled magpie goose for dinner (this anecdote came from Rhyll McMaster).
We have about thirty pages of translations from Aboriginal languages. These allow only a brief glimpse into a field of extraordinary richness and variety, ranging from great song cycles to haiku-like pieces of delicacy and humour. With all of these translations we have supplied explanatory material from the translators. This gives non-expert readers a cultural context for the songs. The desirability of this was confirmed (at the permission stage) when R.M.W. (Bob) Dixon made it a condition of using the translations from books he had edited that we include the translators' commentaries. We had already done this.
We were surprised to find that the first edition of 'Banjo' Paterson's The Old Bush Songs (1905) began with two untranslated Aboriginal songs. These songs were collected by 'a very old colonist, with much experience of the blacks fifty years ago'. Although the meaning of these songs was unknown, Paterson went on to say that, according to some authorities, 'the blacks' songs were very elaborate, and that they composed corroborees which reached a high dramatic level'. Paterson set an admirable precedent, and the first two poems in our book are these two songs, prefixed by his comments.
We wanted poems that were enjoyable and accessible. 'Enjoyable' does not equate with light entertainment or poetry cleansed of commitments. We included what may be Vincent Buckley's most outstanding poem, 'Hunger-strike'. This passionate and stark poem, stripped of the rhetoric that mars some of his work, describes the excruciating deaths of IRA prisoners on a hunger strike. It reads like an indictment and is at the extreme periphery of what you might call 'enjoyable'. Although Buckley said his poem was not political, it can be seen as deeply political – two lines in particular: 'That question of the ages: / How do you solve the English.' But it was not our role to censor poems or poets because we did not like their politics.
'Accessible' does not always equate with 'easily understood and rational'. We have eight Emma Lew poems. Her writing has such verve that it is immediately accessible for a sympathetic reader, but much of it cannot be translated into logical propositions. Nor is 'accessible' poetry always easily understood. We have included seven poems by ∏O, some quite long. Because of the unconventional spelling, which reproduces the weird and wonderful pronunciation of Australian immigrants, it can be hard to decipher his meaning. Despite a reputation as an enfant terrible,∏O is one of our most rewarding poets; his poetry can be wonderfully funny and humane.
When choosing poems, we found that a distinctive voice was what mattered most. Many poets can write well-made poems and stick to familiar poetic formulae (ranging from the traditional to the postmodern). But to convince the reader, something more is needed, and there is no formula for that; it can't be taught. At one extreme is Slessor's thickly encrusted language and Francis Webb's metaphors, with their almost painful convolutions; at the other extreme is Jas H. Duke's plain and direct statements, with almost no imagery. We had expected to include the anarchist poet Harry Hooton, but found his voice raucous, careless, and predictable, and soon lost interest in his work. On the other hand, the anarchist–dadaist poet Duke was a complete surprise with his modesty, irony, and restraint; there are seven of his poems in the book.
Another poet with an absolutely plain but distinctive voice is Elizabeth Hodgson. She has only one book, Skin Painting (2008), of short, autobiographical poems describing her childhood experiences as a member of the Stolen Generations. She was completely unknown to us until we found her book by chance, but the voice was so compelling we included nine of her poems.
Many readers go to poetry for a 'hit'. Some poetic voices, like some singers or composers, are mesmerising. Examples are Slessor, Wright, and Shaw Neilson. A poet whom we excluded because of his flat poetic voice was 'Ironbark' Gibson. On paper, the case for including him was strong. Adam Lindsay Gordon may have written the first popular literary bush ballads, but they were effectively balladic narrative poems in an English style, with an Australian setting. Gibson really started the literary bush ballad a decade or so later with his humour, use of the vernacular, and cracker-barrel scepticism. Historically he was important. His language and ideas were vivid, and technically he was impeccable. But there was a relentlessness in the voice that was unattractive, despite his outstanding verse technique and a certain brilliance. Dropping Gibson was not an easy decision.
Two other difficult decisions were dropping Kenneth Mackenzie and Michael Dransfield. Some regard Mackenzie as a major Australian poet. But there was a greyness, distance, and fuzziness in his voice that was unappealing. Dransfield is a favourite Australian poet for some. He died young; but for this he might well have become one of our best poets. His poems fall into two broad categories: the decorative, fantasy poems, and the drug poems. On a first reading, both types can be attractive and striking. The voice is quite seductive. But their appeal wears off, for example the last two lines of 'Fix': 'Once you have become a drug addict / you will never want to be anything else.' Those two lines are a good example of what Auden called a 'resonant lie'.
The David Lehman anthology has no poets born after 1950. Vincent Buckley's anthology had almost no poems written after 1980 – he chose this as 'a terminal date'. If you are attempting a 'canonical' anthology, picking winners from among emerging poets is a high-risk strategy. However, with a few exceptions, there has been no general anthology of Australian poetry, either starting with colonisation, or covering the period from 1900 to the present, which has more than three poems by an individual poet born after 1955. A foreign reader of Australian poetry anthologies might conclude there is no major Australian poet after John Forbes (born 1950). Do you have to become a sexagenarian to get recognition as a poet in Australia? Some older poets may receive more representation because they have written more good poems, but poets do not always improve with seniority – many get worse.
Our book ends with a bang (I hope) – a stunner of a poem by the youngest poet, Josephine Rowe, born in 1984. Some of the best poems are towards the end, written by younger writers. We have given a full representation to a number of poets born after 1955 so that a reader might decide that Philip Hodgins is better than Judith Wright, or that Emma Lew is the most exciting Australian poet to emerge since John Forbes. These are not necessarily our opinions, but they could be formed by a reader of the anthology.
A surprising discovery was a reversal of the gender imbalance. While for Australian poets born before about 1955 we had more males, we found that of the poets born after that date there were more women than men. When I mentioned this to one of the newer poets, she pointed out that women greatly outnumber men in most poetry groups.
We have also reduced the gender imbalance among earlier, dead poets by increasing the representation (compared to earlier anthologies) of Ada Cambridge, Lesbia Harford, and Ethel Anderson. For example, Harford receives broadly as much space as Brennan. But we did not deliberately set out to strengthen the representation of earlier women poets.