Film
Peter Rose reviews 'The Eye of the Storm'
So Patrick White's most flamboyant novel (with the possible exception of The Twyborn Affair) has been brought to the cinema, after the usual longueurs and fiscal frights. Director Fred Schepisi and his scriptwriter, Judy Morris, have tamed the long and somewhat unwieldy beast that won White the Nobel Prize in 1973. Lovers of the novel will miss certain scenes, but there is a coherence to the script, and no film should slavishly adhere to the original text.
Immediately we meet the Sydney matriarch Elizabeth Hunter – 'a difficult case', to be sure – and then her absurd, titled children, Sir Basil and the divorced Princesse de Lascabanes. They have come back to visit her deathbed, and for the odd consolatory cheque. Everything about the film is sumptuous: the exaggerated personalities and saturated colours. The interiors are just right: expensive and vulgar (in the novel it is an 'ugly, ostentatious' house).
Schepisi, a fine director of individual actors, is capable of eliciting some of their finest performances (think of Meryl Streep in Plenty and Evil Angels; and Stockard Channing's magnetic Ouisa Kittredge in Six Degrees of Separation). Here he has a rich ensemble to deploy. Geoffrey Rush's risible, powdered thespian is more successful than his amiable but torpid speech therapist in The King's Speech. Notable among the smaller roles is John Gaden's deferential solicitor, Mr Wyburd, savouring his memories of Elizabeth Hunter's erotic condescension many years ago, and guarding her blue sapphire ring. Robyn Nevin, as his stoic wife, Lal, is at her chilly best in the scene with Mrs Hunter, when she drops in to thank her for the late gift of unwanted gemstones. Helen Morse is brilliant as the tragic Lotte Lippmann, a survivor of sorts of the Nazis, dancing for her addled, temperamental employer.
Closer to home, the director's daughter Alexandra is Mrs Hunter's younger nurse, Flora Manhood. The scene where she seduces Sir Basil is interesting to deconstruct: Basil, sexually reinvigorated, admires himself in the mirror as he makes love to the young woman who is wearing his mother's famous white dress; all this under the close direction of Flora Dora's father. Basil's scenes with his old cronies from the theatrical world are choice. Bille Brown has the best line in the film. Hoping for a juicy little role in Basil's next production, he is alarmed by the prospect of autobiography ('We're not really at our best when we're ourselves').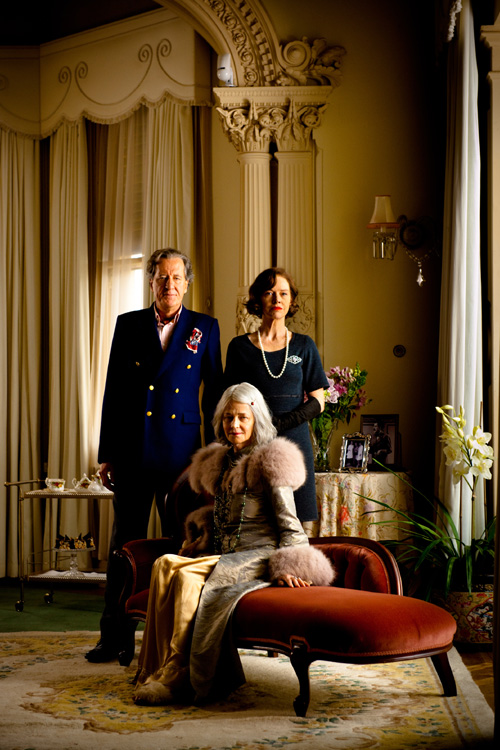 Geoffrey Rush, Judy Davis, and Charlotte Rampling in The Eye of the Storm
Wonderful it is to have Judy Davis back in a major Australian role. Humiliated by her perverted French husband, the princess is stricken. 'She was smiling to hold her face together,' as Clive James says of someone in May Week Was in June. Davis's face has never been more searingly photographed than it is here in a series of brutal close-ups. In our romanticisation of the amity of players, we overlook the almost carnal relationship between a great actor and her cinematographer (Ian Baker in this case). Glenda Jackson touched on this when Brian McFarlane interviewed her for his An Autobiography of British Cinema (1997):
The camera is absolutely fascinated by what you are doing: you never have to work for its interest or its attention because it is totally absorbed in what you are doing … You obviously work with people and there is that interchange and interplay, but the really interesting thing to work for is the camera.
The scene in the country, when Basil and Dorothy – waiting for Mrs Hunter to die – visit their old home, is finely judged, with Rush hamming it up as Lear in a diminished dam, and Davis alternately brittle and desolate in two bravura scenes. In a late surge of amorousness, Dorothy flirts with her boorish host, Rory Macrory. Spurned yet again she collapses, a moment of barren self-realisation powerfully conveyed by Davis, who awaits her brother's tender ministrations. So Basil and 'poor old Dorothy', collapsing onto the bed where they were conceived, console each other with a long shared gaze. Later, after their mother's death, as the impressive spoils are divided, Dorothy rallies and dispatches her sentimental brother – a deadly Bette Davis moment that is perfect for Judy Davis.
At the centre of the film is Charlotte Rampling's commanding Elizabeth Hunter, lewd and bewigged, like one of Samuel Beckett's chatty, marooned heroines exploring her 'attic of a mind'. Mrs Hunter's 'morphine moments' rattle the army of nurses and attendants, and bamboozle her two children. The remembered havoc on the tropical island, when Elizabeth Hunter – terrified but attuned – survives the storm, is unexpectedly effective, helped by a jazzy inflection in Paul Grabowsky's sympathetic score.
Less successful are a series of gratuitous flourishes: worms in the rose bed, Basil's expensive cuff trailing in the sauce (to illustrate his childish gluttony). White's vision is sufficiently extravagant without these lurid touches.
Minor excesses apart, this pedigreed adaptation of Patrick White's eerie, magisterial novel is consistently satisfying – and marks a needed turning point in our national cinema. We watch it with relish, and something like relief.
The Eye of the Storm, directed by Fred Schepisi, written by Judy Morris. 118 minutes. Rated MA. Released 15 September 2011.