'Humility, a new poem by Alex Skovron
Humility
Read the rest of this article by subscribing to ABR Online for as little as $10 a month. We offer a range of subscription options, including print, which can be found by clicking here. If you are already a subscriber, enter your username and password in the 'Log In' section in the top right-hand corner of the screen. If you require assistance, contact us or consult the Frequently Asked Questions page.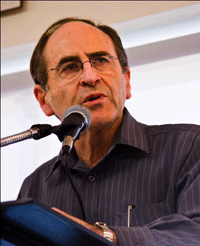 Alex Skovron was born in Poland, lived briefly in Israel, and came to Australia aged nine. He is the author of five poetry collections, most recently Autographs (2008), and a prose novella, The Poet (2005). Awards for his poetry include the Wesley Michel Wright Prize, the John Shaw Neilson Award, the Australian Book Review Poetry Prize, and for his first book, The Rearrangement (1988), the Anne Elder and Mary Gilmore awards. His novella was joint winner of the FAW Christina Stead Award for fiction. Alex's New & Selected Poems is in preparation. He lives in Melbourne and works as a freelance editor.
By this contributor
Leave a comment
Please note that all comments must be approved by ABR and comply with our Terms & Conditions.
NB: If you are an ABR Online subscriber or contributor, you will need to login to ABR Online in order to post a comment. If you have forgotten your login details, or if you receive an error message when trying to submit your comment, please email your comment (and the name of the article to which it relates) to ABR Comments. We will review your comment and, subject to approval, we will post it under your name.