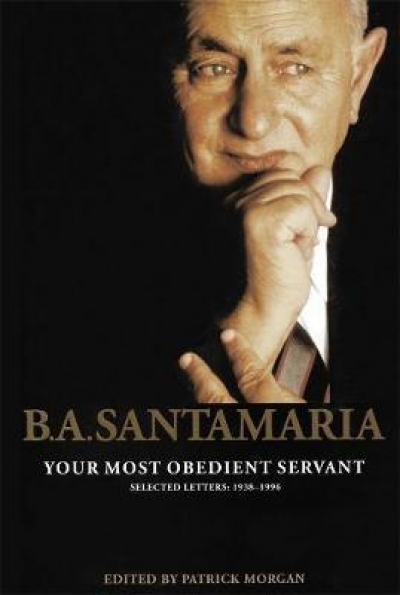 B.A. Santamaria: Your most obedient servant: Selected Letters 1938–1996
edited by Patrick Morgan
Miegunyah Press with the SLV, $49.95 hb, 590 pp
Letter collection
B.A. Santamaria: Your most obedient servant: Selected Letters 1938–1996
edited by Patrick Morgan
Among countless unused fragments of information from my convent schooldays, I remember the correct forms of address for churchmen of all ranks. For the pope, it was Your Holiness; for a cardinal, Your Eminence. Next came Your Grace and My Lord, for archbishops and bishops. Then the cumbersome Right Reverend and Dear Monsignor, followed by Dear Reverend Father, which sufficed for a priest.
Few of us had occasion to use the higher forms. At various stages of his long public life, B.A. Santamaria (1915–98) used them all. He signed his letters to the higher clergy with the same correctness: Your most obedient servant. Those words, which form the subtitle of Patrick Morgan's substantial selection of letters, have an edge of humour. They point to the paradox of Santamaria's life and personality. The title acknowledges his unfailing courtesy, and a formality which guarded a very private self. It also prompts the question: to what extent was he 'an obedient servant', and to whom?

To continue reading, sign in or subscribe to ABR.Subscriptions start from as little as $10 per month. If you need assistance, feel free to contact us.