Unintelligent Design: Why God isn't as smart as she thinks she is by Robyn Williams
Allen & Unwin, $17.95 pb, 165 pp, 1741149231
Philosophy
Unintelligent Design: Why God isn't as smart as she thinks she is
by Robyn Williams
Douglas Adams's The Hitchhiker's Guide to the Galaxy (1979) suggests that the Babel fish, which, when inserted into the ear, offers instant translations of any alien language, cannot have evolved by mere chance. Similarly, proponents of Intelligent Design (ID) argue that, as Robyn Williams summarises, 'there are parts of the natural world so complex and engineered with such precision that only a very smart intelligence, not blundering selection, could account for them'. But whereas ID seeks to bolster faith in (a neo-conservative) God, the Hitchhiker's Guide proposes that the Babel fish, impossible to create by evolutionary chance, actually proves the non-existence of God:
'I refuse to believe I exist,' says God, 'for proof denies faith, and without faith I am nothing.'

'But,' says Man, 'the Babel fish is a dead giveaway isn't it? It could not have evolved by chance. It proves you exist, and so therefore, by your own arguments, you don't. QED.'
Continue reading for only $2.50 per week. Subscribe and gain full access to Australian Book Review. Already a subscriber? Sign in. If you need assistance, feel free to contact us.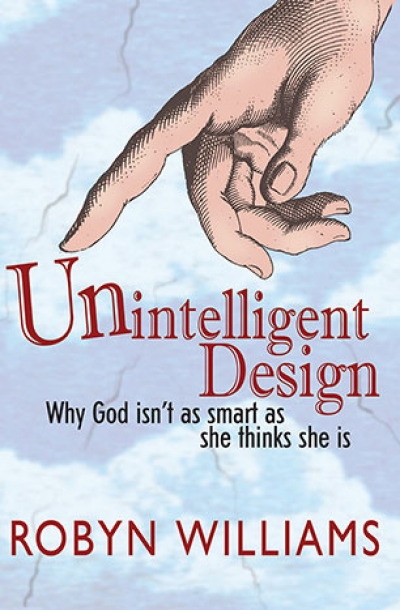 Unintelligent Design: Why God isn't as smart as she thinks she is
by Robyn Williams
Allen & Unwin, $17.95 pb, 165 pp, 1741149231