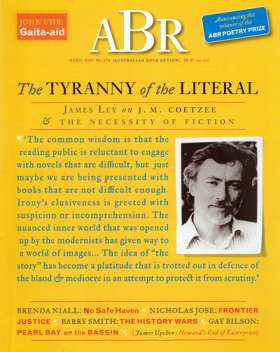 April 2005, no. 270
Australian Book Review
In ABR's seventh 'Poem of the Week' Stephen Edgar discusses and reads his poem 'Man on the Moon'.
Brenda Niall
Spacious and solidly constructed, the classic nineteenth-century novel invites revisiting. Later writers reconfigure its well-known spaces, change the lighting, summon marginal figures to the centre. Most memorable, perhaps, is Jean Rhys's Wide Sargasso Sea (1966), in which the first Mrs Rochester ...
Sue Thomas
J.M. Coetzee and the Ethics Of Reading is both a deeply scholarly response to the work of a brilliant and challenging writer, and an act of advocacy for a particular mode of reading, which Derek Attridge characterises variously as ethical, literary, 'attentive' and scrupulously responsive to the text. This mode draws on practices of 'close reading', while proposing the ethics of ...