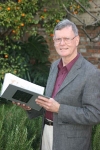 John Carmody
John Carmody studied Medicine at the University of Queensland: during that time he edited the student paper, Semper Floreat, for a year and co-edited the literary magazine, Galmahra. He then spent four decades as a physiologist and pharmacologist in the Faculty of Medicine at the University of NSW in Sydney. Over that time he also had several periods working in universities and research institutes in Germany.
In 1978 he succeeded David Malouf as the writer on opera and concert music for the National Times and, after that paper closed, wrote for the Australian Financial Review and the Sun-Herald. He has contributed extensively to the Australian Dictionary of Biography and to a number of substantial encyclopedias and reference publications. His book reviews and other articles have appeared in virtually every significant Australian publication and in a number overseas as well. He writes on opera for Opera [London] and Opernwelt [Berlin].
He has broadcast frequently on ABC radio, notably on music, religion, history, and medicine, and, later in 2011, will contribute to a symposium on modernism at the NGV Melbourne in association with the major exhibition on the Viennese Secession movement.