December 2017, issue no. 397
Australian Book Review in the United States
Australian Book Review's sixteen-day US tour – led by Peter Rose and Christopher Menz – took us from Washington, DC to New York City. It was the first of its kind undertaken by the magazine. Our aim was to take ABR on the road with a party of keen readers and supporters. The tour began at the Australian Embassy in Washington, where the Editor was in conversation with Geraldine Brooks (newly gonged at the Ambassador's residence an hour earlier) and Anna Funder, before a capacity audience.
Along the way we visited writers' homes (Emily Dickinson, Mark Twain, Louisa May Alcott, and Edith Wharton's opulent The Mount), great libraries (Morgan, Beinecke, Library of Congress, the New York Public Library), and several new or reopened art museums, including the Met Breuer and the Whitney Museum of American Art in New York, and the magnificent Art Museums in Cambridge, as well as several museums that weren't known to everyone in the group (Smithsonian American Art Museum, The Phillips Collection, Wadsworth Atheneum, Philip Johnson's Glass House, Yale Center for British Art, and the Clark in Williamstown, with Tadao Ando's superb new extension).
There was also much theatre and opera, all in a spirit of enquiring conviviality. We met writers, librarians, publishers, journalists, curators, and diplomats. Two highlights on our penultimate day in New York were visits to the offices of the New York Review of Books (where Peter Rose and Robert Silvers exchanged copies of their magazines) and Farrar, Straus and Giroux, whose president and publisher, Jonathan Galassi, spoke about his new books and his keen interest in Australian writers.
Buoyed by the response to the tour, ABR is planning a UK tour in June 2017. This Shakespeare-themed tour will take us to Lewes (for the world première of Brett Dean's Hamlet at the vaunted Glyndebourne Opera Festival), Stratford-upon-Avon, then London. The tour (shorter than the US one) will combine literature, art and architecture, music and theatre – and there will be a major public literary event in the capital. Full details can be found here.
Photographs from ABR's US tour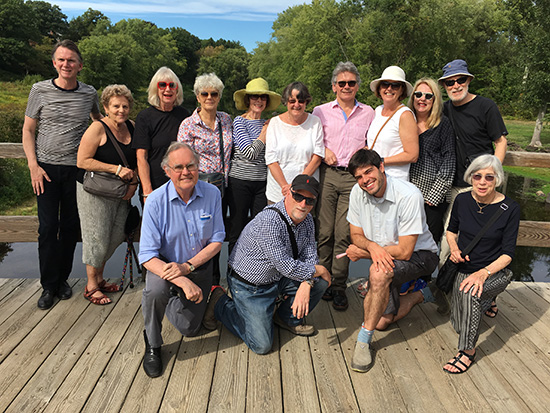 The tour group in Concord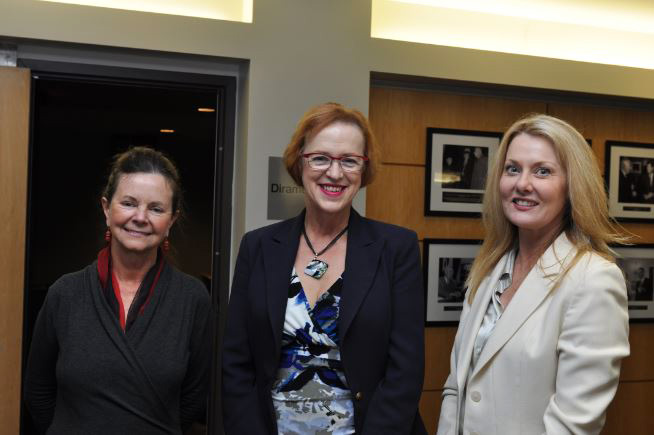 Geraldine Brooks AO, Ambassador Caroline Millar, and Anna Funder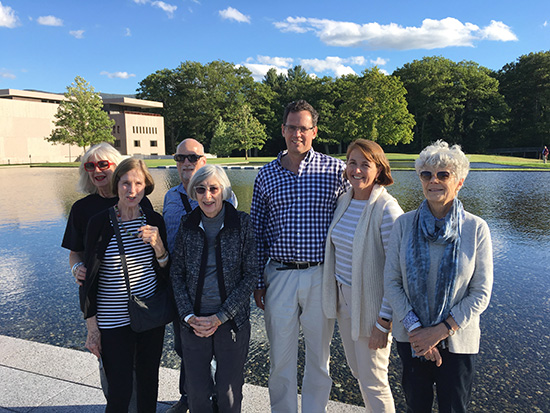 At the Clark Institute in Williamstown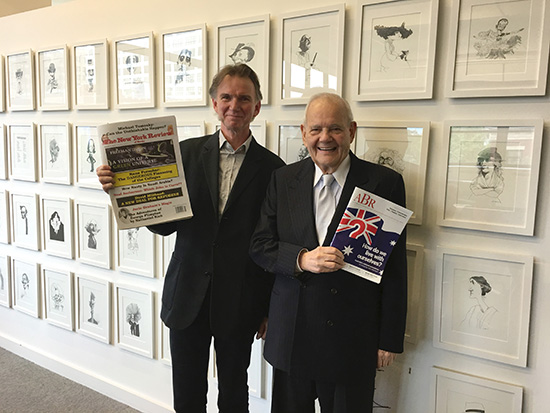 Peter Rose and Robert Silvers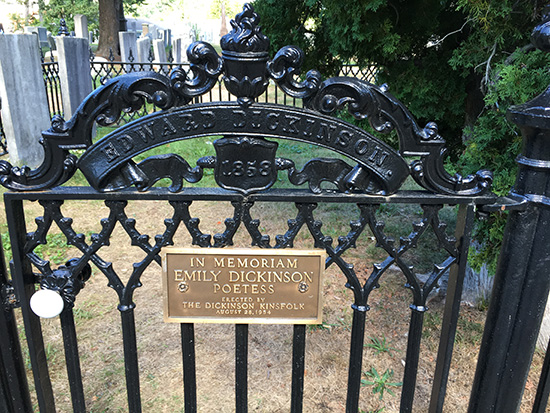 The Dickinson family plot in Amherst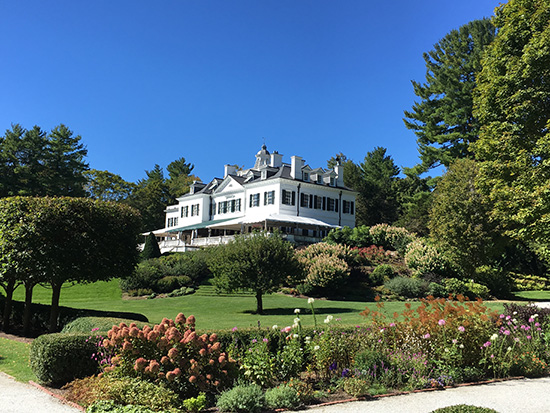 The Mount, Lenox
Shakespeare: Australian Book Review in England
June 14–25, 2017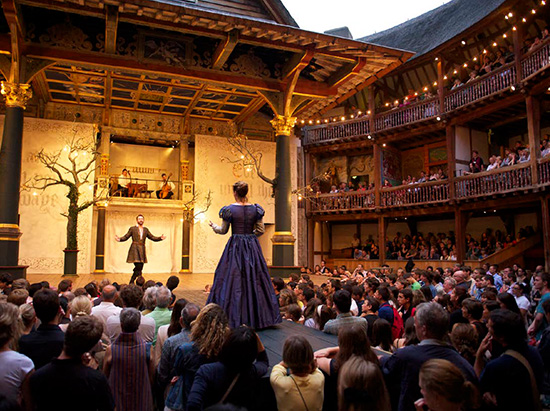 The Globe Theatre
Following the success of the 2016 tour to the United States, Australian Book Review is delighted to offer a 12-day tour to England for readers, ABR supporters and friends. Visit Stratford-upon-Avon, the Glyndebourne Opera Festival and London on this exclusive tour. Enjoy several great performances – and the English summer – in the company of enquiring and like-minded travellers.
There is a strong but not exclusive focus on Shakespeare and literature, with additional visits to writers' homes, major libraries and concert halls. As in the United States, ABR has used its extensive professional contacts to arrange special functions and access to sites not normally available to the public.
The tour is led by Australian Book Review's long-time Editor Peter Rose and Christopher Menz, a former gallery director who has much experience as a tour leader. Additional input is provided by local guides, librarians and art gallery lecturers. Accommodation is in centrally-located four-star hotels.
ABR has engaged Academy Travel, a leading Australian small-group cultural travel company, to manage the tour.
Enquiries and Bookings
For further information and to secure a place on this tour please contact Frederick Steyn at Academy Travel on (02) 9235 0023 or 1800 639 699 (outside Sydney) or email This email address is being protected from spambots. You need JavaScript enabled to view it.
For more information from Academy Travel about the ABR UK tour, including a detailed itinerary, please visit their website.
Endorsements from ABR's 2016 US tour.
'My recent experience travelling on the east coast of the United States with the inaugural ABR tour group was a truly exceptional one. The knowledge and expertise of the tour leaders meant our itinerary took us to places, and even introduced us to people, not usually accessible to ordinary travellers. In all, it was truly memorable!'
'ABR's small group tour to the United States in 2016 focused on literature, history, art and theatre. The program was well-thought-out, varied and balanced. The tour leaders were attuned to particular interests of individual group members and helped them where necessary to further explore those interests in the different venues we visited. One of the excellent features was the number of private viewings and guided tours specially tailored for our group.'