October 2017, issue no. 395
The Russian Revolution after 100 years
A free public lecture co-presented by Mark Edele and Australian Book Review
18 October 2017
On 25 October 1917, the Bolsheviks took power in Petrograd. For the following seventy-four years this date would mark one of the foundational events of global history: the establishment of the world's first socialist state.
Red October inspired high hopes in some and terrible dread in others. For better and for worse it shaped the twentieth century in fundamental ways. But what does the revolution mean over a quarter century after the breakdown of the Soviet Union?
In this lecture, historian Mark Edele argues that in order to understand the significance of the Russian Revolution today, we need to broaden our view well beyond the events in Petrograd in 1917. The October uprising was but one moment in a larger, violent process of destruction and reforging of empire. The results continue to shape the region, and indeed the world.
Mark Edele's survey of books on the Russian Revolution entitled, 'A Century After 1917: Why should you care about the Russian Revolution' will be published in the October 2017 issue of Australian Book Review. Copies of the October issue will be sold at the event. You can also purchase back issues or subscribe to ABR for as little as $10 via ABR Online.
When: 6.30pm to 7.30pm, Wednesday, 18 October 2017
Where: Kathleen Fitzpatrick Lecture Theatre - B101, Arts West, West Wing, University of Melborne, Parkville Campus
This is a free public event, but bookings are essential. Register here
---
John Ashbery: A Tribute
20 October 2017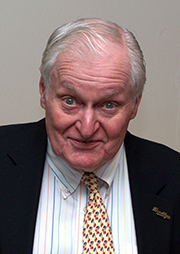 The great American poet John Ashbery – prolific, inimitable, influential in Australia (which he famously visited in 1992) – died on 3 September 2017, a few weeks after his ninetieth birthday and the publication of his first biography.
To celebrate the life of this remarkable voice, Australian Book Review and Collected Works Bookshop – in association with Monash University's School of Languages, Literature, Cultures, and Linguistics – will present a tribute to John Ashbery on Friday, 20 October.
The speakers and readers are Gig Ryan, Kris Hemensley, Judith Bishop, John Hawke, Michael Farrell, David Dick, Ann Vickery, and Peter Rose.
Where: Collected Works Bookshop
Nicholas Building, Level 1
37 Swanston Street
Melbourne, Victoria
When: 6 pm (for 6.30 pm), Friday, 20 October 2017
Bookings: This is a free public event, but bookings are requested: This email address is being protected from spambots. You need JavaScript enabled to view it.
---
Munich to Berlin: Art, music, & literature
Australian Book Review in Germany
June 2–15, 2018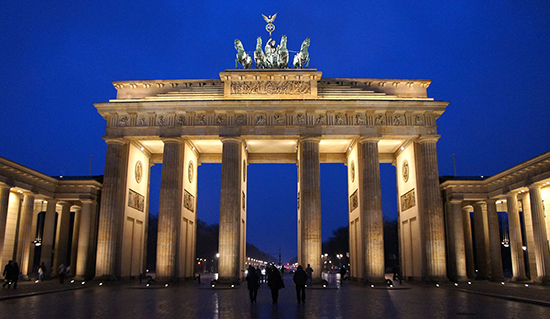 The Brandenburg Gate, Berlin (Wikimedia Commons)
Australian Book Review is delighted to offer a fourteen-day tour to Germany for readers, ABR supporters, and friends. Explore some of the great German cities with like-minded ABR readers and supporters, enjoying outstanding performances of opera and orchestral music, visiting a selection of superb art galleries and exploring Germany's literary heritage from Goethe to Nietzsche and beyond.
The tour is led by Australian Book Review's long-time Editor Peter Rose and Christopher Menz, a former gallery director who has much experience as a tour leader. ABR has engaged Academy Travel, a leading Australian small-group cultural travel company, to manage the tour.
Enquiries and Bookings
An itinerary for the
ABR
Germany tour can be found

here
. For more information about the
ABR
Germany tour please visit the
Academy Travel website
or contact Frederick Steyn at Academy Travel on (02) 9235 0023 or 1800 639 699 (outside Sydney) or
This email address is being protected from spambots. You need JavaScript enabled to view it.
Endorsements from ABR's 2016 US tour.
'My recent experience travelling on the east coast of the United States with the inaugural ABR tour group was a truly exceptional one. The knowledge and expertise of the tour leaders meant our itinerary took us to places, and even introduced us to people, not usually accessible to ordinary travellers. In all, it was truly memorable!'
'ABR's small group tour to the United States in 2016 focused on literature, history, art and theatre. The program was well-thought-out, varied and balanced. The tour leaders were attuned to particular interests of individual group members and helped them where necessary to further explore those interests in the different venues we visited. One of the excellent features was the number of private viewings and guided tours specially tailored for our group.'
Proust and Montaigne – Writing the Self, May 15 at 6.p.m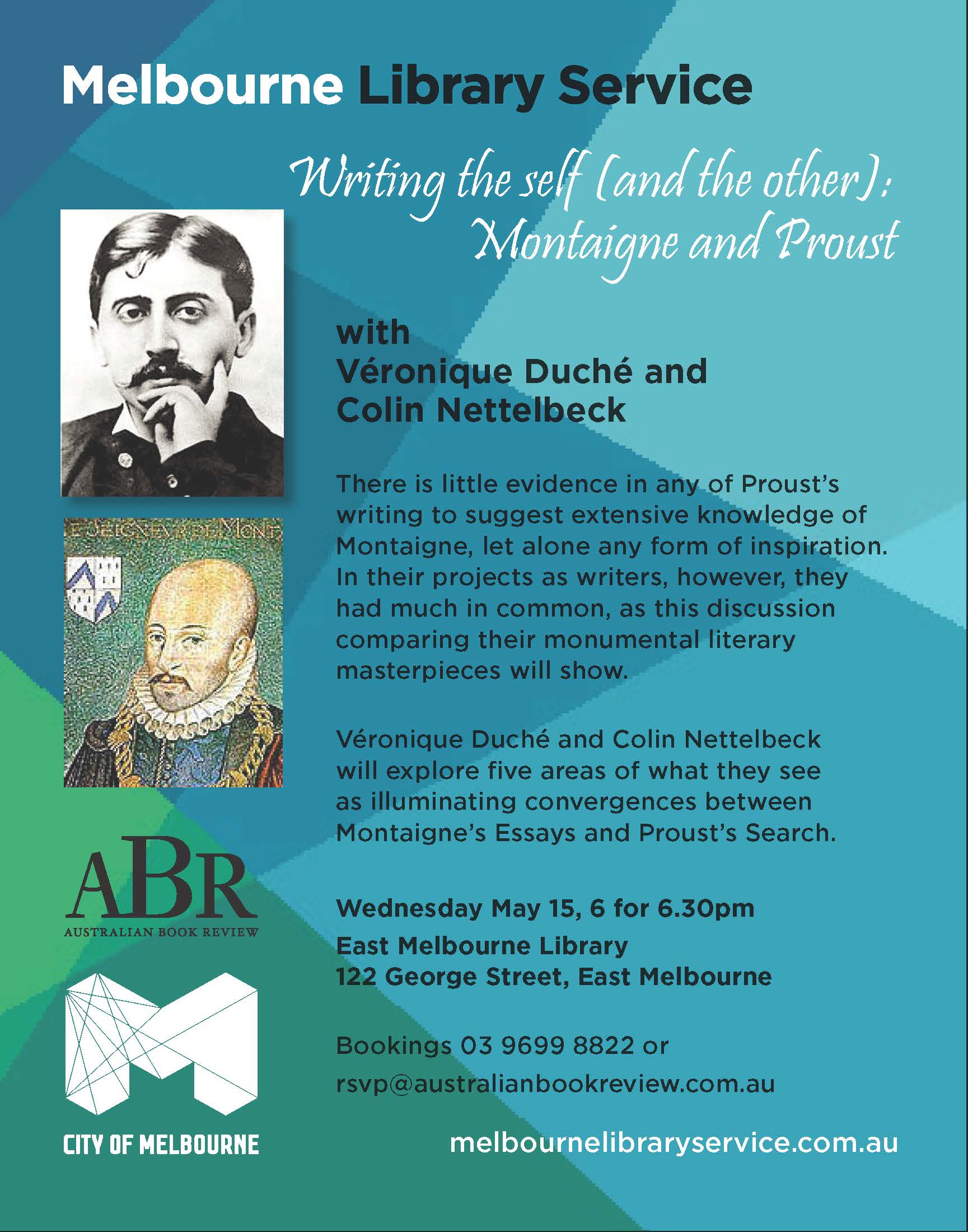 Francophiles, essayists, and Proustians will not want to miss a joint ABR and Melbourne Library Services event to be held in the East Melbourne Library on Wednesday, 15 May (6 p.m.). Noted French scholars and enthusiasts Véronique Duché and Colin Nettelbeck (who reviews Camus's Algerian Chronicles for us in the May issue) will be in discussion about Montaigne and Proust, with particular references to convergences in their remarkable works. This is a free event, but reservations are essential: This email address is being protected from spambots. You need JavaScript enabled to view it..
Please note this event is now booked out.