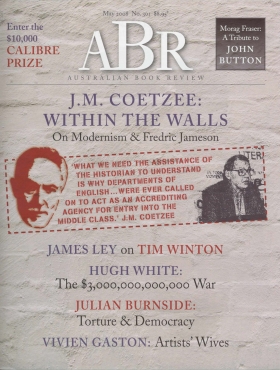 May 2008, no. 301
Peter Rose
T

he Spare Room
marks Helen Garner's return to fiction after a long interval. Since
Cosmo Cosmolino
(1992), she has concentrated on non-fiction and journalism: newspaper columns and feature articles. She has speculated in public about her distance from fiction...
J.M. Coetzee
Though by profession a scholar of literature with a specialism in French literature, Fredric Jameson (born 1934) has made his mark as a cultural historian and even as what used to be called an historian of ideas. His chef d'oeuvre, Postmodernism, or, The Cultural ...
James Ley
One of the intriguing things about Breath, Tim Winton's first novel in seven years, is that it has a number of affinities with his very first book, An Open Swimmer (1982). Both are coming-of-age novels that attempt to capture some of the confusion and melancholy of youth ...