Theatre
Othello (Bell Shakespeare) ★★★★
Whatever else Peter Evans's production of Othello has going for it, and it has indeed much, the speaking of Shakespeare's verse is outstanding. It is never declamatory, in the way that some famous actors of earlier decades dealt with it. The verse emerges entirely intact, but is always made to sound at the same time conversational, as if the thoughts it articulates, whether in dialogue or soliloquy, rhyme, or blank verse, have just now given rise to it. The effect of this is to create before our eyes – and ears – characters so intensely real that sometimes, though we know the outcome, we wonder if all will happen that way. Surely, we think, no one will believe Iago; surely Othello will stop short of his murderous intent. In other words, there is such a persuasive accommodation between the glories of the Shakespearean pentameters and the personal motivations, whether subtly vicious or guilelessly innocent, that the interior action of the play utterly engrosses.
This Othello is set in the present day: the fact that the younger men are wearing those fashionable stove-pipe trousers indicates the contemporary scene: but there is no sense of gimmickry about this, and no sense of the verse's being disconcertingly at odds with this, as has sometimes been the case with Shakespearean productions desperately determined not to be constrained by doublet and hose. The mix of T-shirts and military uniforms, for instance, never seems inconsistent.
To get a couple of cavils out of the way. Several aspects of the physical production are less effective. The set consists of a bare stage with a floor that looks as if made of green squares of fake grass; this is surrounded by a dozen large square pillars behind which characters are often seen scurrying or loitering, perhaps making a point about how open to observers the central action is. The only object of note on this setting is a large rectangular table, covered in green cloth and pushed around the stage on wheels. Sometimes people will confront each other over it; at one point a bowl of fruit is placed on it; most puzzling of all, before the play begins there is a woman's body draped on it. Is this meant to foretell what lies ahead for Desdemona? None of this contributes anything to the play's undeniable holding power. And as for some eye-dazzling lighting effects and the ear-shattering evocation of the storm that does for the Turkish fleet, the verse itself does the job better.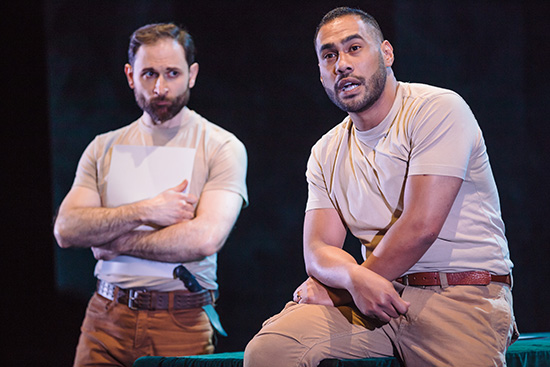 Yalin Ozucelik and Ray Chong Nee in Bell Shakespeare's Othello (photograph by Daniel Boud)
But enough quibbles. This is a brilliantly intelligent production in all that matters most. Ray Chong Nee's Othello reinforces the sense that the Moor's 'tragic flaw' is not that he is of a notably jealous disposition but that, esteemed general though he is, he is really rather thick when it comes to matters to do with human motivation and behaviour. Chong Nee plays him with an imposing solid ordinariness that is potently at odds with Yalin Ozucelik's Iago. This Iago is physically smaller than his master, his spry build adding meaning to the insidious ways in which he manipulates the truth and those around him. He is the jealous one – Coleridge can say what he likes about Iago's 'motiveless malignity'; it is very easy to trust the causes of this Iago's dissatisfaction. He is the one who understands what's going on between this and that person, and what's going on inside himself.
These two make a strikingly complementary pair, both in physical presences and in the psychological processes that guide their actions. When they are together on the stage, there is an increasingly powerful sense of the threat Iago poses to his master and the tension that grows from wondering how long Othello can be deceived by the machinations of his bitter 'ancient'. If this duo is central to the play's action, several other pairings in this production make stimulating claims on our attention. Whether or not this was director Evans's intention matters less than the sense of pattern that emerges.
For instance, in the scenes between Iago and Roderigo (Edmund Lembke-Hogan), the latter disappointed in his wish to woo Desdemona, the actors bring out a kind of humour that seems entirely appropriate, with Iago's deviousness complementing this Roderigo's buffoonish streak. When Iago and Cassio (Michael Wahr) are together on stage, Iago's envy of the lieutenant is intensified by the contrast of Cassio's matinee-idol appearance and demeanour. Perhaps most touching of all is the sense of mutual concern that is enacted between Desdemona (Elizabeth Nabben) and Emilia (Joanna Downing), made more affecting by the contrast between Nabben's open, girlish quality and Downing's earlier watchfulness, which feeds into Emilia's later outrage.
Most of the cast is unfamiliar to me: its members are as near to faultless as makes no matter. This production is overall a triumph of intelligent insight that moves us emotionally and grabs us intellectually.
Othello, written by William Shakespeare and directed by Peter Evans, is presented by Bell Shakespeare. The Melbourne season continues at the Fairfax Studio, Arts Centre Melbourne until 23 July 2016. The production then moves to Canberra (14–22 October) and Sydney (October 25 to December 4). Performance attended: 14 July.
Arts Update is generously supported by The Ian Potter Foundation.