These two significant exhibitions mark critical stages in the development of Australian art over the past fifty years. The Field Revisited is a painstaking reconstruction of the inaugural – and, at the time, ground-breaking and controversial – exhibition held in 1968 in the newly-opened Roy Grounds building: the National Gallery of Victoria in St Kilda Road. Some who saw The Field exhibition back then may feel (as I do) that the present installation is even more striking than the original. For those coming for the first time, this revival of the earlier show, with its gleaming silver walls and clamorous use of colour, has the same power to dazzle that the original exhibition, curated by John Stringer and Brian Finemore, possessed. The Field presented the work of forty Australian artists who, in the words of NGV co-curator of this exhibition, Beckett Rozentals, 'were primarily producing art that was flat, abstract, patterned, geometric, or in the colour field style'. After an extended search, NGV Director Tony Ellwood and his team have managed to recover for the present show as many of the original sculptures and paintings as are still extant. Those no longer available have been recreated specially for the exhibition, where possible with the help of the artists themselves, thirteen of whom are still living.
The word field – a long-established art-historical term – might have seemed in the context of the original show to be pitted against The Bush, the more unbounded, plein air, scrubby subject of earlier generations of Australian artists, in a bold annexation of the modernist style then dominant in New York, which simultaneously challenged the Antipodean figurative style then dominant in Australia. Australians had been given a taste of recent work from New York in a touring exhibition from the International Program of MoMA entitled Two Decades of American Art in 1967. The Field was conceived by John Stringer, exhibitions officer of the NGV, as a kind of local response to Two Decades of American Art, as a way of showing that Australian artists, too, were engaging in their own distinctive way in forms of abstraction and non-figurative art.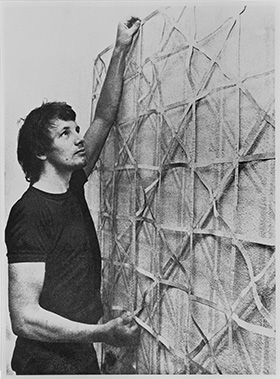 Robert Hunter installing Untitled 1971 at the Lalit Kala Academy, New Delhi 1971 (courtesy of Monash University Museum of Art)In one corner of the 1968 Field was a white-on-white painting by the youngest member of the group, twenty-one-year old Robert Hunter, which in its sobriety and restraint stood in marked contrast to the colourful exuberance of other work in the show. This painting represented one of Hunter's earliest ventures into the vocabulary of American minimalism. It employed the serial components of square modules and linear grids: elements that were to become his lifelong, ever more complex, passion and preoccupation. Hunter had been attracted by a handful of minimalist paintings that he had seen in Melbourne in MoMA's Two Decades of American Art the previous year. He was fascinated, in particular, by three square paintings by Ad Reinhardt, all featuring a central structural element of a Greek cross, in which square areas of black were subtly differentiated by tonal gradation. Hunter's white-on-white canvas represents a response to Reinhardt's work, and his discovery of a way in which its geometrical elements might be given another resonance: through an apparently simple reversal of colour. White painting particularly appealed to Hunter: as he remarked during an interview with me shortly before his death, it 'is all colours and black is no colour; it absorbs colour, and white reflects all colour'.
Walking from The Field Revisited into Robert Hunter's retrospective exhibition (curated by Jane Devery, NGV Curator of Contemporary Art) is like walking from a brilliant tropical scene off into a snowstorm. The eight white-on-white square-format paintings on canvas in the first room of the Hunter show have overall radiance that fills the entire space. You need to peer more closely, more lingeringly, to discover the internal logic of each of these geometrically structured works, and their translucent layers of warm and cool white. The surfaces are flat, smooth, virginally pristine. The works keep their distance, resisting an immediate understanding, yet have a seductive attraction all of their own. All possess, moreover, an authority that is quite startling in view of their date: for all were painted in 1968, the year of The Field exhibition, by which early moment the young artist had already miraculously discovered the basic parameters and potential of the art forms that were to engage him over the next four decades of his working life.
James Doolin, Artificial landscape 67/5,1967 (National Gallery of Victoria, Melbourne Purchased through The Art Foundation of Victoria with funds provided by the National Gallery Society of Victoria, Governor, 1985 (AC11-1985 © James Doolin)
By 1970 Hunter was experimenting with other materials, and had switched from canvas to paper, using masking tape to create the basic structure of the work: a move indicated in the second gallery. The six beautiful grey works on paper shown here in serial succession are loosely attached to the wall, and appear to float ethereally. After this experiment with seemingly fragile material – though these paintings, acquired by the NGV in 1977, have in fact worn well – Hunter then moved to paint directly on a very firm surface, the wall, by using stencils made of masking tape. Between 1970 and 1980 he produced seventeen wall stencil paintings, some of which were shown in the Indian Triennale in 1971 and in 1974 at MOMA; several are included in the present exhibition. Throughout this decade, Hunter experimented extensively, both in his stencils and his works on paper and canvas, with the colour grey, to which he was greatly attracted for its neutrality.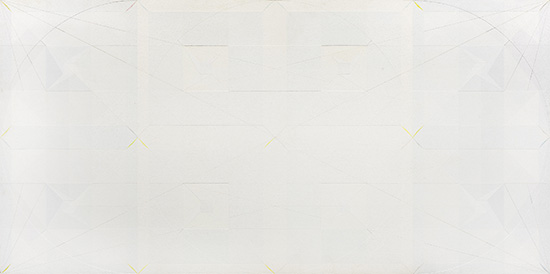 Robert Hunter, Untitled no. 4, 2003, (Estate of the artist, Melbourne © The Estate of Robert Hunter)
Thereafter he returned to white paint, and abandoned the square module that had governed the form of all of his earlier work, moving instead to a standard rectangular shape conveniently provided by 4' x 8' plywood bought at the hardware store. He ditched all of his paint brushes except for a fine 00 sable brush, and began to apply his paint with a roller. Right up until his death in September 2014 – though tantalizingly, the present retrospective includes no work painted after 2013 – Hunter continued to set himself ever more complex geometric propositions, to which he found resolution through subtle variations in tone and structure. Throughout his career, Hunter maintained and refined minimalist forms and ideas in a way that took them beyond the period that gave them birth, influencing a younger generation of artists: even those working to a more historically and socially engaged agenda, who have drawn on his consummate formal discoveries.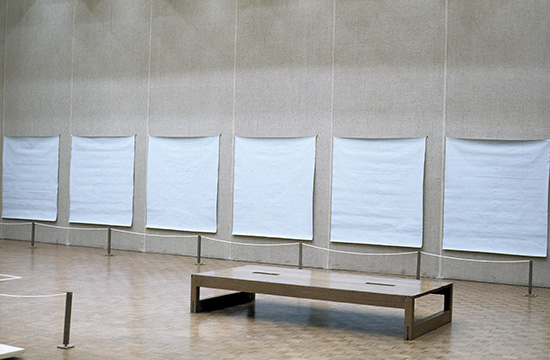 Robert Hunter, Untitled, 1970, (National Gallery of Victoria, Melbourne, purchased, 1977, installation view in Minimal Art at the NGV in 1976 © Estate of Robert Hunter)
This is an exceptional exhibition, not to be missed, of the work of one of the true masters of modern Australian art. The inspired decision by the NGV to display Hunter's work alongside this restored version of the 1968 Field exhibition gives visitors to its Potter Centre a chance to explore the early context of his work as well as its later development. The catalogues to both exhibitions contain excellent essays. Offered in suggestive proximity to these shows on two floors of the same building is the NGV's compelling two-part exhibition, Colony: Australia 1770–1861/Frontier Wars, a further incentive to lovers of Australian art to pay an early visit to Melbourne's Federation Square.
The Field Revisited and Robert Hunter are both showing at The Ian Potter Centre: NGV Australia, Federation Square Melbourne until 26 August 2018.
ABR Arts is generously supported by The Ian Potter Foundation and the ABR Patrons.