Music
2015 Wangaratta Festival of Jazz and Blues
This year's Wangaratta Festival delivered two outstanding performances of extended works composed for large ensembles: Dave Douglas's suite Fabliaux and Lloyd Swanton's Ambon, inspired by his uncle's experiences as a prisoner of war from 1942–45.
American trumpeter Dave Douglas has been a leading figure in jazz since the early 1990s, when he first rose to prominence as a member of John Zorn's Masada quartet. A restless musician, he has fronted numerous ensembles, and recorded prolifically, most recently for his own Greenleaf label. It was his guest appearance at the Adelaide Festival, in March 2014, as part the John Zorn concert series, that afforded Douglas the opportunity to engage in a collaborative project with the Monash Art Ensemble; and his extended composition Fabliaux for four ensembles, written expressly for the project, was rehearsed and performed, then subsequently recorded, during that visit.
For its Wangaratta performance, in only its second public outing, Douglas led a fifteen-piece ensemble, made up of members of the Sir Zelman Cowen School of Music at Monash University, and the Australian Art Orchestra; including such luminaries as Paul Grabowsky on piano, Jordan Murray on trombone, Rob Burke on tenor saxophone and clarinet, and Peter Knight on laptop.
Douglas's hour-long suite, made up of nine movements, was inspired by the composers of fourteenth-century French Ars Nova, though Peter Knight's electronics ensured the music retained a decidedly twenty-first-century edge. The music was, by turn, abstract and rhythmic, beautifully melding notated passages with raucous improvised outbursts. There were several standout performances, notably Lizzy Welch on violin and Rob Burke on clarinet. While Douglas stepped in to the trumpet role on several occasions, he was, for the most part, content to lead the ensemble through his complex charts.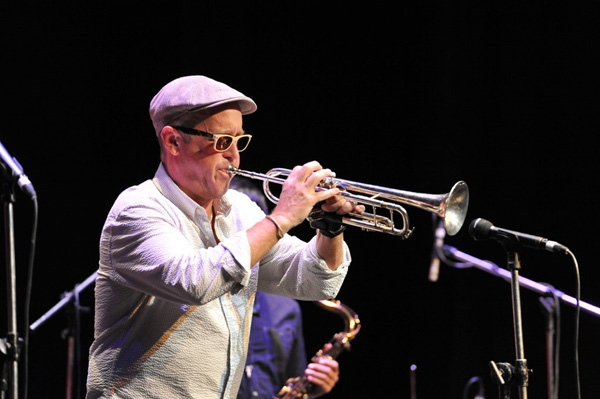 Dave Douglas (photograph by Hotshot Images)
The Fabliaux recording was officially launched at the Festival; and can be chalked up as another successful venture for the Monash Art Ensemble, following on from earlier collaborations with international artists such as George Lewis, Enrico Rava, Kenny Werner, George Garzone, and Hermeto Pascoal.
Dave Douglas's trumpet was certainly to the fore in his much anticipated appearance on Saturday evening, in duo performance with Paul Grabowsky. Much of the repertoire was drawn from Douglas's recording Present Joys (2014), an album of duets with pianist Uri Caine that explored the rich terrain of the New England Sacred Harp tradition. Simple folk melodies formed the backdrop to a series of complex improvisations, with trumpet and piano delicately weaving around one another; at other times harmonising like two voices. It was a mesmerising performance, and – aside from Fabliaux – the most satisfying of Douglas's concerts at this year's Festival.
While Douglas's Quintet performance on Sunday night was an incendiary affair, full of raucous blasts and frenetic flurries, I came away feeling that the music was constrained by the sheer surfeit of talent on display. Each of the Quintet members – saxophonist Jon Irabagon, bassist Linda Oh, pianist Matt Mitchell, and drummer Roy Royston – are outstanding musicians and leaders and in their own right, and it was as if Douglas's frenetic compositions left too little oxygen for them to breathe. That said, the musicianship was imposing throughout, but the set came most alive when Douglas took things down a notch, allowing the Quintet's individual voices to come to the fore.
Bassist Linda Oh recruited her associates Irabagon and Royston to help her perform her own music in a commanding concert that also featured Sydney guitarist James Muller. Her career has been a stellar one since moving from hometown Perth to New York in 2008. Aside from performing with Douglas and sax titan Joe Lovano, she was nominated as the 2012 Downbeat 'Rising Star' on bass, and has recorded several albums as leader. Highlights of her set included pieces from her album Sun Pictures; along with two sections of a larger suite based on Shaun Tan's graphic novel The Arrival; and her composition 'Speech Impediment' inspired by Megan Washington's 2014 TED talk. Oh's mastery of her instrument was on display throughout; her solos were concise, elegant, and inventive.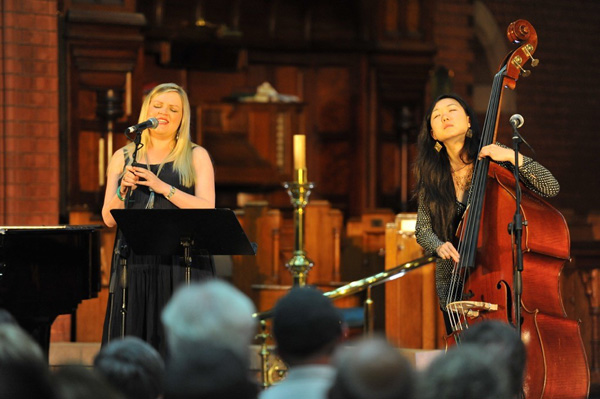 Gian Slater and Linda Oh (photograph by Hotshot Images)
Performances by Australian musicians during the Festival demonstrated yet again the high level of creativity and musicianship on offer in this country. Foremost amongst these performances was an incredible set by the Alister Spence Trio, surely one of the great piano trios at work today. The three musicians – Spence on piano, Lloyd Swanton on bass, and Toby Hall on drums – have been playing together for some twenty years, and the telepathic interplay between them is evident at every turn. Aside from their primary acoustic instruments, the trio employs an eclectic array of devices, including a toy music box, glockenspiel, laptop, and looped effects, allowing the music to range into diverse territories, ranging from minimalism and ambient, through to rock and deep grooves. The sheer excitement this trio generates with its music is a cause for wonder and celebration.
'Performances by Australian musicians during the Festival demonstrated yet again the high level of creativity and musicianship on offer in this country'
What might have otherwise been a mournful affair turned into a celebration of a life, when saxophonists Zac Hurren and Julien Wilson, supported by Cameron Undy on bass and Danny Fischer on drums, took the stage on Sunday morning to play the music of the late David Ades, whose premature death from cancer in November 2013 devastated those in the jazz community who knew him or knew his music. After a brief introduction, Hurren simply stated: 'We're going to play for Dave now.' And play they did, with a burning ferocity that brought to mind Coltrane or Rollins on a good day. The music they performed, intense and visceral, had been recorded by Ades in New York a few months before he passed away, and this concert was special for being its first public performance. Upon hearing this music, it struck me that Ades was trying to squeeze everything into one final irrevocable statement. Suitably titled A Life in a Day, the album was officially launched at the Festival on Julien Wilson's Lionshare Records.
Jazz's flirtation with the music of other cultures is nothing new; however, this year's Festival was notable for including a number of ensembles whose work fuses jazz with world rhythms. Aside from American saxophonist Jane Bunnett's Maqueque, an all-female band exploring the roots of Cuban music, there was Perth drummer Daniel Susnjar's Afro-Peruvian Jazz Group, whose high energy performance on Sunday night was a highlight; and the Black Jesus Experience, a Melbourne-based band who blend Ethiopian jazz with hip-hop and funk.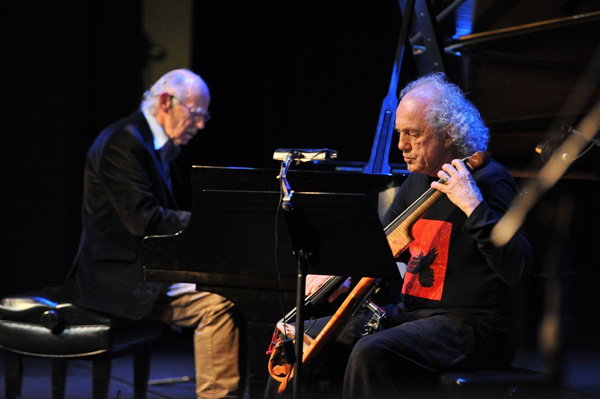 Mike Nock and David Friesen (photograph by Hotshot Images)
Chief amongst these performances was Joseph Tawadros's electrifying Sunday afternoon concert. In recent years, Tawadros has re-imagined the role of the oud in contemporary music, whether jazz, orchestral, or world. He began his set with a solo piece, before bringing on his band – Matt McMahon on piano, his brother James on the req or hand-drum, and Karl Dunnicliff on bass – to play a set-list drawn mainly from his latest album Permission to Evaporate. On the strength of this performance, it is hardly surprising that he has been collaborating and recording, in recent years, with some of the pre-eminent artists on the international stage, including Jack DeJohnette, Christian McBride, John Abercrombie, and Bela Fleck.
'And play they did, with a burning ferocity that brought to mind Coltrane or Rollins on a good day'
One-off meetings between musicians have long been a hallmark of the Festival. While they can be risky propositions, they can also deliver unique, spontaneous performances. This year, Mike Nock was teamed with American bassist David Friesen. Upon taking the stage, Nock confessed they had last played together nearly forty years previously, when recording his album Climbing (1979); and had managed only five minutes of rehearsal prior to the current performance. Had he not confessed, we would never have known, so in sync were these two musicians. It was as if they were taking up a conversation left unfinished all that time ago. They revisited some of the pieces from Climbing, and also played a number of Friesen's compositions. The two men, both now in their seventies, sat a few feet from each other, and the ease and intimacy of their musical friendship was palpable. Amongst the many fine performances I attended at this year's Festival, this one in particular stood out, a delight from start to finish.
The most radical change this year was the addition of a new outdoors venue, the Hume Garden Bank Stage, openly acknowledged by Adrian Jackson, artistic director of the Festival, as an attempt to broaden the appeal of the Festival beyond the strict jazz and blues communities. Scheduled acts included Thirsty Merc, Joe Camilleri & the Voodoo Sheiks, Paul Williamson's Hammond Jazz Party, Wilbur Wilde's Blowout, and the irrepressible James Morrison. I only managed a brief visit on the Saturday, but enjoyed the relaxed atmosphere, the food and wine, and the family-friendly vibe. Sadly, torrential rains on the Sunday afternoon disrupted the program, causing massive headaches for staff and crew.
Critical to Wangaratta's success has been the long-running National Jazz Award which has played a major role in bestowing wider recognition on the next generation of jazz artists in this country. The roll-call of past recipients reads like a who's who of contemporary Australian jazz: Barney McCall, Julien Wilson, Scott Tinkler, Steve Magnusson, Phil Slater, Zac Hurren, Kristin Berardi, and others. The featured instrument this year was bass. First place went to Sam Anning, with Alex Bonham and Tom Botting taking out second and third place respectively. Anning, still in his twenties, has been a strong presence on the local scene over recent years, regularly performing with Joe Chindamo, Paul Grabowsky, Aaron Choulai, Ben Winkelman, Zac Hurren, the late Allan Browne, and others. The award will provide him with $12,000, along with an ABC recording session.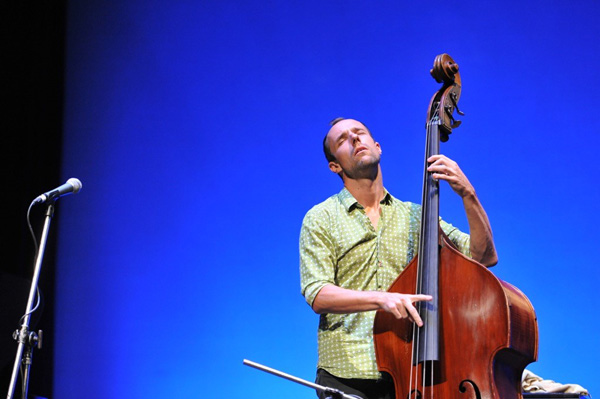 National Jazz Award winner Sam Anning (photograph by Hotshot Images)
'One-off meetings between musicians have long been a hallmark of the Festival'
And so to Lloyd Swanton's large-scale composition Ambon, an ambitious attempt to musically evoke the ordeals of Australian POWs at Ambon during World War II. The genesis of the work lay in the secret shorthand diaries kept by Stuart Swanton, Lloyd's uncle, during his internment. Stuart was part of Gull Force, dispatched in 1941 to defend the small island of Ambon against a much larger invading Japanese force. The battle, when it came on 30 January 1942, lasted just four days, with most of the Australians taken prisoner. Over the following three years, these men suffered a terrible ordeal, with nearly three-quarters of the thousand strong force dying before the war's end. Stuart Swanton survived longer than most, but finally succumbed to beriberi on 14 August 1945, the day before the announcement of the Japanese surrender.
Ambon was performed by a twelve-piece ensemble, made up of members of Lloyd Swanton's long-running band The catholics, along with several string players and percussionists. The musicians were intentionally put through an arduous set of paces: they were required to conjure bird calls and exotic vegetation; to play popular songs, military marches and waltzes that paralleled the camp concerts; to disassemble and reassemble their instruments, as soldiers would their rifles; and to play modified instruments that evoked the damaged instruments that Stuart and his mates salvaged and played in the camp.
The production was as much theatre as musical performance, and included passages narrated by Lloyd Swanton; extracts read from Stuart's diaries; overhead visuals that brought us closer to the story; even three brief hymns composed by Stuart in the 1930s and found amongst his papers after his death. At over two hours in length, the production was clearly in need of trimming, it was nevertheless a powerful and moving experience. Lloyd Swanton was driven to compose this music so that the brief life of Stuart Swanton, and others who perished with him, might not be forgotten. As an act of remembrance, Ambon was entirely successful.
2015 Wangaratta Festival of Jazz and Blues ran from the 30 October to 1 November, 2015. Des Cowley reviewed the 2014 Festival for Arts Update.
Arts Update is generously supported by The Ian Potter Foundation.