Fiction
Three new fantasy novels by Alison Croggon, Alison Evan, and Astrid Scholte
This month's survey features three bewitching novels from authors intent on transporting younger readers to other worlds.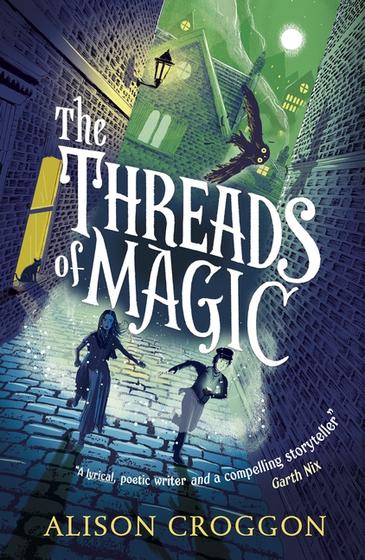 The Threads of Magic by Alison Croggon

Walker Books, $19.95 pb, 380 pp
In Alison Croggon's latest fantasy novel, The Threads of Magic, Pip and his sister El are living in a poor but snug apartment in the city of Clarel, bequeathed to them by Missus Pledge. Pip, always on the lookout for opportunities, scoops up a silver box from the sidelines during a street brawl. The opening of this box burdens Pip with an ancient and grisly relic: the shrivelled black heart of a child.
Pip carries the child's desiccated heart with him, even as it becomes apparent that assassins and other powerful enemies will kill, kidnap, and alter the known universe to repossess it. The heart belonged to a child named Clovis. Throughout the novel, his voice and power combine with Georgette's to help the young people face their demons and win a kingdom for themselves.
King Axel II's daughter Georgette can't wait to be a queen, to exercise power in her own right, but she is also troubled by dreams of a child sobbing uncontrollably. Her betrothal to the evil and enigmatic King Oswald is forced upon her; there will be a wedding in an indecently short time. Georgette flees to the comfort of her old nurse and friend, Amina, and there meets Amina's daughter Oni, who, with El and Pip, is fleeing her pursuers. Amina's identity as a witch places her in particular danger in a country that has an Office for the Extermination of Witches, but a greater horror is waiting – spectres who seemingly cannot be killed, created by the misuse of magic.
Croggon is assured in building a fantastical world. Readers are soon immersed in the forbidding alleys, velvety darkness, and dark dealings reminiscent of Leon Garfield's writing, complete with cliffhanger chapter endings. Pip is an arrogant upstart kept in check by his responsibilities towards Clovis, who veers between the personas of petulant toddler and a supernatural force. Georgette and Oni, strong young women, are united in their protection of the innocent El. The brutality of some scenes – in particular, torture – put this at the upper end for middle-grade readers.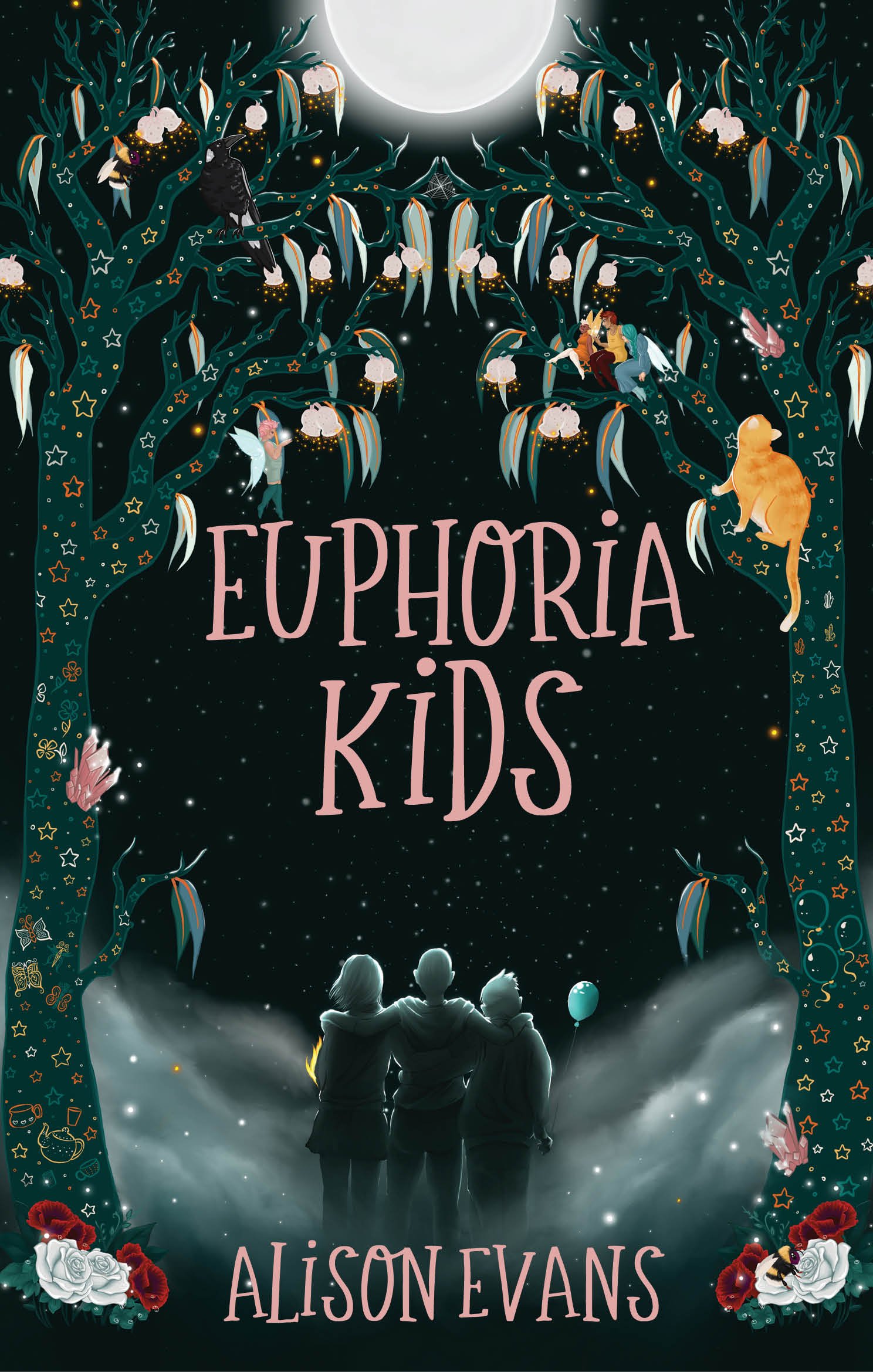 Euphoria Kids by Alison Evans

Echo, $19.95 pb, 252 pp
Saltkin is fifteen-year-old Iris's faery friend in the garden where Iris grew up. They are happy in their own company and counsel in Euphoria Kids by author Alison Evans. Non-binary Iris is contented living with Clover and Moss, close to the bush realm where they can commune with dryads. A rose quartz worn around their neck invites friendship with Babs, and fire flashes between the two. The only trouble is that Babs flickers in and out of invisibility, an advantage when she wants to escape the attention of teachers at school, but not great when Iris wants to get to know her better. A witch's curse is behind it all, and they work with a new arrival at the school to undo it. The malevolence of the fae in the bush realm, and a blank book from an op shop, complicate their plans.
In endeavouring not to make gender the central 'issue' in the novel, Evans has instead created a mystic mash-up. The line between realms is blurry: texting and video watching and homework assessments co-exist alongside talking trees and faeries preening their gossamer wings.
The strength of the characters' convictions, and the seductive quality of the enchanted bushland, are captivating. The complete lack of other students in the narrative makes the school experiences of Iris, Babs, and the boy much harder to read. This skilful writer could have provided a little more context here. The importance of finding your people is never more important than at this age and stage of life, but there should be some minor characters to bounce off first.
The three protagonists, despite their differences, are blessed with sympathetic adults in their lives. Their mothers, the owner of the café where they hang out after school, their art teacher, and even the witch who cursed Babs are all sensitive listeners who treat the teens as equals. All of them are ready with the comfort of candles, herbs, and tea, and this is the bubble of encouraging empowerment that the reader is invited into. (There's only one incidence of gender ignorance by an adult, and it is resolved through respectful enquiry and listening.) The dryads and Saltkin are the most parental figures, whose warnings and advice are appropriately disregarded by the three.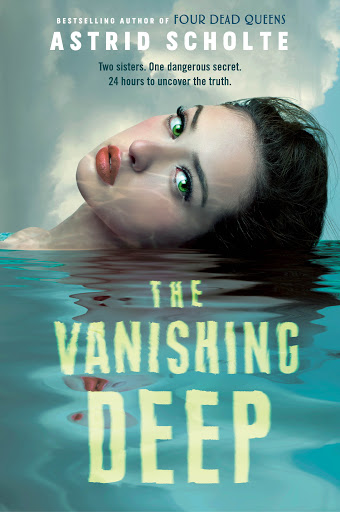 The Vanishing Deep by Astrid Scholte

Allen & Unwin, $19.99 pb, 423 pp
Tempest, called Tempe, is diving into the depths of the sea from her home on The Equinox in Astrid Scholte's The Vanishing Deep. Since the Old World drowned, new societies have formed to eke out a living on the rocks that remain. The nearby island of Palindromena, where Tempest's mother and father worked as head warden and head botanist, respectively, has sustained itself with a terrible industry directed by Nessandra. Dead bodies are kept in suspended animation in the macabre Aquarium until loved ones can raise the Notes (their currency) to revive them for a final goodbye. The catch is that the dead can only be reanimated for twenty-four hours, and during that time they mustn't suspect that they're dead.
It's not her parents that Tempe wants to resurrect – they disappeared after a boating accident – but her sister Elysea, who drowned two years before. Nessandra's son Lor is working in the depths of the Aquarium that day, assuaging his guilt for the accidental death of his best friend. He reluctantly agrees to act as warden for Tempe's reunion with Elysea, who reveals that she knows that their parents are still alive, and proposes that she and Tempe go and find them together. As Lor is covering for his friend Raylan, and wearing the echolink monitoring Elysea's revival, he must follow them.
Scholte has created a completely believable watery world, where most characters are doing more than floating just above the waves. The Equinox reads like a floating Brunswick Street, in contrast with the sepulchral civic bastion Palindromena. This reader's favourite supporting characters were the Remorans, pirates of this world, who make two attempts at profiting from the sisters.
The separate angers of Lor and Tempest are fully realised and propel them through the novel, taking the reader with them. The story's chapters are told in their alternating voices, as they inevitably draw closer together. The denouement, back on Palindromena, is both shocking and satisfying, like a plunge into a cool ocean.