Fiction
Lincoln in the Bardo
by George Saunders
From the outside, America seems defined by its brutal polarities – political, racial, moral, economic, geographic. The Disunited States of America. From the inside, the picture is more complex; American life is not lived at these extremes, but in the murky, transitional spaces between them. George Saunders's much-anticipated novel Lincoln in the Bardo is set in another murky, transitional space – between life and death – a space that proves a powerful allegory for the desires and sorrows of a nation conceived in liberty, but forged in blood.
In early 1862, Abraham Lincoln's eleven-year-old son William (Willie) died of typhoid fever. Lincoln had been president for less than a year; the Union had shattered and the Civil War raged. As families buried their sons, the president grieved for his own. Newspapers reported that Lincoln was so debilitated by grief that he returned to Willie's crypt alone at night to hold the boy's body. Saunders's novel imagines that this private tenderness has been observed, not by the living, but by a wakeful and garrulous chorus of ghosts.
In Tibetan Buddhist thought, the 'bardo' is a state between death and rebirth. As Saunders writes, 'consciousness is still operative but is no longer tied down to the physical body ... the mind is like some wild horse, suddenly untethered'. The narrators exist in this liminal state, aware of who they were but in denial. In their still-live minds they are merely sick, waiting to be revived, and so their purgatorial world is a spectral echo of America, riven by race, class, and gender. They spend their time in the bardo fiercely resisting the urge to move on, bickering like characters in a Beckett play, and retelling well-worn tales ('One must be constantly looking for opportunities to tell one's story').
Loudest in this decaying community are Hans Vollman ('not thin, somewhat bald, lame in one leg, teeth of wood'), a middle-aged printer whose skull was crushed by a falling roof beam before he could consummate his marriage, and Roger Bevins III, a young man who realised the beauty of the world seconds after making an irreversible, lethal decision. When the ghost of Willie Lincoln arrives, they devote themselves to saving the boy ('These young ones are not meant to tarry').
Literary attempts to inhabit a single day, such as Virginia Woolf's Mrs Dalloway, often find their power in the harnessing of detail, in psychological embroidery, finding metaphysical import in the rituals of daily life. Saunders eschews the micro for the macro and anchors his graveyard night in historical context rather than florid description. That Abe will leave the crypt a different man – a different president – to the one who entered is the grand promise of history, articulating how and why is the grand promise of this novel.
George Saunders is a literary heavyweight, often described as America's best living short story writer. Accordingly, much has been made of the fact that Lincoln in the Bardo is his first novel. This attention belies the (somewhat tedious) privileging of the novel over shorter forms of fiction, the notion that short stories are somehow less valuable, ambitious, difficult, or serious. What is far more interesting is how insufficient the label 'novel' feels as a means to describe Lincoln in the Bardo, for Saunders explodes the form, constructing his story entirely in fragments; the book reads as if he jammed a grenade into the middle of history and then arranged the pieces to create a vast, polyphonic collage.
The narrative engine of the book is the ghostly account of the fate of Willie Lincoln's soul.
Saunders originally conceived these grave-bound scenes as a play, and they remain entirely rendered in speech; however, it is a type of speech reminiscent of a Greek chorus – a collective narration handed from voice to voice, but united by a burden the ghosts ache to share with their grieving president:
Though on the surface it seemed every person was different, this was not true. At the core of each lay suffering; our eventual end, the many losses we must experience on the way to that end. We must try to see one another in this way. As suffering, limited beings – perennially outmatched by circumstance, inadequately endowed with compensatory graces.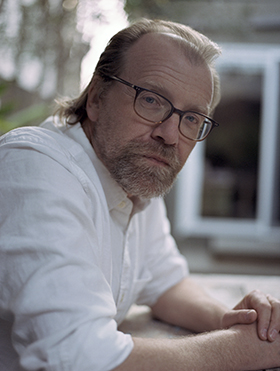 George Saunders (photograph by Chloe Aftel)Interspersed are chapters of historical quotations; some real and some imagined (though it is never revealed which), but few consistent with one another. Was Willie's death an accident or neglect? Was the moon full, crescent, or absent? Was Lincoln a thoughtful leader or a reckless megalomaniac? In these interludes, Saunders acts as curator rather than storyteller, entreating the reader to enter another bardo, between history and myth.
Readers familiar with Saunders's short fiction (most recently, the lauded collection Tenth of December, 2013) will expect the unexpected, though this book is a significant departure from the acidic irony of his previous work. Lincoln in the Bardo is often irreverent and ribald, but always earnest. There is power and poetry in this unashamed sincerity. This compelling mosaic of a novel will inevitably be labeled as experimental, which may alienate some readers. It shouldn't. This book has earned the critical praise it will receive. Lincoln in the Bardo is not wilfully exclusionary: it is a profound, ambitious, and original meditation on what it means to suffer, love, regret, forgive, and lead, written at another liminal time in American history when such questions echo louder than ever.