Dumbing Down: Outcomes-based and politically correct – the impact of the culture wars on our schools by Kevin Donnelly
Hardie Grant Books, $24.95 pb, 230 pp
Society
Dumbing Down: Outcomes-based and politically correct – the impact of the culture wars on our schools
by Kevin Donnelly
Readers of The Australian could not fail to have noticed the numerous articles written by Kevin Donnelly over the last few years complaining about the 'parlous' state of Australian education. With extraordinary repetition, Donnelly has called for a return to a syllabus approach, the books of the canon and teacher-directed literature classes, where students are presented with universal truths.
Donnelly is a former staff member for Kevin Andrews and an adviser to several Victorian Liberal Party Ministers. He has received funding from the Liberal-based Menzies Research Centre to support the publication of his earlier book Why Our Schools Are Failing (2004). The connections between Donnelly and the Coalition government run so deep that when the prime minister and his education ministers attack literacy teachers and public schools they enter the fray armed with Donnelly's inflammatory vocabulary: classrooms where children are taught 'incomprehensible sludge', 'rubbish' and 'gobbledygook'; 'nutty fads' in education such as 'the study of trash books and films'; and 'themes in curriculum straight from Chairman Mao'.
Continue reading for only $2.50 per week. Subscribe and gain full access to Australian Book Review. Already a subscriber? Sign in. If you need assistance, feel free to contact us.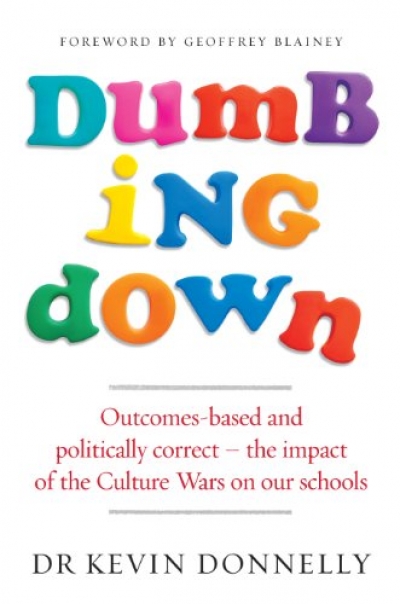 Dumbing Down: Outcomes-based and politically correct – the impact of the culture wars on our schools
by Kevin Donnelly
Hardie Grant Books, $24.95 pb, 230 pp