Black Swan State Theatre Company's terrific new production of Summer of the Seventeenth Doll joins other recent revivals such as those by Belvoir Street Theatre (2011) and State Theatre Company of South Australia (2015) in showing that Ray Lawler's 1955 classic has lost none of its power to entertain and provoke.
Some of the themes explored in the Doll – set in Melbourne in 1953–54 and first seen in Perth in 1956, a year after its Melbourne première – have, if anything, assumed greater significance for West Australian audiences in light of the state's current reliance on FIFO workers. But so much else has changed – appropriate for a play which is all about change. The ease of staying in touch has radically altered the nature of long-distance relationships. Indeed, the nature of relationships full stop has radically altered. To what extent Australian audiences also recognise themselves in what was seen as a ground-breaking work of social realism depicting, for the first time in this country, the real lives of real working class Australians, is debatable.
On a superficial level, The Doll is now a period piece, and on that level director Adam Mitchell treats it as such. However, that doesn't equate with nostalgia, and while Bruce McKinven's costumes and set design firmly places the play in 1950s Australia, the 'lightbox' configuration of the set, together with Trent Suidgeest's efficiently expressive lighting and Ben Collins' psychologically astute sound design is thoroughly contemporary. The resulting dissonance between these elements and the 1950s kitsch décor, replete with previous summers' sixteen Kewpie dolls scattered across the back wall like a disorganised skein of the once ubiquitous flying wall ducks, is one of this production's chief joys.
But the play's the thing. For sixteen years, Queensland cane-cutters Barney (Jacob Allan) and Roo (Kelton Pell) have come down to Melbourne for the five-month lay-off season, staying with Olive (Amy Mathews) and her mother Emma (Vivienne Garrett) in their Carlton house. Olive is Roo's girl; Barney formerly 'stepped out' with Nancy, who has since married; widow Pearl (Alison Van Reeken), who, like Olive, works as a barmaid, has been invited by her friend to stay as a kind of replacement for Nancy. Olive, Emma, Barney, and Roo have watched next-door neighbour Bubba (Mackenzie Dunn), now twenty-two, grow up, and she is treated as part of their 'family'.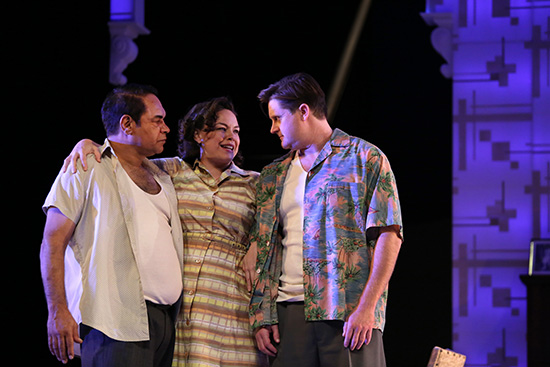 Kelton Pell, Amy Mathews, and Jacob Allan in Black Swan State Theatre Company's Summer of the Seventeenth Doll (photograph by Philip Gostelow)
It has been customary each year for Roo to present Olive with a Kewpie doll. This year's, the seventeenth, will however be the last. Barney and Roo – the former an ageing Lothario, the latter once a gun cutter and respected ganger but now superseded by young cane-cutter Johnnie Dowd (Michael Cameron) – find themselves increasingly at loggerheads; the situation is not helped by the fact that Roo has turned up in Melbourne broke.
As tensions mount and spill over into physical violence, relations also deteriorate between Roo – who finally seems resigned to change – and Olive, who is anything but. Only a burgeoning relationship between Bubba and Johnnie strikes a note of optimism, but even here Lawler's excellent script introduces sceptical overtones.
Despite the centrality of the relationship between Roo and Barney on the one hand and Roo and Olive on the other, this is very much an ensemble effort, and the cast is uniformly excellent. But there are firsts among equals. Pell – the first Aboriginal actor to play Roo – stands out for his quiet power, utterly natural delivery, and eloquent unforced facial and bodily gestures. Allan's Barney is surprisingly layered and complex. We are never sure whether he's a chancer, a larrakin, a braggart, or a good mate capable of genuine self-refection.
Amy Mathews, as Olive, is equally convincing as the woman who refuses to grow up, bringing a subtly deranged quality to the part, especially in the final act, while Van Reeken makes palpable Pearl's conflicted personality as she swings between propriety and desire. Veteran Garrett is a hoot as Emma – the New Year's Eve singalong at the piano is delicious – while, at the other end of the career spectrum, newcomers Mackenzie and Dowd bring a freshness but also a prophetic archness to Bubba and Johnnie.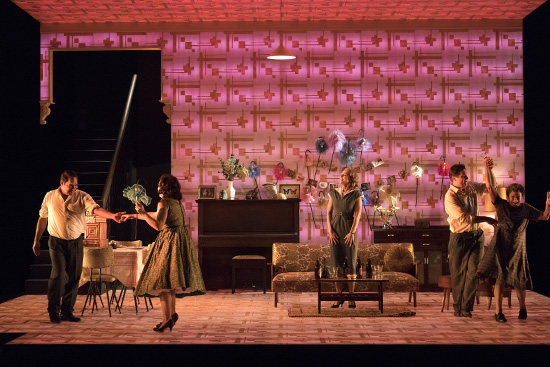 The cast of Black Swan State Theatre Company's Summer of the Seventeenth Doll (photograph by Philip Gostelow)
There is some unevenness in sustaining the 'ocker' diction, while Mitchell's direction is not always as smooth as one would wish. Perhaps the design could also have made more of that counterpoint between bush and suburban mythologies. But overall this new production is an extraordinary achievement which manages to straddle the requirements of 'period' fidelity and contemporary innovation in the way the best Shakespeare production might, or even the best historically informed performances of classical music.
Summer of the Seventeenth Doll (Black Swan State Theatre Company) continues at the Heath Ledger Theatre until 20 May 2018. Performance attended: 9 May.
ABR Arts is generously supported by The Ian Potter Foundation and the ABR Patrons.