After the vast proportions of her 2013 play, Chimerica (seen here in 2017) – a multi-scene, huge-cast exploration of American–Chinese relations – Lucy Kirkwood's The Children – a one-set, three-character play – might seem like something of a chamber piece. But if it is physically small in scale, thematically it is even more challenging.
It takes place in a dilapidated cottage on the crumbling east coast of England just outside the exclusion zone of a ruined nuclear power station. As the play begins, we see a woman attempting to staunch a ferocious nosebleed. This, we discover, is Rose, a nuclear scientist who used to work at the plant and who has unexpectedly appeared at the cottage of two erstwhile colleagues, Hazel and Robin. Kirkwood is adept at drip-feeding her audience relevant information and dropping hints like depth-charges which explode at the play's climax, and she gradually reveals the details of the disaster. An earthquake followed by a tsunami echoes the Fukushima catastrophe, and the devastating results are much the same. Hazel and Robin have retreated from their ruined house to this cottage and are attempting to live as normal a life as possible in the circumstances. The super-efficient Hazel keeps the house running while Robin heads off each day, Hazel tells Rose, to tend their cows, stranded in the exclusion zone.
At first it appears that Kirkwood is channelling Harold Pinter's Old Times (1971), and Rose's sudden appearance does indeed cause as much disruption as does Anna in Pinter's masterpiece. But where Pinter's play is an exploration of the power of memory and sexuality, Kirkwood is more interested in the concept of responsibility – the responsibility of her characters' generation to the environment, to following generations, and to one another.
Kirkwood shows in chilling fashion just how quickly the abnormal – the Geiger counter which is run over everything, the electricity which is strictly rationed, the need for 'clean' water than water from the tap, the separate toilets for 'number ones and number twos' – become normal.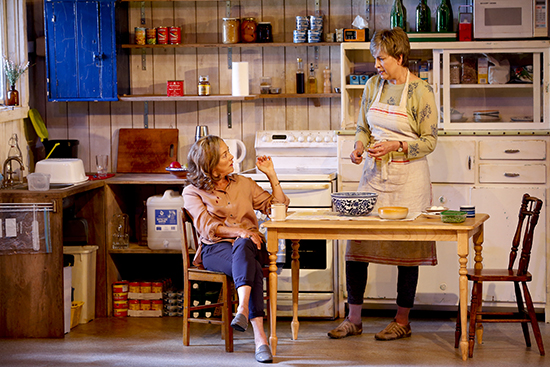 Kirkwood's touch is both devastating and light, and director Sarah Goodes adroitly balances the comedy and horror in the play. Designer Elizabeth Gadsby's cottage feels both lived in and temporary. Steve Francis's sound design is sparing and effective. Most prominent is the sound of the sea, a constant reminder of the tsunami and the ruined village which, according to legend, crumbled into the sea and whose bells Rose still claims to hear. Despite our arrogant efforts to tame it, nature remains uncontrollable.
Goodes has an extraordinary cast to work with and has produced a superb example of ensemble performance. Pamela Rabe's Hazel is a woman whose veneer of supreme competence hides deep reserves of fear and anger. Never has a loaf of bread been sliced with such concentrated ferocity. The most vulnerable of the trio, she clings to her daily routines as a way of attempting to normalise the unbearable. The motto of this paragon of self improvement is, 'If you're not going to grow: don't live.' By turns imposing, uncertain, and distraught, Rabe captures the essence of this complex creature. In a presumably deliberate plan to lighten the mood, when the electricity finally returns, Rose plays music to which, at a party many years ago, the three of them had performed a routine which Hazel invented. Rose dances alone, then Robin joins her. Finally, they cajole the furious Hazel to join them. At first, she reluctantly agrees, only because they are performing it incorrectly and for Hazel everything must been done properly. Gradually, she relaxes into it; until reality once again intrudes, we get to see the free spirit that has long since been crushed. In the play's final moments, she speaks for so many of us when she admits, 'I don't know how to want less.' Typically, she is the one to make arrangements for an outcome to which she herself is not yet committed.
William Zappa's Robin still has remnants of the larrikin, boyish charm that would have attracted both women to him forty years earlier. As Zappa careers around the stage on a rediscovered tricycle, Kirkwood's title takes on extra meaning. Does The Children refer to the generations that followed the baby boomers, or is it a comment on a generation that never really grew up? As the play progresses, Robin reveals himself to be a fatalist; the tenderness with which he comforts the distressed Hazel is very moving.
Sarah Peirse's Rose presents herself as scatty and impractical, but she is the moral centre of the play. Peirse imbues her from the start with a sense of mystery. There is obviously subtext to which we are not at first admitted. It is she who, after a lifetime of irresponsibility, is aware a reckoning needs to be made. As she says: 'We can't have everything we want because we want it.'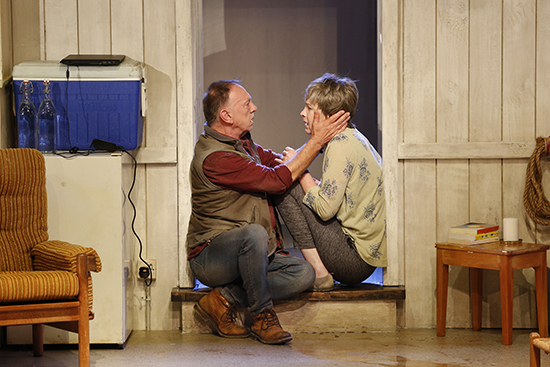 Kirkwood is proving herself to be an extraordinarily ambitious playwright. Having previously explored the machinations of super powers and here the results of nuclear apocalypse, in her most recent play, Mosquitoes (2017), Kirkwood has taken on the universe. It will be interesting to see what comes next.
The Children (Sydney Theatre Company/Melbourne Theatre Company) continues at the Drama Theatre, Sydney Opera House, until 19 May 2018. Performance attended: 3 April.
ABR Arts is generously supported by The Ian Potter Foundation and the ABR Patrons.