Opera
Summer of the Seventeenth Doll
State Opera South Australia
It gives some indication of the relative youth of Australian theatre that Ray Lawler, author of the watershed 1955 play Summer of the Seventeenth Doll ('The Doll' for short), is still alive. Ninety-nine years old, he apparently even had a hand in this production, just the second staging of Richard Mills and Peter Goldsworthy's largely faithful operatic adaptation. Premièred by Opera Victoria in 1996, then remounted by Opera Australia two years later, the opera has not been performed since. It has now been dusted off, with minor changes made by composer–conductor Mills, by State Opera South Australia as part of its three-year 'Lost Operas of Oz' project. It's a mark of Anglo-Australian culture's immaturity, too, that it remains restless and amnesiac, almost wilfully ignorant of the past in its perpetual quest for the 'next big thing'.
Well, either that or these 'lost' operas really are deserving of their fate, justly forgotten forays into a highly particular, quintessentially European tradition not easily assimilated into Australian cultural modes. Lyndon Terracini, artistic director of Opera Australia since 2009, maintains that, of the more than 160 operas commissioned by the Australia Council since 1973, none has entered the repertoire. Perhaps, but it seems to me that the hunt for some elusive 'Great Australian Opera' is a misguided and perhaps quixotic project. I doubt that we would recognise any opera thusly even were it to come along, such is the straitened nature of the cultural discourse in Australia today. Terracini's claim also elides the fact that the most interesting operas being made in this country, by companies like Pinchgut and Chamber Made, are generally occurring on the fringes rather than in the mainstream. Finally, I think, it makes us especially unforgiving of operas that, while unlikely ever to be canonised, are nevertheless important or at least intriguing.
In response to its 1996 première, more than a few critics put Mills and Goldsworthy's Doll in this category. Batavia (2001), their subsequent collaboration, was even more divisive – the Sydney Morning Herald's John McCallum described it as 'the vilest thing [he had] experienced in the theatre' – but The Doll, reconceived by Mills and Goldsworthy as a two-act chamber opera (or singspiel, as some early critics had it), is by no means objectionable. In fact, it is sometimes very good. By the end, I found its tragic sweep, given renewed emotional heft by Mills' dynamic score and Goldsworthy's spare libretto, properly moving.
For the uninitiated, The Doll is set during a hot Melbourne summer in 1953 and sees the return from Queensland of cane-cutters Roo (bass-baritone Joshua Rowe) and Barney (tenor Bradley Daley) following an unusually bad season. Roo has injured his back, and his status as alpha male has been threatened by young newcomer Johnny Dowd (bass-baritone Nicholas Cannon). At the centre of the drama is Olive (soprano Antoinette Halloran), Roo's barmaid girlfriend of sixteen years, whose life is riven by nostalgia for a vanishing past and a fierce commitment to her sexual and financial autonomy.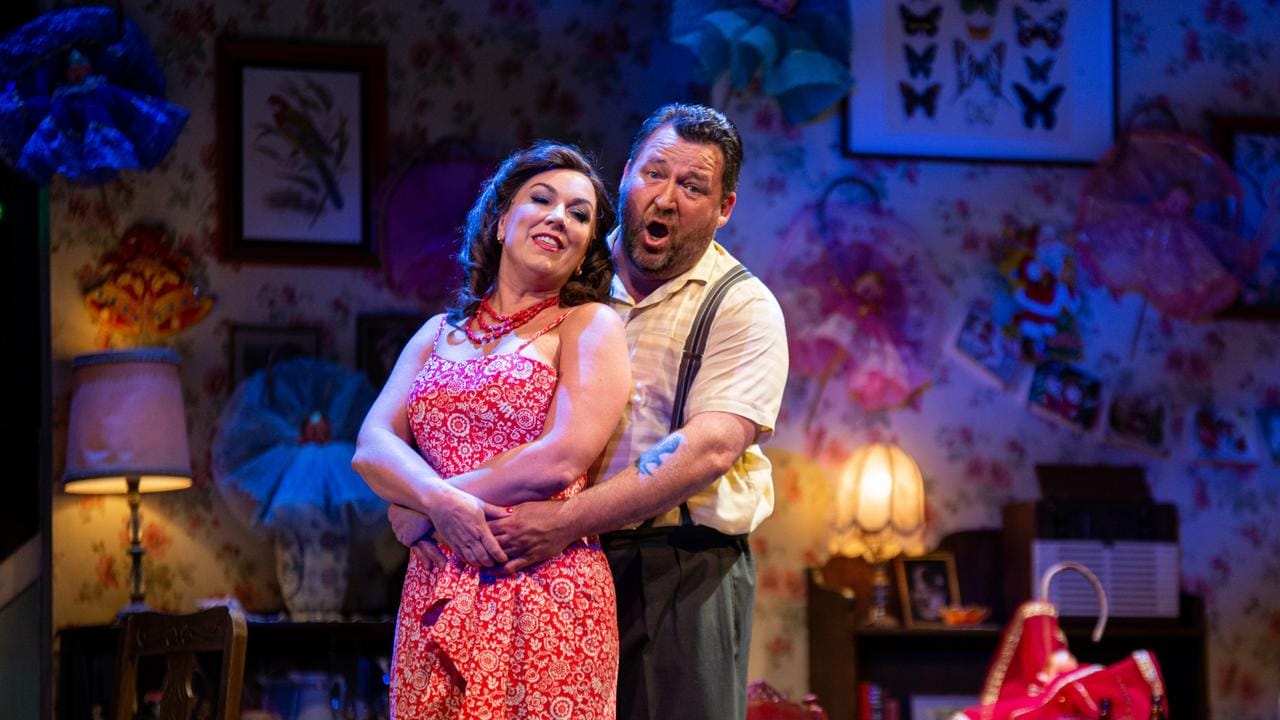 Olive (Antoinette Halloran) and Roo (Joshua Rowe) in Summer of the Seventeenth Doll (State Opera South Australia)
That brief summary only hints at the excess of plot in the original work – a big, old-fashioned, well-made play in three impeccably structured acts – but suffice to say Goldsworthy has his work cut out to bring the necessary brevity to his libretto. His solution, partly, is to turn much of the dialogue into (sometimes overlapping) soliloquies, retaining but largely interiorising Lawler's vernacular language. Mostly it works, but there remains an uncomfortable amount of exposition for an opera, and it's hard to tell if the laughs generated by the incongruence of phrases such as 'gidday, mate' in this context are calculated or simply unavoidable.
Mills's score, cannily inflected less with the popular styles of the day than with those that would have already become nostalgic by the 1950s, such as vaudeville and music hall, is varied and zestful, making striking use of tympani, clipped strings, and harp flourishes. I was occasionally reminded of Leonard Bernstein in its rich emotionality and sometimes strident percussiveness, while witty diegetic effects such as the sounding of bells for trams provide extra interest.
On the whole, this is a production that eschews novelty. While it's laudable, if too rare, to see an all-female design team, Simone Romaniuk's Carlton boarding house set, bedecked in 1950s kitsch, lacks imagination. More detrimentally, as lit by Trudy Dalgleish and featuring an oddly verdant verandah, the set fails to evoke the necessary atmosphere of stifling, claustrophobic suburbia. There was something about seeing The Doll as an opera that, for the first time, made me connect Lawler's play with the contemporaneous works of Tennessee Williams, their shared themes of ideals lost and pasts destructively longed for, and their almost tangible senses of deranging, eroticising heat, which I found myself wishing Joseph Mitchell's direction had been able to tap.
As it is, I think Mitchell's rendering of the opera, while eliciting commendably disciplined performances from the cast, is a fundamentally conservative one. I've always read Olive's final rejection of Roo as a statement of commitment to her own freedom – albeit one compromised by the time's restrictive gender roles – and as a blow struck against marriage and all the repression that that convention entailed in 1950s Australia. Contrary to the image of a distraught Olive cradling the titular kewpie doll as though it were her baby, the play's tragedy belongs to Olive, not because she refuses to grow up but because she stands to lose virtually everything by claiming her independence as a woman.
Still, Mills and Goldsworthy's opera shows Lawler's play to be resilient as well as merely enduring. Like Anthill Theatre's irreverently modernist 1983 staging of The Doll in the 1980s, its heightening also serves to emphasise the play's roots in classical tragedy, a significant formal inheritance sometimes obscured by its laconicism. I was left with a painful impression of emptiness, of hope obliterated, that felt if not exactly new then at least refreshed – and certainly intriguing.
---
Summer of the Seventeenth Doll is being performed by State Opera South Australia at Her Majesty's Theatre from 14 to 20 November 2020. Performance attended: November 14.