The Ratline: Love, lies and justice on the trail of a Nazi fugitive by Philippe Sands
Weidenfeld & Nicolson, $34.99 pb, 432 pp
History
The Ratline: Love, lies and justice on the trail of a Nazi fugitive
by Philippe Sands
Hunting Nazis is an almost guaranteed reading pleasure – the joy of the chase, plus the moral uplift of being on the side of virtue. I started Philippe Sands's book with a sense both of anticipation and déjà vu. A respected British international human rights lawyer with the proven ability to tell a story, Sands should be giving us a superior version of a familiar product. Many readers will remember his book East West Street (2016), which wove together the Nuremberg trial, some family history, and the pre-war intellectual life of Lemberg/Lviv. The latter produced not only Raphael Lemkin, theorist of genocide, but also the lesser known Hersch Lauterpacht, theorist of crimes against humanity, as well as Sands's maternal grandfather, Leon Buchholz.
In 2018, Sands came to Australia spruiking the book, of which he had made a musical version (East West Street: A Song of Good and Evil) with two narrators, including himself, a singer, and a pianist. I did not attend his performances (which in retrospect I regret), but I did participate in one of Jenny Brockie's Insight programs a few years back in which a friend and collaborator of Sands who appears in East West Street – Niklas Frank, son of the Nazi governor-general of wartime occupied Poland – gave a star turn, denouncing his father and showing clips of himself visiting the Jewish Museum with tears in his eyes. This made me feel a bit squeamish.
Continue reading for only $2.50 per week. Subscribe and gain full access to Australian Book Review. Already a subscriber? Sign in. If you need assistance, feel free to contact us.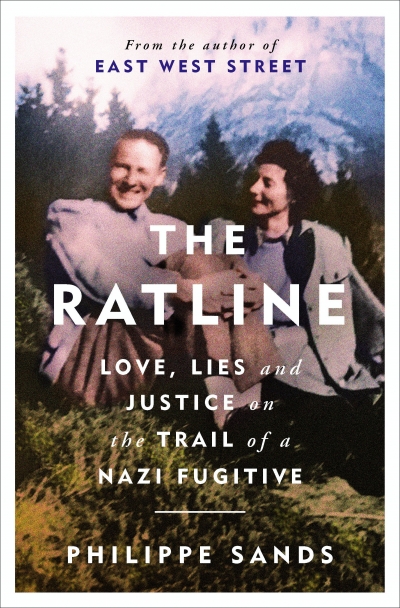 The Ratline: Love, lies and justice on the trail of a Nazi fugitive
by Philippe Sands
Weidenfeld & Nicolson, $34.99 pb, 432 pp