Fiction
The Shepherd's Hut
by Tim Winton
There are no sheep grazing anywhere near the shepherd's hut of Tim Winton's new novel. A few wild goats in the desolate landscape, some broken machinery: that's all. The narrator, fifteen-year-old Jaxie Clackton, prime suspect for killing his abusive father, is on the run from the police. His scanty food supplies have dwindled almost to nothing and he is desperate for water. He has no gun and his only knife is no use for hunting.
Jaxie loved his mother but couldn't save her from the physical violence she suffered from her husband, nor from the cancer that killed her. The husband's accidental death is a reprieve for Jaxie, who has been physically and verbally abused all his life. But, believing that he will be accused of murder, he sets out on a journey that is both an escape and a quest. Jaxie hopes to be reunited with the young girl he loves. Because both are underage and they are cousins, the odds are stacked against their being allowed to be together, but he is buoyed up by the belief that she loves and understands him, as no one else has ever done.
Jaxie's journey, alone, unprovided, and on foot, in the harsh Western Australian desert country, is vintage Winton. Nearly all Winton's novels take their readers on a journey. The starting point may be a quest or an escape; it may begin in restlessness, fear, anger, or desperate need. Winton's heartland is the coastal region around Fremantle, but he writes with equal authority about the western desert region in which Jaxie struggles to survive. As in other Winton novels, the physical journey stirs the protagonist to self-discovery. If he is to survive as a human being, Jaxie must experience kindness and learn to trust. The solitary old man, Fintan MacGillis, who lives in the shepherd's hut, is his last chance. Good shepherd or good father; it all depends on him.
Jaxie hears the old man singing and comes close enough to stare through binoculars:
It's just an old fella. Mostly bald. Walking dainty like his feet's tender. And still singing. With some things in his hand. He puts them down on a drum. Sits on a milk crate in the shade. Pulls on a pair of gumboots. Then he snatches up the things from beside him and shuffles out in the sun and leans against the verandah post and I see him clear enough. Singlet. Baggy arse shorts. Thick specs. He's short and thick this fella. Red in the face. And that stuff in his hand, it's a knife and steel. He looks around, kind of slow and lazy. Stops singing then and just hums a minute while he hones the knife. And he knows how to freshen up a blade, that I can see straight up.
Although the action of The Shepherd's Hut is convincingly realistic in every moment of Jaxie's harsh journey, it also presents, more or less overtly, a Christian parable. The old man in the hut, who turns out to be a disgraced Irish Catholic priest, revives the thirsty stranger, and bathes, feeds, clothes, and shelters him, according to Christ's commandment. Jaxie, who has learned to suspect nearly everyone, is wary. At first, he thinks that the old priest has been exiled because of sexual abuse crimes. But the two of them settle down into a companionable and mutually trusting routine. What the priest has done to earn a lifetime of expiation in the desert remains a mystery.
The shepherd's hut is well set up with a Coolgardie safe and at least six months' supply of tinned food. The old man has a rifle but is too frail to hunt kangaroo. He gets fresh meat by means of an ingenious water trap that brings wild goats close enough to be killed with a knife. He has some books, and a rich store of songs and poems, held in memory. Twice a year, a church emissary comes to replenish provisions and to persuade him to make his confession. He always refuses. It's not about doctrine, nor about sex: in these matters, Fintan says, 'discretion will generally keep a fella safe'. There is something else that 'They' – the church authorities – want to know.
It's a life sentence, but for what? Winton leaves clues but never spells it out. The old man seems happy enough, reading, dreaming of Ireland, and singing 'The Wild Colonial Boy'. He is waiting for something to happen. Meanwhile, he tends Jaxie's wounds and tries to teach him trust.
Good shepherd, bad shepherd. Sheep and goats. Winton sets up these contrasts, and leaves them for the reader to work on. The notion of expiation in the desert made me think of Holman Hunt's weird and wonderful painting The Scapegoat (1854–56). In accordance with Pre-Raphaelite ideas of realism, Hunt travelled to Jerusalem, where he bought a white goat. He took the goat to the margin of the salt-encrusted Dead Sea, where he set up his easel. A piece of red cloth, representing the sins of the world, was tied to the goat's horns. Hunt was dramatising the Old Testament text in which 'the Goat shall bear upon him all [the people's] iniquities unto a land not inhabited'. This, in Christian belief, is in accord with the idea of the suffering Christ as the bearer of the world's sins and sorrows.
Intended or not, the link between the Holman Hunt painting and Winton's desert landscape is reinforced by the image, beautiful and cruelly deceptive, of the vast shimmering salt lake within the dry land. And, without spoiling the suspense of the story of Jaxie and the old man, it can be said that a sacrificial goat is part of its appalling conclusion.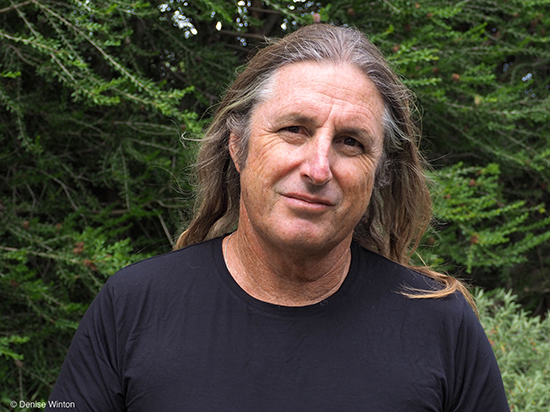 Tim Winton (photograph by Denise Winton)
Tim Winton's novels have been described as 'metaphysical thrillers'. Although the signposts to metaphysical meanings are more boldly marked in The Shepherd's Hut than in its predecessors, the thriller element carries Jaxie's story effortlessly. Winton forgoes his own extraordinary descriptive gifts by making this a first-person narrative. Jaxie tells the story in a laconic, unshockable voice that is varied by some remembered dialogue.
The novel is an Antipodean Huckleberry Finn, without the comedy that lightens Huck's story, but with a similar moral education. If it lacks the more subtle interaction of character and scene of Winton's The Eyrie (2013), and the human riches of Cloudstreet (1991), its narrative drive makes The Shepherd's Hut a powerful experience.