Worldly Philosopher: The odyssey of Albert O. Hirschman by Jeremy Adelman
Princeton University Press (Footprint Books), $74 hb, 754 pp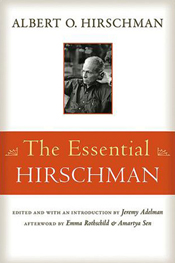 The Essential Hirschman
edited by Jeremy Adelman
Princeton University Press (Footprint Books), $47.95 hb, 401 pp
Economics
An intellectual biography of a prolific theorist
Albert O. Hirschman (1915–2012) was a development economist and political theorist whose work is essential reading for anyone interested in understanding how economic life figures in the political worlds we inhabit and the ways in which we give meaning to our lives in market-based societies. Perhaps best known for the distinction between 'exit' and 'voice', Hirschman was a prolific theorist who wrote about the role individual moral virtue and individual self-interest should play in economic activity, how economic growth in the developing world might best be achieved, and the reactionary rhetoric of neo-conservative politicians in the late 1980s, to list but some of the areas he covered. Hirschman's writing was elegant; further, he understood the importance of the well-chosen word. He was, as this new biography by Jeremy Adelman shows, an economist for whom the essays of Montaigne were as important as the writings of Ricardo and Smith.
Hirschman, it must be said, led a remarkable life, as even the most cursory reading of this biography will attest. Many devoted readers of his work in the social sciences would, I imagine, be completely unaware of the extent to which this writer of scholarly tomes was politically and culturally engaged with some of the most significant historical events and movements of the twentieth century.
Continue reading for only $2.50 per week. Subscribe and gain full access to Australian Book Review. Already a subscriber? Sign in. If you need assistance, feel free to contact us.