Fiction
Secrets and broken hearts
Three new novels of friendship
When Anne Shirley dreamed of finding a 'bosom friend' in Avonlea, she did more than conjure Diana Barry into existence. The heroine of Lucy Maud Montgomery's Anne of Green Gables (1908) imprinted on us an almost impossible standard for what to expect from our earliest female friendships: a lifelong source of joy sustained by a mutual devotion to each other's best interests. More often than not, however – as the popularity of Elena Ferrante's Neapolitan novels attests – childhood friendships are as complicated as any other. And when they rupture, whether through accident, argument, or design, the aftershocks can last well into adulthood.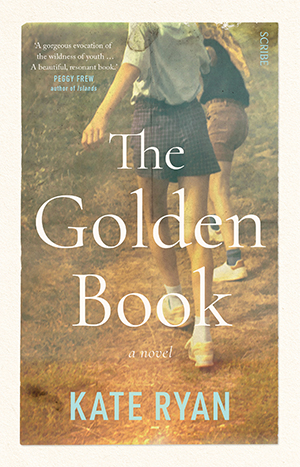 The Golden Book by Kate Ryan

Scribe, $29.99 pb, 256 pp
In Kate Ryan's accomplished début, The Golden Book, the relationship between the protagonist, Ali, and her childhood friend, Jessie, is a complicated one. In this case, the 'golden book' of the title isn't some rosy-eyed reference to carefree days of innocence now gone, but an actual document, a record of the risks and initiations undertaken by the girls as they grow up in a small town on the New South Wales coast. Years later, Ali – now a mother herself and having long since left both the town and her friendship with Jessie behind – receives a phone call to say that Jessie has died. Returning 'home' for the funeral, Ali is forced to reckon with her fraught memories of their friendship and what responsibility she bears for the devastating way in which it ended.
Jumping between the life of the adult Ali, with all its complications, and vivid flashbacks of her time with Jessie, The Golden Book moves seamlessly across time. Ryan's language is direct and unshowy; she paces the story with admirable restraint, letting Ali's memories unfurl slowly until the full picture of what happened between her and Jessie is revealed.
The chief joy of the novel is in Ryan's nuanced portrayal of childhood friendship. Wild Jessie, with her boundless freedoms, artistic but disengaged mother, and host of older brothers, is an object of envy to the more cautious Ali, with her schoolteacher parents and strict routine. Yet Jessie, for all her recklessness, can also be suffocatingly needy, and Ali wields one significant advantage over her friend, which she is not afraid to use to her benefit. Ryan has a keen eye and an empathetic understanding of these shifting power dynamics; the relationship between the two girls feels realistic and fully realised. Also drawn sensitively is the relationship between Ali and her pre-teenage daughter, Tam, whose intense friendship with another girl once more brings Ali's childhood fears to the surface. The result is a thoughtful and unassuming novel that raises questions about guilt, blame, and the fickleness of memory.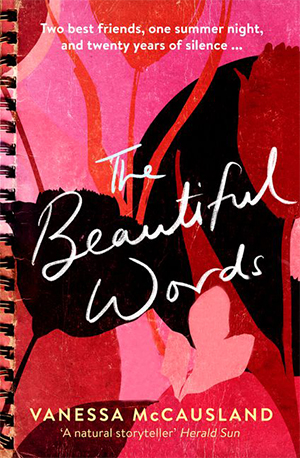 The Beautiful Words by Vanessa McCausland

HarperCollins, $32.99 pb, 368 pp
Dealing with similar themes but with a very different feel is journalist Vanessa McCausland's third novel, The Beautiful Words. Here, the two best friends in question are Sylvie and Kase, who share an idyllic childhood growing up on Sydney's northern beaches – until one night, when a party on the beach leads to a tragedy, causing Sylvie to lose her short-term memory and the friends to never speak again.
Twenty years later, Sylvie, now working as a cleaner of deceased estates and still suffering from memory problems, receives an invitation to attend Kase's fortieth birthday party on a windswept island off the Tasmanian coast. Desperate to find out what happened, she accepts. But just as the friendship between the two women starts to repair, they discover that their mothers have a shared and equally fractured history of their own.
Told across four timelines – the current day, the friendship between Sylvie and Kase, that of their mothers, Franny and Eve, and the night of the beach party – what could be an overly complicated structure is made relatively straightforward thanks to clear signposting. McCausland uses this framework effectively, allowing the separate storylines to illuminate each other and the tension to build until the secrets at the heart of each friendship are exposed. She creates a strong sense of place at each turn and captures well the shifting tides of adult friendship and how allegiances shift as circumstances change. In particular, she articulates the discombobulation of coming back to a friendship after many years away; of knowing so much about a person's early life and so little about the person they have become.
After such a sustained build-up, however, the conclusion feels rather rushed. In the final section of the novel, the plot takes a detour into #MeToo territory. It's an unexpected turn but a welcome one, giving the plot a much-needed shot in the arm and saving it from predictability. Frustratingly, it occurs too late in the narrative to feel like anything other than a plot device to facilitate a happy ending. It seems like a missed opportunity, not only for the novel to explore the questions it raises about wealth, power, and influence, but also the ways in which those who possess them can dictate our memory of events.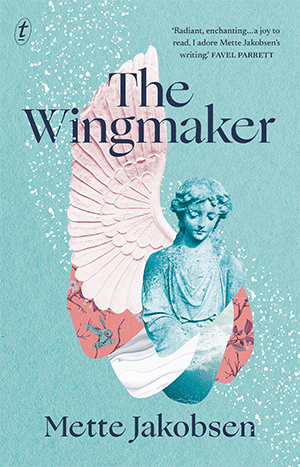 The Wingmaker by Mette Jakobsen

Text Publishing, $24.99 pb, 224 pp
For Vega, the protagonist of The Wingmaker, the third novel by Danish-Australian author Mette Jakobsen, it's the desire to avoid human contact altogether that prompts the events of the novel. As the narrative begins, the art conservator has arrived at the icy, dilapidated Seafarers' Hotel looking to be alone. Suffering from a broken heart both literally and metaphorically, having recently suffered a heart attack and been dumped by her partner, Vega is hoping the ramshackle hotel will offer her not only a chance to recover but an opportunity to work on her latest commission: reconstructing the wings of a beautiful but sad-looking marble angel. But her enforced solitude is not to be. Already inhabiting the hotel is an eccentric handyman, Gunnar, who is battling a few demons of his own. Soon he's joined by others: a group of tango-dancing local farmers and, most importantly, Vega's estranged adopted sister, the freewheeling, party-loving Suze.
In the hands of other writers, such a quirky set-up might seem painfully contrived and embarrassingly clunky. It's a credit to Jakobsen's writing and her lightness of touch that it comes across as charming instead. Jakobsen is an expert at creating jewel-like moments that often feel filmic. At times, the novel feels more like a collection of interconnected scenes than a coherent whole: an accruement of impressions that never quite become more than the sum of their parts. The characters seem to exist in a vacuum, free of any context beyond the odd memory or two recounted by Vega. Without those foundations, it's difficult to engage with them on a deeper level or to care much about what happens to them when the book ends.
That said, however, there's a lot to like about The Wingmaker. It's quietly beguiling, and there's a clear lesson to be gleaned about the importance of being vulnerable and accepting help as a path to healing. With a happy ending virtually guaranteed, the reader is free to enjoy the journey, every whimsical step of the way.