We understand that shopping online can be confusing so we have prepared the following step by step guide to subscribing to ABR.
Step 1 - From the Subscribe menu item above, select Subscribe Online to go to the subscriptions page. Open a new browser window to do this so that you can continue to follow these instructions.
Step 2 - Complete the Personal Details section of the subscription form. In this section we ask you to specify a Username and Password. This is so that you can log in to the site in the future to pay or cancel your subscription renewal. You will also be able to view a history of your subscriptions.
Step 3 - Complete the Subscription Details section of the subscription form. Select the appropriate one or two year subscription from the available opitons. For Australian customers, you also have the option of having a second copy of ABR delivered.
Step 4 - Enter the letters you see displayed in the box under the Image Verification heading. This is an anti-spam measure designed to ensure only real people are filling the form. Once you have entered these letters, click on the Submit button to continue with your order.
Step 5 - You will then be taken to a page displaying your order details and totals. After you have reviewed this information and confirmed that it is correct, click on the Submit button to proceed to the PayPal payment gateway where you can pay by credit card or using your PayPal account. PayPal like to encourage you to sign up for an account and they don't make it obvious you can pay by credit card but as you will see in the next step, it's very easy.
Step 6 - If you have a PayPal account then you probably don't need too much more help from here. Simply log in with your PayPal account details and proceed to payment. The rest of these steps are for those want to pay directly by credit card. When you first arrive at the PayPal gateway, underneath your order details, you should see the following login box for those with a PayPal account. In small print below the login fields is a link to Pay by Credit Card, which we have circled red in the following image:

Step 7 - The Final Step. Once you have clicked on this link you will be taken to the following page where you can enter you credit card details and complete your order: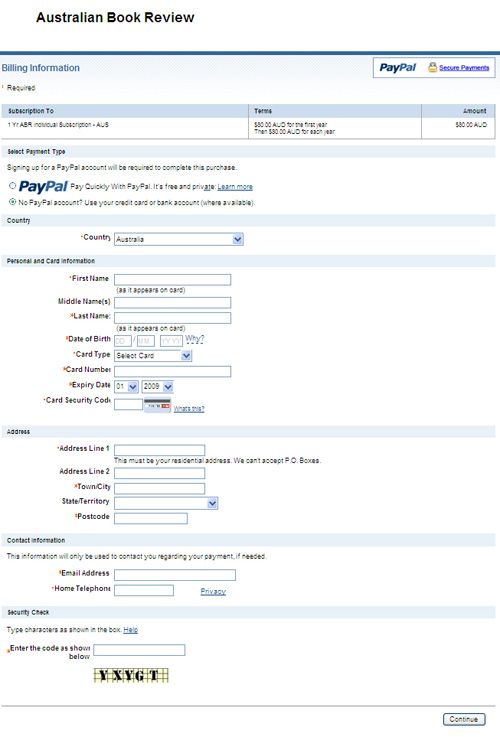 Thank you for subscribing to the Australian Book Review