Thom Sullivan
Peter Boyle's Enfolded in the Wings of a Great Darkness (Vagabond Press, $25 pb, 82 pp) is a book-length elegiac poem dedicated to his partner, the anthropologist Deborah Bird Rose (1946–2018). Unlike other works lamenting the illness and loss of a spouse, Boyle's collection largely avoids representing the day-to-day demands of suffering from (or caring for someone suffering from) an incurable disease. Instead, Boyle's poetry sequence offers a more metaphysical approach to the uncertainty and grief that he and his partner faced.
...
(read more)
i.
birds have their own topography : overlaid
on ours : which is vertical & detailed :
with its own system of needs :
its own deviations : the nerve-ends
in my fingertips : & a tremor in my latissimus dorsi
rouse me : a domestic industry
starts up : a saw : or sander : on some abutting title :
the sound raw : with alternating notes :
one c ...
is the poem nonchalant enough to reference sufjan stevens :
or is he, too, passé : it's a poem in the same key
as his chicago : piped in to the auditory cortex : a private music :
that the world resounds with : the city resonates
from the inside : lights light up in unison : traffic stops
& starts : office-buildings with a swagger to their stillness :
a beetle enamoured with my lamp : a harbinger
of spring : as if the tree blossoming
on the footpath opposite was not enough :
or the budding persimmon : or the bottlebrush flowers
i didn't notice until today : there's evidence of spring :
in abundance : the enduring dusk : that's holding
still : days that are shifting south : subtly :
to an alternate frame of ...
A day in parallax – duco-blue –
a crop of borrowed gold,
in focus, replete –
fibrous stems of light, agitated,
and, over them, the bales
of cloud dispersing.
The motor ticking
long after it is silenced.
And the impulse it honours: this.
Thom Sullivan

...
after Paul Muldoon's 'Why Brownlee Left'
Where Brownlee went, and why he went,
is no mystery – Brady's bar.
And if a man should have fixed intent
it was him; two shots of whiskey,
one of Bushmills, one of Redbreast,
a cheer and a slab for the house.
He was then seen going out to piss
in the March morning, sure and surly.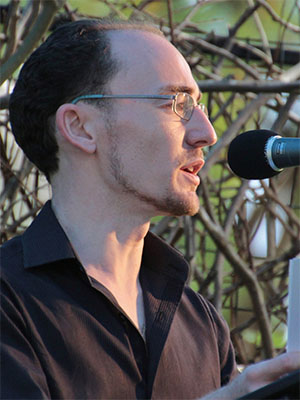 Thom Sullivan is a poet and editor from Wistow/Bugle Ranges in the Adelaide Hills. A short collection of his poems, 'Airborne', was published in New Poets 14 in 2009. Since then he has edited or co-edited ...