Prizes
Australian Book Review
Monday, 01 June 2020
Australian Book Review
Tuesday, 19 March 2019
Australian Book Review
Tuesday, 19 March 2019
Australian Book Review
Thursday, 29 March 2018
Lucas Grainger-Brown is the winner of the twelfth Calibre Essay Prize – Australia's most prestigious essay prize. The judges – novelist Andrea Goldsmith, NewSouth Executive Publisher Phillipa McGuinness, and ABR Editor Peter Rose – chose Lucas's essay ...
Australian Book Review
Thursday, 29 March 2018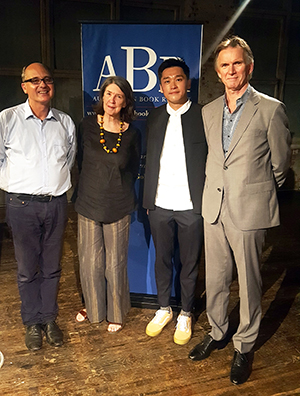 John Hawke, Morag Fraser, ...
Amy Baillieu
Saturday, 20 February 2010
Jennifer Down was named the winner of the 2014 ABR Elizabeth Jolley Short Story Prize in front of a packed house at Melbourne Writers Festival on Saturday, 30 August. Ms Down, a Victorian writer, received $5,000 for her story entitled 'Aokigahara'.
< ...
Magazines matter, never more so than during the pandemic. Arts organisations of all kinds are finding new ways to inform, to communicate, and to entertain.

ABR – diminished but undimmed by the present crisis – is committed to supporting freelance writers and to delivering thoughtful journalism to readers. Please consider supporting the magazine. Donations and subscriptions enable us to pay our writers properly and to maintain our diverse suite of prizes, fellowships and programs.

Peter Rose, Editor of ABR