Opera Australia returns to Melbourne for a short season of three operas – one German, two Italian, all notable for their gory finales.
The season opened on 14 November with Moffatt Oxenbould's production of Puccini's Madama Butterfly, which has been entertaining us since 1998. Done well, Puccini's 'orientalist' masterwork is riveting. The orchestration alone is worth the price of the ticket. Done badly, it can be interminable. The première – at La Scala, in 1904 – was a famous fiasco, a rare failure for the wizard of Italian opera.
Happily, this was an outstanding performance, one that got better and better all night, culminating in scenes of great drama and pathos. Conductor Giovanni Reggioli drew sure, subtle sounds from Orchestra Victoria. Oxenbould's stately but dramatic conception holds up well. The courtly semaphore-like Japanese gestures are ubiquitous at first, but this settles down, allowing us to concentrate on the many dramas of fifteen-year-old Cio-Cio-San, perhaps the composer's most poignant creation, along with Liù in Turandot. Barry Ryan, our Sharpless, the US Consul who must do Pinkerton's dirty work, is outstanding. Young local James Egglestone plays the American cad. It is a light, high, accurate voice, and he hits all the notes, possibly waning slightly in the arduous love duet, but returning to the stage in outstanding voice an hour later (or should we say three years later?), when Pinkerton, accompanied by the American wife he always craved, acknowledges his many imperfections in the great trio and in his doleful aria 'Addio, fiorito asil'.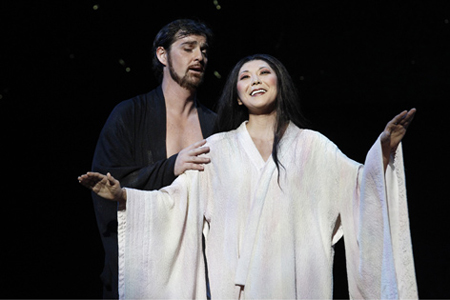 James Egglestone and Hiromi Omura in Madama Butterfly
(photograph by Jeff Busby)
Sian Pendry, as Butterfly's constant servant Suzuki, makes much of this noble rôle, and acts affectingly. But this is Hiromi Omura's night, and this must be one of the finest Butterflys we have seen in years. Quite an actress, she remains in character all night, negotiating with ease the heroine's marked transformation in outlook and temperament, from clueless virgin to undeceived suicide. The fantasy scene that opens Act Three could easily come unstuck in lesser hands, but here Omura is at her most actorly and compelling. 'Un bel di' could hardly be sung better. It is not a huge voice, but Omura copes with Puccini's surges. Only the moving farewell to her infant son (a remarkably well-behaved little actor) is sung light-voiced, but it is no less affecting for that. Really, it is an awesome assumption of a truly great and truly difficult rôle.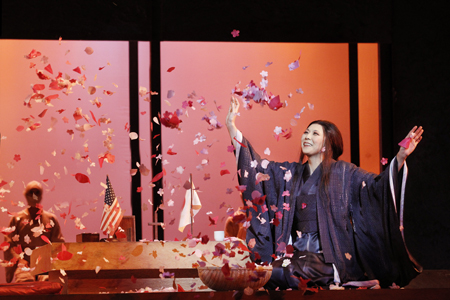 Hiromi Omura as Cio-Cio-San in Madama Butterfly (photograph by Jeff Busby)
Nothing, it seems, happens in Scotland except cloudage and mariticide. Opera Australia's new production of Lucia di Lammermoor (first presented in Sydney a few weeks ago) is remarkably sombre. A series of huge panels, covered in dark clouds, rise, fall, and tilt, providing a kind of bleak architecture for this latest rendition of Donizetti's most famous opera.
John Doyle's direction is sober, static, subdued. The sizeable chorus, deployed by Doyle, behaves like a frosty Presbyterian army. They enter in rows, interweave methodically, handle props as if their moral reputations depend upon it, and largely eschew expression. The wedding celebrations at Ravenswood Castle are quite joyless, despite the rousing music. D'immenso giubilo, indeed! When Lucia, having murdered her unwanted spouse, enlivens the occasion with her sanguinary fancies, the chorus remains rigid, emotionless, barely responding to Donizetti's flitting freak. Still, the chorus sings forcefully and impressively throughout.
The vast stage is radically bare. This would suit Wagner, but I'm not sure about Donizetti's busy, peopled opera. When two chairs are (theatrically) introduced in the third scene of Act One, it feels more portentous than the Second Coming. Later there is a long nuptial table on which the hysterical Lucia relives her gory consummation.
Lucia, of course, always dominates this opera, notwithstanding the excellence of Donizetti's writing for male voices in this his forty-fifth opera (first performed in Naples in 1835). Famous as the long and elaborate mad scene is, Lucia has some superlative music in her earlier scenes, notably 'Regnava nel silenzio' and the jubilant cabaletta 'Quando, rapita in estasi' in the first scene, and a small, exquisite cavatina during her demoralised scene with Raimondo.
Emma Matthews as Lucia – girlish, sanguine, wide-eyed, a victim who smiles too much for her own good – is (understandably) cautious at first, and the high notes feel a little effortful, though always accurate. For the first act it is a winsome performance, not terribly original.
The mad scene is quite different. Here Matthews comes alive – comes alive to die. There is nothing glamorous about opera these days. Twitching and mad-eyed, the bare-footed Lucia shuffles on stage, her plain white nightgown covered in blood (with the usual modish menstrual additions). Here the orchestra plays every bit as well as it did during Butterfly – which augurs well for next year's Ring Cycle. The addition of a glass harmonica-like electronic keyboard (the harmonica was Donizetti's original choice, but Benjamin Franklin's invention) during the mad scene is inspired. It is such a weird, luring, other-wordly sound – perfect for this long, abject, infinitely melodious scene. Matthews – eschewing grandiose effects and shuffling round the stage like a demented murderess in Prime Suspect – takes it slowly and imaginatively. She responds brilliantly to the companionable flute. Rightly, she brings down the house with the cabaletta 'Spargi d'amaro pianto'.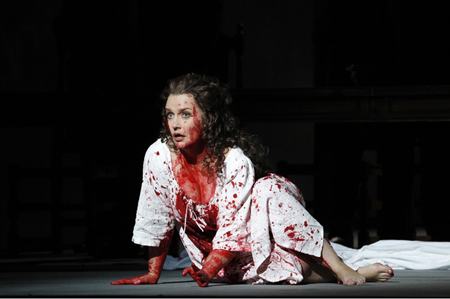 Emma Matthews in Lucia di Lammermoor (photograph by Jeff Busby)
The men are equally fine. The expressive-faced Giorgio Caoduro (Lucia's venal brother Enrico) doesn't waste any time and kicks off the night with a spirited aria. Aldo Di Toro, as Lucia's hapless lover, Edgardo, is a conventional actor, but he sings his difficult music with great feeling, assurance and brio. If Opera Australia is ever going to give us another I Puritani, they need look no further than Matthews and Di Toro.
For some reason the director has chosen cut the Wolf's Crag scene – a regrettable choice, since the music in this tempestuous contest between Enrico and Edgardo is lively and the available baritone and tenor would have savoured it. Why shorten an entertaining night at the theatre?
The youthful David Parkin, as Lucia's chaplain Raimondo, brought impressive sympathy and accuracy to the rôle of Raimondo, Lucia's often aghast chaplain.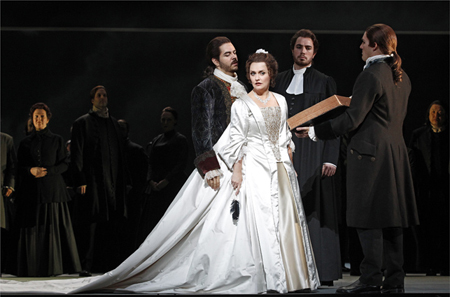 (photograph by Jeff Busby)
In one of the many paradoxes of bel canto opera, Lucia's mad scene doesn't close the opera. It is Edgardo, on being told of Lucia's mad descent, who ends it with two arias, during the second of which he manages to stab himself much more neatly than Lucy of Lammermoor could manage. As the curtain descended – or rather, as the big cloudy panels folded on the latest victim – our boisterous conductor, Guillaume Tourniare, lost control of his baton, which went sailing over the pit – a fitting flourish.
Unfortunately, New York and the Met call and I will miss Cheryl Barker (who sang so beautifully in the Sydney production of Korngold's Die Tote Stadt in July) in Strauss's coruscating Salome, which opens on 1 December.
Opera Australia is performing in the State Theatre at the Arts Centre Melbourne. Madama Butterfly runs until 14 December 2012 and Lucia di Lammermoor until 15 December 2012. Salome opens on 1 December and runs until 15 December 2012.