Announcing the 2017 Jolley Prize winner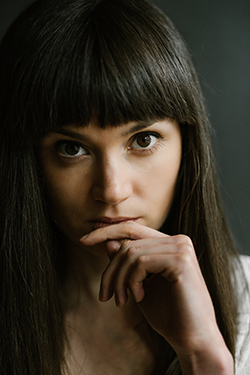 Australian Book Review is delighted to announce that Eliza Robertson has won the 2017 ABR Elizabeth Jolley Short Story Prize for her story 'Pheidippides'. Ian Dickson announced Ms Robertson as the overall winner at a ceremony at the Potts Point Bookshop on 10 August 2017. Dominic Amerena placed second for his story 'The Leaching Layer' and Lauren Aimee Curtis came third for her story 'Butter'. Subscribers can read all three shortlisted stories in the August 2017 Fiction issue. We would like to congratulate all three shortlisted entrants and thank all those who entered their stories.

On learning of her win, Eliza Robertson commented:
'I am overjoyed to win this year's ABR Elizabeth Jolley Short Story Prize. My very first publication came from a magazine contest, so I know first hand the opportunities they provide to new writers. Eight years later, this prize coincides with the publishing of my first novel, Demi-Gods, and I am incredibly grateful to the ABR and judges for choosing my story and helping me to connect with Australian readers.'
The ABR Elizabeth Jolley Short Story Prize is one of the country's most prestigious awards for short fiction. This year the Jolley Prize attracted almost 1,200 entries from forty-two different countries. The 2017 Jolley Prize was judged by ABR Deputy Editor Amy Baillieu, and authors Ellen van Neerven and Chris Flynn.

About Eliza Robertson

Eliza Robertson Eliza Robertson (UK/Canada) studied creative writing at the University of East Anglia, where she received the Man Booker Scholarship. In 2013, she won the Commonwealth Short Story Prize and was shortlisted for the Journey Prize and CBC Short Story Prize. Her début story collection, Wallflowers, was shortlisted for the East Anglia Book Award and selected as a New York Times editor's choice. Her first novel, Demi-Gods, comes out with Penguin Canada and Bloomsbury in late 2017. Read her winning story 'Pheidippides'.