Marrugeku
Amelia Zhou
Monday, 03 June 2019
'When I see a flower, it reminds me of who I am,' says poet and performer Edwin Lee Mulligan, staring at the audience. 'Others can stop my dignity but can't stop my bloom.' So begins Ngarlimbah, the first performance in a triple bill of solo works by Marrugeku, an Indigenous dance company based in Sydney and Broome ...
...
(read more)
Lee Christofis
Friday, 17 August 2018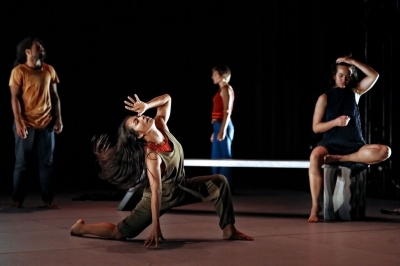 Repetitive cycles of alienation, frustration, sorrow, and humiliation in the face of political injustice over decades find powerful expression in Le Dernier Appel (The Last Cry), the latest interrogation by Marrugeku Dance Theatre of the deleterious effects of colonisation on the indigenous peoples of Australia and her neighbours. Commissioned by Carriagewo ...