Advances
The Update - September 20, 2016
Ben Mendelsohn
Australian actor Ben Mendelsohn has won a Primetime Emmy Award for best supporting actor for his role as Danny Rayburn in the Netflix series Bloodline. Mendelsohn beat out Peter Dinklage – to whom he lost in the previous year – and Kit Harrington from HBO's wildly popular fantasy series Game of Thrones, among others. Mendelsohn's breakout role was in the 1987 Australian film, The Year My Voice Broke, but it was his turn as Andrew 'Pope' Cody in the critically acclaimed Animal Kingdom (2010), alongside co-stars Jacki Weaver and Joel Edgerton that thrust him in the Hollywood spotlight, eventually leading to a role in the upcoming Star Wars franchise film, Rogue One.
Speak Less Than You Know
John BellThe Tinalley String Quartet will be collaborating with John Bell, actor and founding artistic director of Bell Shakespeare, for the program, Speak Less Than You Know, a narrative and musical insight into the disposition of Ludwig Van Beethoven. The program will run on 26 and 27 September at the Sydney Opera House, and 4 October at the Melbourne Recital Centre. John Bell recently directed Carmen for Opera Australia (David Larkin reviewed it for Arts Update).
The Archibald on tour
The Art Gallery of Ballarat will soon host the Victorian leg of the AGNSW's touring exhibition of the 2016 Archibald Prize. The winner of the Prize this year was Louise Hearman's portrait of Barry Humphries, which beat fifty-one finalists, including Betina Fauvel-Ogden's portrait of chef George Calombaris – which won the Packing Room Prize – and Natasha Bieniek's verdant depiction of Wendy Whiteley. Bieniek is a resident artist at Southbank's Boyd Community Hub, which is also Australian Book Review's home. The exhibition runs from 14 October to 27 November.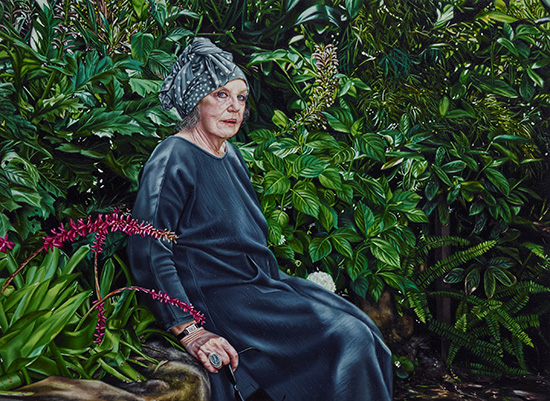 Wendy Whiteley by Archibald Prize 2016 finalist Natasha Bieniek
Selby & Friends
Kathryn Selby's 'ever-changing ensemble of musicians' is now in its second decade. The 2017 season, just announced, will take the renowned pianist–artistic director to Sydney, Canberra, Melbourne, Adelaide, Southern Highlands and Turramurra. As well as a classical music showcase that 'takes a peek into the past and explores tall tales and fantasy', Selby & Friends will perform works by Dvořák in the first, third, fifth tours in the five-tour series in tribute to Selby's Czech-born mother.
'I am honoured and humbled that heading into my second decade of Selby & Friends such an outstanding group of performers are as keen as ever to collaborate', said Selby.
Guest artists include Natalie Chee, Timo-Veikko Valve, and Julian Smiles. Highlights include an all-Beethoven concert (16–24 September 2017). For more information, visit the Selby & Friends website.
MSO 2017
Melbourne Symphony Orchestra's Chief Conductor, Andrew Davis, describes the 2017 Season as 'a marvellous feast of music-making'. Of note are performances by violinist MaximVengerov, who will lead Tchaikovsky's Violin Concerto and Rimsky-Korsakov's Scheherazade on 28 Febraury, and a concert version of Jules Massenet's Thaïs, at the Arts Centre Melbourne, Hamer Hall on 26 August. A number of international and local artists will join the MSO including pianist Hélène Grimaud (whose recent collaboration with the Australian Youth Orchestra was reviewed by Paul Watt for Arts Update in August), cellist Daniel Müller-Schott, and vocalists Siobhan Stagg, Stuart Skelton, Eva Kong and Erin Wall, among others.
NGV Giveaway
This week, thanks to our friends at the National Gallery of Victoria, ABR is giving away three tickets to Making the Australian Quilt 1800–1950, which Margaret Robson Kett reviewed for Arts Update in July.
To be eligible for the NGV giveaway you must be a current or new paid subscriber to the print edition of ABR or to ABR Online. To be in the running please email Grace Chang at This email address is being protected from spambots. You need JavaScript enabled to view it. with your full name and contact details. Preference is given to subscribers who have not received a giveaway in recent months.