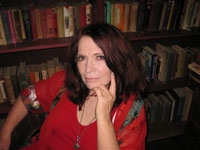 Cheryl Jorgensen
Based in Brisbane, Cheryl Jorgensen has been surviving (just) as a freelance writer for several years.
Last December the third edition of her novel Brutal, a nonfiction set in Westbrook, was released by New Holland. Her second nonfiction, The Taint, was published in 2008 by Boolarong Press. Jorgensen also writes fiction. Morag Bane, her Young Adult novel, won the Fastbooks Award  in 2004, the same year her adult crime novel, A Quality of Light, was  sole runner-up to the Davitt Prize.
Jorgensen has an MPhil in Creative Writing from UQ. She is currently  researching her PhD thesis in Literature.