Honouring the past
Twenty years ago (when he was only twenty-one), a portrait of the distinguished classical musician Simon Tedeschi – Cherry Hood's Simon Tedeschi unplugged – won the Archibald Prize. Now – unplugged essayistically, as it were – Tedeschi has added to his cabinet of national and international prizes in music by winning the sixteenth Calibre Essay Prize, one of the world's leading competitions for an original essay. His entry, 'This Woman My Grandmother', stood out in a particularly strong field notable for its studies of loss, upheaval, deracination, and memory.
Tedeschi's maternal grandmother, Lucy Gershwin, a Polish Jew, was the only survivor of a family obliterated by the Nazis. Before her death sixteen years ago, she wrote a memory of her wartime years. Tedeschi told Advances: 'Only recently was I able to bring myself to read it. When I did, it caused not only a torrent of memory to erupt but spurred me to find out more about this tormented woman who, despite her vociferousness and overbearing presence, was the bearer of secrets too painful to divulge.'
Simon Tedeschi commenced piano studies when he was six and gave his first concerto performance at the age of eight, at the Sydney Opera House. He has performed with all the major Australian state orchestras, as well as many overseas, and he has released a number of recordings through Sony and ABC Classics. His were the hands of the young David Helfgott in the 1995 Oscar-winning film Shine.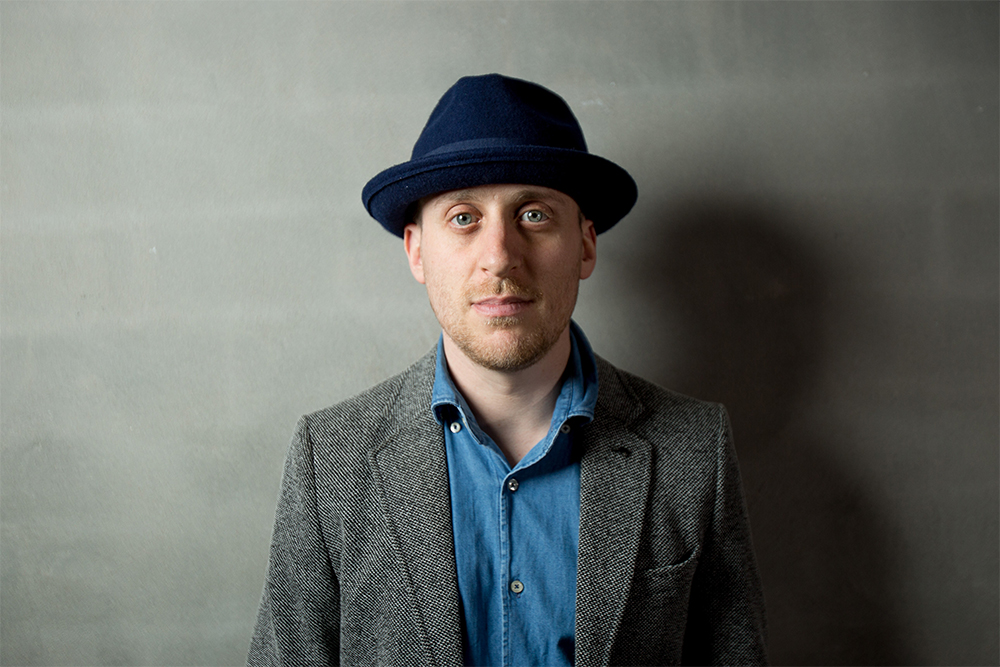 Simon Tedeschi (photograph by Cole Bennetts)
This month, coincidentally, our winner will publish his first book, Fugitive (Upswell), a poetic work that meditates on history, trauma, philosophy, memory, and art.
The Calibre judges – Declan Fry, Beejay Silcox, and Peter Rose, Editor of ABR – chose 'This Woman My Grandmother' from a field of 569 entries from seventeen different countries. Here are their comments: 'This year's winning essay has a powerful, memorable duality: it's at once forceful and gentle, timeless and timely. While Tedeschi plays with eternal themes – the fragility of memory and intergenerational anguish – there is also a quiet urgency to his account of his grandmother, Lucy's, complicated legacy. We stand on the cusp of a great forgetting: the Holocaust is fading from living memory, and Covid is ravaging our elderly. As we lose our story-keepers and war rages in Europe, it feels vital not just to honour the past, but to acknowledge its knots and nuances. That is what Tedeschi has done in this remarkable essay, with grace, care, and glorious prose craft.'
On learning of his win, Simon Tedeschi commented: 'When Peter Rose rang to tell me that I'd won this year's Calibre Prize, I felt a tornado of emotions: joy that my hard work had been recognised, gratitude to my wife for being my locus of love and inspiration, sadness that my grandmother was no longer here, disbelief that the memories this tormented woman gave me and of which I am constituted could now be shared with others, and finally, encouragement for the act of writing – an artform that, as with music, one never truly masters but which is the closest thing possible to healing
the past.'
Placed second in the competition was Sarah Gory's essay 'Ghosts, Ghosts Everywhere', an exploration of the permeability of time, of the way the past haunts and shapes both the present and the future. It asks questions about the ethics of communal memory and collective responsibility, and what happens when the two meet. It is about family and death, layering the everyday into larger landscapes and queries. Complementing Simon Tedeschi's essay, it is also a tribute to Sarah Gory's grandfather.
'Ghosts, Ghosts Everywhere' will appear in a later issue, along with some of the ten other shortlisted essays, which are listed below:
Linda Atkins: 'Shouting Abortion'
Jessie Berry-Porter: 'Milos As a Symbol'
Chrysanthi Diasinos: 'Οι παρχαρομάνες και το χρυσόραμμα'
Michael Garbutt: 'The Museum of Mankind'
Savannah Hollis: 'The Diary of a Bottom Bitch'
Heather Taylor Johnson: 'The Giving and Taking Away of Voice'
Michaela Keeble: 'The Bind: On Reading'
Emma Shortis: 'American Guns'
Kirsten Tranter: 'The Time of Writing'
Miriam Webster: 'The Trouble with Endings'
We warmly thank ABR Patrons Peter McLennan and Mary-Ruth Sindrey for supporting the Prize.
ABR looks forward to presenting Calibre for a seventeenth time in 2023.
Last Call for the Jolley Prize
The ABR Elizabeth Jolley Short Story Prize – one of the world's most lucrative competitions for an unpublished short story – closes soon on 2 May. Late starters had better get cracking lest the person from Porlock come knocking over these last few days.
Due to the continuing generosity of ABR Patron Ian Dickson, we are able to offer total prize money of $12,500, of which the winner will receive $6,000 (there are two other cash prizes). The judges this year are Amy Baillieu, Melinda Harvey, and John Kinsella. Aspirants can read all the previous winning and shortlisted stories on our website.
One of the prize's alumnae, Catherine Chidgey, whose short story 'The Man I Should Have Married' was commended in the 2017 Jolley, has been shortlisted for the 2022 Dublin Literary Award, worth €100,000 (A$147,400), for her novel Remote Sympathy – another sign of the Jolley's prophetic powers.
Hearty congratulations to Catherine Chidgey!
Translate this!
The Australian Association for Literary Translation, with PEN International Melbourne, has opened for submissions to its 2022 translation awards. This year, the focus is on Arabic to English translation, with sources texts by Palestinian author Ghassan Kanafani (in the prose category) and Moroccan novelist and poet Soukaina Habiballah (poetry). There is no entry fee, though all entrants are required to become members of AALITRA. The winners, to be announced at a ceremony later this year, will receive a cash prize, a book prize, and one year's membership of AALITRA. Honourable Mentions will also be made for the two categories. Each of the prize-winning entries will be published on the AALITRA website and in AALITRA's journal, The AALITRA Review, along with the translator's comments.
For more information, please visit AALITRA's website (aalitra.org.au). Bil tawfiq!
Melbourne Jewish Book Week
The festival returns in 2022 with events from 28 May to 31 May. Several ABR contributors will be taking part, including Tali Lavi, Gideon Haigh, Andrea Goldsmith (whose review of Margaret Atwood's new essay collection appears on page 24), and our 2022 Calibre Essay Prize winner, Simon Tedeschi, who will speak at the Opening Night Gala event at Memo Hall on 28 May. Next day he will appear on a panel event called 'Memory, Music, Poetry and Prose' along with New Zealand poet Bryan Walpert and ABC RN radio presenter Sarah Kanowski.
More information and tickets are available from melbournejewishbookweek.com.au.